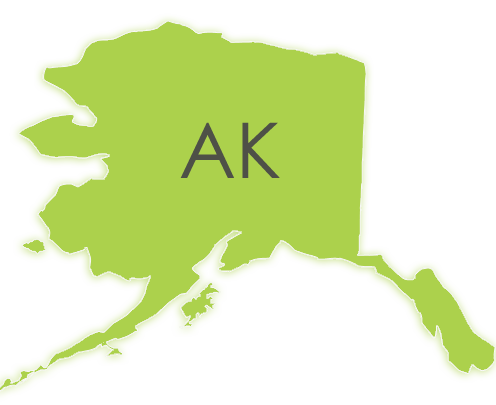 Ready To Book Your Alaska Court Reporter? We're Available Today!
Discovery Litigation Services has your last minute real time court reporter in Alaska. From Juneau and Anchorage, down to Kodiak and across the Yukon Delta. There is no deposition that is too remote to depose. We use the latest technology to provide you with the certified Alaska Court Reporters you need to get the job done right.
Our real time ready Alaska court reporters provide instant access to transcripts as the deposition unfolds. Through a live feed directly translating the court reporter's shorthand into readable English, you get an on-demand rough transcript as it happens over 90% accuracy.
Why is this significant? First, you get a copy of the rough transcript as it's written. Second, a highly accurate first pass at a court transcript radically shrinks the time it takes for you to receive your final transcript. No more waiting weeks for the translation. With a Discovery Litigation Services' real time ready Alaska court reporter, expedited transcripts are the new normal.
Have You Been Settling For Less?
With Discovery Litigation Services you get a team that is devoted to your success. We understand the importance of getting it done right the first time. Not only do we work hard to ensure everything's running smoothly, but it is our mission to make it easy for you.
We are here for you, and we are focused on providing clear, transparent communication at the level you require. It doesn't serve your best interest if your needs aren't being met and your requests are getting lost in the shuffle or ignored.
However, it is also counterproductive to fill your inbox and message machine with excessive communications that distract you from the case at hand. Discovery Litigation Services works with you to ensure you are being taken care of at the highest level and in the manner that best suits the needs of your case and the style that best suits your workflow.
Some Things Should Just Be Free...
Video To Text Synchronization
The Discovery Litigation Services web platform will slash the amount of time it takes to sift and sort through hours of deposition footage. With Video to Text Synchronization coming standard for every client, you'll quickly learn how easy it is to isolate those high value moments without spending half of your day looking for it.
With our Free video to text synchronization we take a once stale, static, transcript and make it interactive. Scrubbing through video footage is a linear process. There's no way around that fact. You have to go either forward or backward, and no matter how fast you're speeding through the footage, you're forced into that linear world.
Text on a page or a screen, however, is not. You can quickly pull out and take in the whole picture at once. You can quickly jump from one line to another, and skim over hundreds of words in a matter of seconds to isolate a key phrase. Discovery's Video To Text Synchronization applies that power to video depositions by making the transcript completely clickable.
All you have to do is isolate your desired quote and click, you'll then be shuttled directly to the video containing that quote and exactly to the moment the line is uttered. No more scrubbing through. No more wasted time. Just skim, point, and click. Best of all, we're not withholding this as an upsell. This is standard. It's free.
Ready To Get Started? Click Here
Discovery Litigation Services knows you have options with your litigation services. We are here to provide superior service, all the time, every time.
From finding a conference room to host your deposition to staffing it with a skilled court reporter, videographer and interpreter, Discovery Litigation Services will go above and beyond to fulfill your needs. We understand the importance of getting it done right. In our business, there is no margin for error.
Call Discovery at (855) 847-0999. See for yourself why so many call us their reporting company.
Schedule Your Deposition Now!
Alaska Court Reporting Available In:
City Name
Adak, AK Court Reporters (99546)
Akiachak, AK Court Reporters (99551)
Akiak, AK Court Reporters (99552)
Akutan, AK Court Reporters (99553)
Alakanuk, AK Court Reporters (99554)
Aleknagik, AK Court Reporters (99555)
Allakaket, AK Court Reporters (99720)
Ambler, AK Court Reporters (99786)
Anaktuvuk Pass, AK Court Reporters (99721)
Anchor Point, AK Court Reporters (99556)
Anchorage, AK Court Reporters (99501)
Anderson, AK Court Reporters (99744)
Angoon, AK Court Reporters (99820)
Aniak, AK Court Reporters (99557)
Anvik, AK Court Reporters (99558)
Arctic Village, AK Court Reporters (99722)
Atka, AK Court Reporters (99547)
Atqasuk, AK Court Reporters (99791)
Auke Bay, AK Court Reporters (99821)
Barrow, AK Court Reporters (99723)
Beaver, AK Court Reporters (99724)
Bethel, AK Court Reporters (99559)
Bettles Field, AK Court Reporters (99726)
Big Lake, AK Court Reporters (99652)
Brevig Mission, AK Court Reporters (99785)
Buckland, AK Court Reporters (99727)
Cantwell, AK Court Reporters (99729)
Central, AK Court Reporters (99730)
Chalkyitsik, AK Court Reporters (99788)
Chefornak, AK Court Reporters (99561)
Chevak, AK Court Reporters (99563)
Chicken, AK Court Reporters (99732)
Chignik, AK Court Reporters (99564)
Chignik Lagoon, AK Court Reporters (99565)
Chignik Lake, AK Court Reporters (99548)
Chitina, AK Court Reporters (99566)
Chugiak, AK Court Reporters (99567)
Circle, AK Court Reporters (99733)
Clam Gulch, AK Court Reporters (99568)
Clarks Point, AK Court Reporters (99569)
Clear, AK Court Reporters (99704)
Coffman Cove, AK Court Reporters (99918)
Cold Bay, AK Court Reporters (99571)
Cooper Landing, AK Court Reporters (99572)
Copper Center, AK Court Reporters (99573)
Cordova, AK Court Reporters (99574)
Craig, AK Court Reporters (99921)
Crooked Creek, AK Court Reporters (99575)
Deering, AK Court Reporters (99736)
Delta Junction, AK Court Reporters (99737)
Denali National Park, AK Court Reporters (99755)
Dillingham, AK Court Reporters (99576)
Douglas, AK Court Reporters (99824)
Dutch Harbor, AK Court Reporters (99692)
Eagle, AK Court Reporters (99738)
Eagle River, AK Court Reporters (99577)
Eek, AK Court Reporters (99578)
Egegik, AK Court Reporters (99579)
Eielson Air Force Base, AK Court Reporters (99702)
Ekwok, AK Court Reporters (99580)
Elfin Cove, AK Court Reporters (99825)
Elim, AK Court Reporters (99739)
Elmendorf Air Force Base, AK Court Reporters (99506)
Emmonak, AK Court Reporters (99581)
Ester, AK Court Reporters (99725)
Fairbanks, AK Court Reporters (99701)
False Pass, AK Court Reporters (99583)
Flat, AK Court Reporters (99584)
Fort Richardson, AK Court Reporters (99505)
Fort Wainwright, AK Court Reporters (99703)
Fort Yukon, AK Court Reporters (99740)
Gakona, AK Court Reporters (99586)
Galena, AK Court Reporters (99741)
Gambell, AK Court Reporters (99742)
Girdwood, AK Court Reporters (99587)
Glennallen, AK Court Reporters (99588)
Goodnews Bay, AK Court Reporters (99589)
Grayling, AK Court Reporters (99590)
Gustavus, AK Court Reporters (99826)
Haines, AK Court Reporters (99827)
Healy, AK Court Reporters (99743)
Holy Cross, AK Court Reporters (99602)
Homer, AK Court Reporters (99603)
Hoonah, AK Court Reporters (99829)
Hooper Bay, AK Court Reporters (99604)
Hope, AK Court Reporters (99605)
Houston, AK Court Reporters (99694)
Hughes, AK Court Reporters (99745)
Huslia, AK Court Reporters (99746)
Hydaburg, AK Court Reporters (99922)
Hyder, AK Court Reporters (99923)
Iliamna, AK Court Reporters (99606)
Indian, AK Court Reporters (99540)
Juneau, AK Court Reporters (99801)
Kake, AK Court Reporters (99830)
Kaktovik, AK Court Reporters (99747)
Kalskag, AK Court Reporters (99607)
Kaltag, AK Court Reporters (99748)
Karluk, AK Court Reporters (99608)
Kasigluk, AK Court Reporters (99609)
Kasilof, AK Court Reporters (99610)
Kenai, AK Court Reporters (99611)
Ketchikan, AK Court Reporters (99901)
Kiana, AK Court Reporters (99749)
King Cove, AK Court Reporters (99612)
King Salmon, AK Court Reporters (99613)
Kipnuk, AK Court Reporters (99614)
Kivalina, AK Court Reporters (99750)
Klawock, AK Court Reporters (99925)
Kobuk, AK Court Reporters (99751)
Kodiak, AK Court Reporters (99615)
Kotlik, AK Court Reporters (99620)
Kotzebue, AK Court Reporters (99752)
Koyuk, AK Court Reporters (99753)
Koyukuk, AK Court Reporters (99754)
Kwethluk, AK Court Reporters (99621)
Kwigillingok, AK Court Reporters (99622)
Lake Minchumina, AK Court Reporters (99757)
Larsen Bay, AK Court Reporters (99624)
Levelock, AK Court Reporters (99625)
Lower Kalskag, AK Court Reporters (99626)
Manley Hot Springs, AK Court Reporters (99756)
Manokotak, AK Court Reporters (99628)
Marshall, AK Court Reporters (99585)
Mc Grath, AK Court Reporters (99627)
Mekoryuk, AK Court Reporters (99630)
Metlakatla, AK Court Reporters (99926)
Meyers Chuck, AK Court Reporters (99903)
Minto, AK Court Reporters (99758)
Moose Pass, AK Court Reporters (99631)
Mountain Village, AK Court Reporters (99632)
Naknek, AK Court Reporters (99633)
Napakiak, AK Court Reporters (99634)
Nenana, AK Court Reporters (99760)
New Stuyahok, AK Court Reporters (99636)
Nightmute, AK Court Reporters (99690)
Nikiski, AK Court Reporters (99635)
Nikolai, AK Court Reporters (99691)
Nikolski, AK Court Reporters (99638)
Ninilchik, AK Court Reporters (99639)
Noatak, AK Court Reporters (99761)
Nome, AK Court Reporters (99762)
Nondalton, AK Court Reporters (99640)
Noorvik, AK Court Reporters (99763)
North Pole, AK Court Reporters (99705)
Northway, AK Court Reporters (99764)
Nuiqsut, AK Court Reporters (99789)
Nulato, AK Court Reporters (99765)
Nunam Iqua, AK Court Reporters (99666)
Nunapitchuk, AK Court Reporters (99641)
Old Harbor, AK Court Reporters (99643)
Ouzinkie, AK Court Reporters (99644)
Palmer, AK Court Reporters (99645)
Pedro Bay, AK Court Reporters (99647)
Pelican, AK Court Reporters (99832)
Perryville, AK Court Reporters (99648)
Petersburg, AK Court Reporters (99833)
Pilot Point, AK Court Reporters (99649)
Pilot Station, AK Court Reporters (99650)
Platinum, AK Court Reporters (99651)
Point Baker, AK Court Reporters (99927)
Point Hope, AK Court Reporters (99766)
Point Lay, AK Court Reporters (99759)
Port Alexander, AK Court Reporters (99836)
Port Alsworth, AK Court Reporters (99653)
Port Heiden, AK Court Reporters (99549)
Port Lions, AK Court Reporters (99550)
Prudhoe Bay, AK Court Reporters (99734)
Quinhagak, AK Court Reporters (99655)
Rampart, AK Court Reporters (99767)
Red Devil, AK Court Reporters (99656)
Ruby, AK Court Reporters (99768)
Russian Mission, AK Court Reporters (99657)
Saint George Island, AK Court Reporters (99591)
Saint Marys, AK Court Reporters (99658)
Saint Michael, AK Court Reporters (99659)
Saint Paul Island, AK Court Reporters (99660)
Salcha, AK Court Reporters (99714)
Sand Point, AK Court Reporters (99661)
Savoonga, AK Court Reporters (99769)
Scammon Bay, AK Court Reporters (99662)
Selawik, AK Court Reporters (99770)
Seldovia, AK Court Reporters (99663)
Seward, AK Court Reporters (99664)
Shageluk, AK Court Reporters (99665)
Shaktoolik, AK Court Reporters (99771)
Shishmaref, AK Court Reporters (99772)
Shungnak, AK Court Reporters (99773)
Sitka, AK Court Reporters (99835)
Skagway, AK Court Reporters (99840)
Skwentna, AK Court Reporters (99667)
Sleetmute, AK Court Reporters (99668)
Soldotna, AK Court Reporters (99669)
South Naknek, AK Court Reporters (99670)
Stebbins, AK Court Reporters (99671)
Sterling, AK Court Reporters (99672)
Stevens Village, AK Court Reporters (99774)
Sutton, AK Court Reporters (99674)
Takotna, AK Court Reporters (99675)
Talkeetna, AK Court Reporters (99676)
Tanacross, AK Court Reporters (99776)
Tanana, AK Court Reporters (99777)
Tatitlek, AK Court Reporters (99677)
Teller, AK Court Reporters (99778)
Tenakee Springs, AK Court Reporters (99841)
Tetlin, AK Court Reporters (99779)
Thorne Bay, AK Court Reporters (99919)
Togiak, AK Court Reporters (99678)
Tok, AK Court Reporters (99780)
Toksook Bay, AK Court Reporters (99637)
Trapper Creek, AK Court Reporters (99683)
Tuluksak, AK Court Reporters (99679)
Tuntutuliak, AK Court Reporters (99680)
Tununak, AK Court Reporters (99681)
Two Rivers, AK Court Reporters (99716)
Tyonek, AK Court Reporters (99682)
Unalakleet, AK Court Reporters (99684)
Unalaska, AK Court Reporters (99685)
Valdez, AK Court Reporters (99686)
Venetie, AK Court Reporters (99781)
Wainwright, AK Court Reporters (99782)
Wales, AK Court Reporters (99783)
Ward Cove, AK Court Reporters (99928)
Wasilla, AK Court Reporters (99629)
White Mountain, AK Court Reporters (99784)
Whittier, AK Court Reporters (99693)
Willow, AK Court Reporters (99688)
Wrangell, AK Court Reporters (99929)
Yakutat, AK Court Reporters (99689)