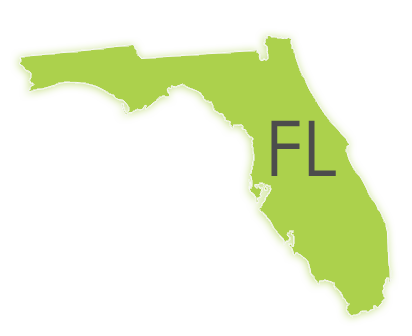 We Have Your Florida Court Reporter
Discovery Litigation Services will cover your deposition anywhere in the state of Florida. Our professionals are experienced in cases of all sizes. Our court reporters are highly skilled in their craft, and they are ready to meet your specific case needs.
Our skilled Florida team makes sure we supply the correct reporter for your case. Whether you need videographer services, interpreter services, or something even more unique, we have the personnel and service culture to make your deposition as seamless as possible. We understand the need to use the highest quality reporter for you. We have the experience to deliver in the most remote areas across the country.
You're In Florida. You Need To Send A Court Reporter To Mars, PA. Population 1700
Finding a qualified court reporter, booking a conference room, hiring a videographer, putting together all of the pieces required for your deposition is a job in and of itself. It takes you away from the work that is essential to winning your verdict.
Now you have to find all of these resources in a remote location with no guarantee of quality professionals to fulfill the job. Instead of compounding your workload, eliminate your stress and get better results.
Let Discovery Litigation Services handle everything for you.
There is no deposition too remote with Discovery Litigation Services' video streaming-enabled court reporters. Don't limit your selection pool to what is "nearby", and start choosing from the best professionals regardless of your locality. Discovery Litigation Services offers nationwide coverage for court reporting, videography, and trial presentation solutions.
You Need More Than A Court Reporter.
You might find other Florida Court Reporting agencies that can staff a deposition or corporate proceeding, but the stenographer is just one piece of the overall puzzle. What about the videographer, booking the room, coordinating schedules, tracking down interpreters, setting up a remote feed for high definition streaming to remote parties? What about the rest?
Click "schedule a deposition" t o stop getting one-off services. Choose a comprehensive solution.
Discovery Litigation Services will satisfy every crucial requirement of your deposition.
If your deposition requires a Chinese to Spanish Interpreter in Florida, we have you covered with our highly trained and accurate interpreters. Perhaps your complex case requires a real-time feed for effective interpreting, we have the solution. Discovery Litigation Solutions provides interpreters anywhere in the world in any language that is needed.
With our network of highly experienced interpreters, your deposition is in good hands. Stop limiting your selection pool to what is available. Start getting the best professionals, and the most qualified interpreter regardless of your locality. Discovery Litigation Services is a nationwide company with offices from Atlanta, to Los Angeles, across to New York, and everywhere in between. We have you covered for all of your interpreting, mediation, arbitration, and trial presentation needs.
Our core reason for existing is to provide you with comprehensive solutions
Our core reason for existing is to provide you with comprehensive solutions to all of your deposition and corporate needs. With Discovery Litigation Services on your team, you can focus on the important aspects of bringing a resolution to your case. Schedule a deposition and let us handle the rest.
Discovery Litigation Services knows you have options with your litigation services. We are here to provide superior service, all the time, every time.
From finding a conference room to host your deposition to staffing it with a skilled court reporter, videographer and interpreter, Discovery Litigation Services will go above and beyond to fulfill your needs. We understand the importance of getting it done right. In our business, there is no margin for error.
Call Discovery at (855) 847-0999. See for yourself why so many call us their reporting company.
Schedule Your Deposition Now!
Florida Court Reporting Available In:
City Name
Alachua, FL Court Reporters (32615)
Alford, FL Court Reporters (32420)
Altamonte Springs, FL Court Reporters (32701)
Altha, FL Court Reporters (32421)
Altoona, FL Court Reporters (32702)
Alturas, FL Court Reporters (33820)
Alva, FL Court Reporters (33920)
Anna Maria, FL Court Reporters (34216)
Anthony, FL Court Reporters (32617)
Apalachicola, FL Court Reporters (32320)
Apollo Beach, FL Court Reporters (33572)
Apopka, FL Court Reporters (32703)
Arcadia, FL Court Reporters (34265)
Archer, FL Court Reporters (32618)
Argyle, FL Court Reporters (32422)
Aripeka, FL Court Reporters (34679)
Astatula, FL Court Reporters (34705)
Astor, FL Court Reporters (32102)
Atlantic Beach, FL Court Reporters (32233)
Auburndale, FL Court Reporters (33823)
Avon Park, FL Court Reporters (33825)
Babson Park, FL Court Reporters (33827)
Bagdad, FL Court Reporters (32530)
Baker, FL Court Reporters (32531)
Balm, FL Court Reporters (33503)
Barberville, FL Court Reporters (32105)
Bartow, FL Court Reporters (33830)
Bascom, FL Court Reporters (32423)
Bay Pines, FL Court Reporters (33744)
Bell, FL Court Reporters (32619)
Belle Glade, FL Court Reporters (33430)
Belleair Beach, FL Court Reporters (33786)
Belleview, FL Court Reporters (34420)
Beverly Hills, FL Court Reporters (34464)
Big Pine Key, FL Court Reporters (33043)
Blountstown, FL Court Reporters (32424)
Boca Grande, FL Court Reporters (33921)
Boca Raton, FL Court Reporters (33427)
Bokeelia, FL Court Reporters (33922)
Bonifay, FL Court Reporters (32425)
Bonita Springs, FL Court Reporters (34133)
Bostwick, FL Court Reporters (32007)
Bowling Green, FL Court Reporters (33834)
Boynton Beach, FL Court Reporters (33424)
Bradenton, FL Court Reporters (34201)
Bradenton Beach, FL Court Reporters (34217)
Bradley, FL Court Reporters (33835)
Brandon, FL Court Reporters (33508)
Branford, FL Court Reporters (32008)
Bristol, FL Court Reporters (32321)
Bronson, FL Court Reporters (32621)
Brooker, FL Court Reporters (32622)
Brooksville, FL Court Reporters (34601)
Bryant, FL Court Reporters (33439)
Bryceville, FL Court Reporters (32009)
Bunnell, FL Court Reporters (32110)
Bushnell, FL Court Reporters (33513)
Callahan, FL Court Reporters (32011)
Campbellton, FL Court Reporters (32426)
Canal Point, FL Court Reporters (33438)
Candler, FL Court Reporters (32111)
Cantonment, FL Court Reporters (32533)
Cape Canaveral, FL Court Reporters (32920)
Cape Coral, FL Court Reporters (33904)
Captiva, FL Court Reporters (33924)
Carrabelle, FL Court Reporters (32322)
Caryville, FL Court Reporters (32427)
Cassadaga, FL Court Reporters (32706)
Casselberry, FL Court Reporters (32707)
Cedar Key, FL Court Reporters (32625)
Center Hill, FL Court Reporters (33514)
Century, FL Court Reporters (32535)
Chattahoochee, FL Court Reporters (32324)
Chiefland, FL Court Reporters (32626)
Chipley, FL Court Reporters (32428)
Chokoloskee, FL Court Reporters (34138)
Christmas, FL Court Reporters (32709)
Citra, FL Court Reporters (32113)
Clarcona, FL Court Reporters (32710)
Clarksville, FL Court Reporters (32430)
Clearwater, FL Court Reporters (33755)
Clearwater Beach, FL Court Reporters (33767)
Clermont, FL Court Reporters (34711)
Clewiston, FL Court Reporters (33440)
Cocoa, FL Court Reporters (32922)
Cocoa Beach, FL Court Reporters (32931)
Coleman, FL Court Reporters (33521)
Copeland, FL Court Reporters (34137)
Cortez, FL Court Reporters (34215)
Cottondale, FL Court Reporters (32431)
Crawfordville, FL Court Reporters (32326)
Crescent City, FL Court Reporters (32112)
Crestview, FL Court Reporters (32536)
Cross City, FL Court Reporters (32628)
Crystal Beach, FL Court Reporters (34681)
Crystal River, FL Court Reporters (34423)
Crystal Springs, FL Court Reporters (33524)
Cypress, FL Court Reporters (32432)
Dade City, FL Court Reporters (33523)
Dania, FL Court Reporters (33004)
Davenport, FL Court Reporters (33836)
Day, FL Court Reporters (32013)
Daytona Beach, FL Court Reporters (32114)
De Leon Springs, FL Court Reporters (32130)
Debary, FL Court Reporters (32713)
Deerfield Beach, FL Court Reporters (33441)
Defuniak Springs, FL Court Reporters (32433)
Deland, FL Court Reporters (32720)
Delray Beach, FL Court Reporters (33444)
Deltona, FL Court Reporters (32725)
Destin, FL Court Reporters (32540)
Doctors Inlet, FL Court Reporters (32030)
Dover, FL Court Reporters (33527)
Dundee, FL Court Reporters (33838)
Dunedin, FL Court Reporters (34697)
Dunnellon, FL Court Reporters (34430)
Durant, FL Court Reporters (33530)
Eagle Lake, FL Court Reporters (33839)
Earleton, FL Court Reporters (32631)
East Palatka, FL Court Reporters (32131)
Eastlake Weir, FL Court Reporters (32133)
Eastpoint, FL Court Reporters (32328)
Eaton Park, FL Court Reporters (33840)
Ebro, FL Court Reporters (32437)
Edgar, FL Court Reporters (32149)
Edgewater, FL Court Reporters (32132)
Eglin Air Force Base, FL Court Reporters (32542)
El Jobean, FL Court Reporters (33927)
Elfers, FL Court Reporters (34680)
Elkton, FL Court Reporters (32033)
Ellenton, FL Court Reporters (34222)
Englewood, FL Court Reporters (34223)
Estero, FL Court Reporters (33928)
Eustis, FL Court Reporters (32726)
Everglades City, FL Court Reporters (34139)
Evinston, FL Court Reporters (32633)
Fairfield, FL Court Reporters (32634)
Fedhaven, FL Court Reporters (33854)
Felda, FL Court Reporters (33930)
Fellsmere, FL Court Reporters (32948)
Fernandina Beach, FL Court Reporters (32034)
Ferndale, FL Court Reporters (34729)
Flagler Beach, FL Court Reporters (32136)
Fleming Island, FL Court Reporters (32006)
Florahome, FL Court Reporters (32140)
Floral City, FL Court Reporters (34436)
Fort Lauderdale, FL Court Reporters (33301)
Fort McCoy, FL Court Reporters (32134)
Fort Meade, FL Court Reporters (33841)
Fort Myers, FL Court Reporters (33901)
Fort Myers Beach, FL Court Reporters (33931)
Fort Ogden, FL Court Reporters (34267)
Fort Pierce, FL Court Reporters (34945)
Fort Walton Beach, FL Court Reporters (32547)
Fort White, FL Court Reporters (32038)
Fountain, FL Court Reporters (32438)
Freeport, FL Court Reporters (32439)
Frostproof, FL Court Reporters (33843)
Fruitland Park, FL Court Reporters (34731)
Gainesville, FL Court Reporters (32601)
Geneva, FL Court Reporters (32732)
Georgetown, FL Court Reporters (32139)
Gibsonton, FL Court Reporters (33534)
Glen Saint Mary, FL Court Reporters (32040)
Glenwood, FL Court Reporters (32722)
Goldenrod, FL Court Reporters (32733)
Gonzalez, FL Court Reporters (32560)
Goodland, FL Court Reporters (34140)
Gotha, FL Court Reporters (34734)
Graceville, FL Court Reporters (32440)
Graham, FL Court Reporters (32042)
Grand Island, FL Court Reporters (32735)
Grand Ridge, FL Court Reporters (32442)
Grandin, FL Court Reporters (32138)
Grant, FL Court Reporters (32949)
Green Cove Springs, FL Court Reporters (32043)
Greensboro, FL Court Reporters (32330)
Greenville, FL Court Reporters (32331)
Greenwood, FL Court Reporters (32443)
Gretna, FL Court Reporters (32332)
Groveland, FL Court Reporters (34736)
Gulf Breeze, FL Court Reporters (32561)
Gulf Hammock, FL Court Reporters (32639)
Haines City, FL Court Reporters (33844)
Hallandale, FL Court Reporters (33008)
Hampton, FL Court Reporters (32044)
Hastings, FL Court Reporters (32145)
Havana, FL Court Reporters (32333)
Hawthorne, FL Court Reporters (32640)
Hernando, FL Court Reporters (34442)
Hialeah, FL Court Reporters (33002)
High Springs, FL Court Reporters (32643)
Highland City, FL Court Reporters (33846)
Hilliard, FL Court Reporters (32046)
Hobe Sound, FL Court Reporters (33455)
Holder, FL Court Reporters (34445)
Holiday, FL Court Reporters (34690)
Hollister, FL Court Reporters (32147)
Hollywood, FL Court Reporters (33019)
Holmes Beach, FL Court Reporters (34218)
Holt, FL Court Reporters (32564)
Homeland, FL Court Reporters (33847)
Homestead, FL Court Reporters (33030)
Homosassa, FL Court Reporters (34446)
Homosassa Springs, FL Court Reporters (34447)
Horseshoe Beach, FL Court Reporters (32648)
Hosford, FL Court Reporters (32334)
Howey in the Hills, FL Court Reporters (34737)
Hudson, FL Court Reporters (34667)
Hurlburt Field, FL Court Reporters (32544)
Immokalee, FL Court Reporters (34142)
Indialantic, FL Court Reporters (32903)
Indian Lake Estates, FL Court Reporters (33855)
Indian Rocks Beach, FL Court Reporters (33785)
Indiantown, FL Court Reporters (34956)
Inglis, FL Court Reporters (34449)
Intercession City, FL Court Reporters (33848)
Interlachen, FL Court Reporters (32148)
Inverness, FL Court Reporters (34450)
Islamorada, FL Court Reporters (33036)
Island Grove, FL Court Reporters (32654)
Istachatta, FL Court Reporters (34636)
Jacksonville, FL Court Reporters (32099)
Jacksonville Beach, FL Court Reporters (32240)
Jasper, FL Court Reporters (32052)
Jay, FL Court Reporters (32565)
Jennings, FL Court Reporters (32053)
Jensen Beach, FL Court Reporters (34957)
Jupiter, FL Court Reporters (33458)
Kathleen, FL Court Reporters (33849)
Kenansville, FL Court Reporters (34739)
Key Biscayne, FL Court Reporters (33149)
Key Colony Beach, FL Court Reporters (33051)
Key Largo, FL Court Reporters (33037)
Key West, FL Court Reporters (33040)
Keystone Heights, FL Court Reporters (32656)
Killarney, FL Court Reporters (34740)
Kissimmee, FL Court Reporters (34741)
La Belle, FL Court Reporters (33975)
La Crosse, FL Court Reporters (32658)
Labelle, FL Court Reporters (33935)
Lacoochee, FL Court Reporters (33537)
Lady Lake, FL Court Reporters (32158)
Lake Alfred, FL Court Reporters (33850)
Lake Butler, FL Court Reporters (32054)
Lake City, FL Court Reporters (32024)
Lake Como, FL Court Reporters (32157)
Lake Geneva, FL Court Reporters (32160)
Lake Hamilton, FL Court Reporters (33851)
Lake Harbor, FL Court Reporters (33459)
Lake Helen, FL Court Reporters (32744)
Lake Mary, FL Court Reporters (32746)
Lake Monroe, FL Court Reporters (32747)
Lake Panasoffkee, FL Court Reporters (33538)
Lake Placid, FL Court Reporters (33852)
Lake Wales, FL Court Reporters (33853)
Lake Worth, FL Court Reporters (33454)
Lakeland, FL Court Reporters (33801)
Lamont, FL Court Reporters (32336)
Lanark Village, FL Court Reporters (32323)
Land O' Lakes, FL Court Reporters (34639)
Largo, FL Court Reporters (33770)
Laurel, FL Court Reporters (34272)
Laurel Hill, FL Court Reporters (32567)
Lawtey, FL Court Reporters (32058)
Lecanto, FL Court Reporters (34460)
Lee, FL Court Reporters (32059)
Leesburg, FL Court Reporters (34748)
Lehigh Acres, FL Court Reporters (33936)
Lithia, FL Court Reporters (33547)
Live Oak, FL Court Reporters (32060)
Lloyd, FL Court Reporters (32337)
Lochloosa, FL Court Reporters (32662)
Long Key, FL Court Reporters (33001)
Longboat Key, FL Court Reporters (34228)
Longwood, FL Court Reporters (32750)
Lorida, FL Court Reporters (33857)
Loughman, FL Court Reporters (33858)
Lowell, FL Court Reporters (32663)
Loxahatchee, FL Court Reporters (33470)
Lulu, FL Court Reporters (32061)
Lutz, FL Court Reporters (33548)
Lynn Haven, FL Court Reporters (32444)
Macclenny, FL Court Reporters (32063)
Madison, FL Court Reporters (32340)
Maitland, FL Court Reporters (32751)
Malabar, FL Court Reporters (32950)
Malone, FL Court Reporters (32445)
Mango, FL Court Reporters (33550)
Marathon, FL Court Reporters (33050)
Marathon Shores, FL Court Reporters (33052)
Marco Island, FL Court Reporters (34145)
Marianna, FL Court Reporters (32446)
Mary Esther, FL Court Reporters (32569)
Mascotte, FL Court Reporters (34753)
Mayo, FL Court Reporters (32066)
Mc Alpin, FL Court Reporters (32062)
Mc Intosh, FL Court Reporters (32664)
McDavid, FL Court Reporters (32568)
Melbourne, FL Court Reporters (32901)
Melbourne Beach, FL Court Reporters (32951)
Melrose, FL Court Reporters (32666)
Merritt Island, FL Court Reporters (32952)
Mexico Beach, FL Court Reporters (32410)
Miami, FL Court Reporters (33101)
Miami Beach, FL Court Reporters (33109)
Micanopy, FL Court Reporters (32667)
Mid Florida, FL Court Reporters (32745)
Middleburg, FL Court Reporters (32050)
Midway, FL Court Reporters (32343)
Milligan, FL Court Reporters (32537)
Milton, FL Court Reporters (32570)
Mims, FL Court Reporters (32754)
Minneola, FL Court Reporters (34755)
Miramar Beach, FL Court Reporters (32550)
Molino, FL Court Reporters (32577)
Monticello, FL Court Reporters (32344)
Montverde, FL Court Reporters (34756)
Moore Haven, FL Court Reporters (33471)
Morriston, FL Court Reporters (32668)
Mossy Head, FL Court Reporters (32434)
Mount Dora, FL Court Reporters (32756)
Mulberry, FL Court Reporters (33860)
Murdock, FL Court Reporters (33938)
Myakka City, FL Court Reporters (34251)
Nalcrest, FL Court Reporters (33856)
Naples, FL Court Reporters (34101)
Navarre, FL Court Reporters (32566)
Neptune Beach, FL Court Reporters (32266)
New Port Richey, FL Court Reporters (34652)
New Smyrna Beach, FL Court Reporters (32168)
Newberry, FL Court Reporters (32669)
Niceville, FL Court Reporters (32578)
Nichols, FL Court Reporters (33863)
Nobleton, FL Court Reporters (34661)
Nocatee, FL Court Reporters (34268)
Nokomis, FL Court Reporters (34274)
Noma, FL Court Reporters (32452)
North Fort Myers, FL Court Reporters (33903)
North Miami Beach, FL Court Reporters (33160)
North Palm Beach, FL Court Reporters (33408)
North Port, FL Court Reporters (34286)
O'Brien, FL Court Reporters (32071)
Oak Hill, FL Court Reporters (32759)
Oakland, FL Court Reporters (34760)
Ocala, FL Court Reporters (34470)
Ochopee, FL Court Reporters (34141)
Ocklawaha, FL Court Reporters (32179)
Ocoee, FL Court Reporters (34761)
Odessa, FL Court Reporters (33556)
Okahumpka, FL Court Reporters (34762)
Okeechobee, FL Court Reporters (34972)
Old Town, FL Court Reporters (32680)
Oldsmar, FL Court Reporters (34677)
Olustee, FL Court Reporters (32072)
Ona, FL Court Reporters (33865)
Oneco, FL Court Reporters (34264)
Opa Locka, FL Court Reporters (33054)
Orange City, FL Court Reporters (32763)
Orange Lake, FL Court Reporters (32681)
Orange Park, FL Court Reporters (32003)
Orange Springs, FL Court Reporters (32182)
Orlando, FL Court Reporters (32801)
Ormond Beach, FL Court Reporters (32173)
Osprey, FL Court Reporters (34229)
Osteen, FL Court Reporters (32764)
Otter Creek, FL Court Reporters (32683)
Oviedo, FL Court Reporters (32762)
Oxford, FL Court Reporters (34484)
Ozona, FL Court Reporters (34660)
Pahokee, FL Court Reporters (33476)
Paisley, FL Court Reporters (32767)
Palatka, FL Court Reporters (32177)
Palm Bay, FL Court Reporters (32905)
Palm Beach, FL Court Reporters (33480)
Palm Beach Gardens, FL Court Reporters (33410)
Palm City, FL Court Reporters (34990)
Palm Coast, FL Court Reporters (32135)
Palm Harbor, FL Court Reporters (34682)
Palmdale, FL Court Reporters (33944)
Palmetto, FL Court Reporters (34220)
Panacea, FL Court Reporters (32346)
Panama City, FL Court Reporters (32401)
Panama City Beach, FL Court Reporters (32407)
Parrish, FL Court Reporters (34219)
Patrick Air Force Base, FL Court Reporters (32925)
Paxton, FL Court Reporters (32538)
Pembroke Pines, FL Court Reporters (33082)
Penney Farms, FL Court Reporters (32079)
Pensacola, FL Court Reporters (32501)
Perry, FL Court Reporters (32347)
Pierson, FL Court Reporters (32180)
Pineland, FL Court Reporters (33945)
Pinellas Park, FL Court Reporters (33780)
Pinetta, FL Court Reporters (32350)
Placida, FL Court Reporters (33946)
Plant City, FL Court Reporters (33563)
Plymouth, FL Court Reporters (32768)
Point Washington, FL Court Reporters (32454)
Polk City, FL Court Reporters (33868)
Pomona Park, FL Court Reporters (32181)
Pompano Beach, FL Court Reporters (33060)
Ponce de Leon, FL Court Reporters (32455)
Ponte Vedra Beach, FL Court Reporters (32004)
Port Charlotte, FL Court Reporters (33948)
Port Orange, FL Court Reporters (32123)
Port Richey, FL Court Reporters (34668)
Port Saint Joe, FL Court Reporters (32456)
Port Saint Lucie, FL Court Reporters (34952)
Port Salerno, FL Court Reporters (34992)
Punta Gorda, FL Court Reporters (33950)
Putnam Hall, FL Court Reporters (32185)
Quincy, FL Court Reporters (32351)
Raiford, FL Court Reporters (32026)
Reddick, FL Court Reporters (32686)
River Ranch, FL Court Reporters (33867)
Riverview, FL Court Reporters (33568)
Rockledge, FL Court Reporters (32955)
Roseland, FL Court Reporters (32957)
Rosemary Beach, FL Court Reporters (32461)
Rotonda West, FL Court Reporters (33947)
Ruskin, FL Court Reporters (33570)
Safety Harbor, FL Court Reporters (34695)
Saint Augustine, FL Court Reporters (32080)
Saint Cloud, FL Court Reporters (34769)
Saint James City, FL Court Reporters (33956)
Saint Leo, FL Court Reporters (33574)
Saint Marks, FL Court Reporters (32355)
Saint Petersburg, FL Court Reporters (33701)
Salem, FL Court Reporters (32356)
San Antonio, FL Court Reporters (33576)
San Mateo, FL Court Reporters (32187)
Sanderson, FL Court Reporters (32087)
Sanford, FL Court Reporters (32771)
Sanibel, FL Court Reporters (33957)
Santa Rosa Beach, FL Court Reporters (32459)
Sarasota, FL Court Reporters (34230)
Satellite Beach, FL Court Reporters (32937)
Satsuma, FL Court Reporters (32189)
Scottsmoor, FL Court Reporters (32775)
Sebastian, FL Court Reporters (32958)
Sebring, FL Court Reporters (33870)
Seffner, FL Court Reporters (33583)
Seminole, FL Court Reporters (33772)
Seville, FL Court Reporters (32190)
Shady Grove, FL Court Reporters (32357)
Shalimar, FL Court Reporters (32579)
Sharpes, FL Court Reporters (32959)
Silver Springs, FL Court Reporters (34488)
Sneads, FL Court Reporters (32460)
Sopchoppy, FL Court Reporters (32358)
Sorrento, FL Court Reporters (32776)
South Bay, FL Court Reporters (33493)
Sparr, FL Court Reporters (32192)
Spring Hill, FL Court Reporters (34606)
Starke, FL Court Reporters (32091)
Steinhatchee, FL Court Reporters (32359)
Stuart, FL Court Reporters (34994)
Sugarloaf Shores, FL Court Reporters (33044)
Sumatra, FL Court Reporters (32335)
Summerfield, FL Court Reporters (34491)
Summerland Key, FL Court Reporters (33042)
Sumterville, FL Court Reporters (33585)
Sun City, FL Court Reporters (33586)
Sun City Center, FL Court Reporters (33571)
Suwannee, FL Court Reporters (32692)
Sydney, FL Court Reporters (33587)
Tallahassee, FL Court Reporters (32301)
Tallevast, FL Court Reporters (34270)
Tampa, FL Court Reporters (33601)
Tangerine, FL Court Reporters (32777)
Tarpon Springs, FL Court Reporters (34688)
Tavares, FL Court Reporters (32778)
Tavernier, FL Court Reporters (33070)
Telogia, FL Court Reporters (32360)
Terra Ceia, FL Court Reporters (34250)
Thonotosassa, FL Court Reporters (33592)
Titusville, FL Court Reporters (32780)
Trenton, FL Court Reporters (32693)
Trilby, FL Court Reporters (33593)
Umatilla, FL Court Reporters (32784)
Valparaiso, FL Court Reporters (32580)
Valrico, FL Court Reporters (33594)
Vanderbilt Beach, FL Court Reporters (34107)
Venice, FL Court Reporters (34284)
Venus, FL Court Reporters (33960)
Vernon, FL Court Reporters (32462)
Vero Beach, FL Court Reporters (32960)
Wabasso, FL Court Reporters (32970)
Wacissa, FL Court Reporters (32361)
Waldo, FL Court Reporters (32694)
Wauchula, FL Court Reporters (33873)
Wausau, FL Court Reporters (32463)
Waverly, FL Court Reporters (33877)
Webster, FL Court Reporters (33597)
Weirsdale, FL Court Reporters (32195)
Welaka, FL Court Reporters (32193)
Wellborn, FL Court Reporters (32094)
West Palm Beach, FL Court Reporters (33401)
Westville, FL Court Reporters (32464)
Wewahitchka, FL Court Reporters (32449)
White Springs, FL Court Reporters (32096)
Wildwood, FL Court Reporters (34785)
Williston, FL Court Reporters (32696)
Wimauma, FL Court Reporters (33598)
Windermere, FL Court Reporters (34786)
Winter Beach, FL Court Reporters (32971)
Winter Garden, FL Court Reporters (34777)
Winter Haven, FL Court Reporters (33880)
Winter Park, FL Court Reporters (32789)
Winter Springs, FL Court Reporters (32708)
Woodville, FL Court Reporters (32362)
Worthington Springs, FL Court Reporters (32697)
Yalaha, FL Court Reporters (34797)
Yankeetown, FL Court Reporters (34498)
Youngstown, FL Court Reporters (32466)
Yulee, FL Court Reporters (32041)
Zellwood, FL Court Reporters (32798)
Zephyrhills, FL Court Reporters (33539)
Zolfo Springs, FL Court Reporters (33890)