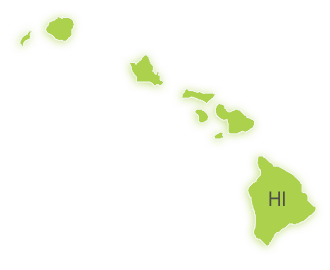 One Click Scheduling. Book A Hawaii Court Reporter Today.
Discovery Litigation Services isn't a landlocked court reporter firm. We have nationwide reach and transverse oceans to bring a certified Hawaii court reporter to your deposition. No deposition is too secluded for us to service. Our real time court reporters are ready at an instant, to bring you reliable verbatim transcriptions as the deposition transpires.
If you're ready to book your Hawaii Court Reporter, click here and upload your deposition notice. Let us handle the rest.
With Discovery, you don't have to settle for whoever's on the island just because they're available. Discovery Litigation Services brings you the best court reporter for your case regardless of your location.
With a qualified real time Hawaii court reporter, you will receive instant real time transcripts translated at an accuracy level of over 90%. Our supreme attention to detail makes for a fast delivery of the official transcript dramatically reducing traditional wait times.
Get A Hawaii Court Reporter Wherever The Deposition
The Discovery Litigation Services real time ready video streaming enabled court reporter is ready anywhere, anytime. No longer is your choice of court reporter hindered by geography or time constraints.
Discovery Litigation Services can stream a certified court reporter to you at any time. The vast network of real time ready, streaming enabled court reporters means we always have a highly qualified court reporter ready for you.
No longer do you need to coordinate everyone's travel plans to get them into the same room for a deposition. If you have an internet connection, we can get you what you need. Utilizing up to date technology brings you flexibility and time saving solutions - not to mention savings on travel expenses.
Discovery Litigation Services is committed to democratizing access to the highest quality legal/deposition solutions. Geography isn't a reason to skimp on quality. Space and Time no longer places insurmountable obstacles between you and expertise.
The Littlest Big Firm Providing A Personal Touch
You may have found yourself once working with a company that was too big for its own good. What that means is, the size of the company - and the way it was managed - prevented it from providing you with the one on one personal care you deserve.
Whether it was a grocery chain, car dealership, or another court reporting and deposition services company you've probably found yourself talking to a robot spewing boilerplate responses and shoehorning you into one-sized fits all solutions to your very individual and specific needs.
We think this is unacceptable.
We believe that the size of the company shouldn't detract from the level of care placed on each and every client. Discovery Litigation Services works alongside you as part of your litigation team to make sure you get everything you need without over built bloated services. A growing Discovery only means more people opportunities to provide the same one-on-one care and attention we've provided since day one.
Call Discovery Litigation Services and let us put our experience to work for you.
Discovery Litigation Services knows you have options with your litigation services. We are here to provide superior service, all the time, every time.
From finding a conference room to host your deposition to staffing it with a skilled court reporter, videographer and interpreter, Discovery Litigation Services will go above and beyond to fulfill your needs. We understand the importance of getting it done right. In our business, there is no margin for error.
Call Discovery at (855) 847-0999. See for yourself why so many call us their reporting company.
Schedule Your Deposition Now!
Hawaii Court Reporting Available In:
City Name
Aiea, HI Court Reporters (96701)
Anahola, HI Court Reporters (96703)
Barbers Point, HI Court Reporters (96862)
Camp H M Smith, HI Court Reporters (96861)
Captain Cook, HI Court Reporters (96704)
Eleele, HI Court Reporters (96705)
Ewa Beach, HI Court Reporters (96706)
Fort Shafter, HI Court Reporters (96858)
Haiku, HI Court Reporters (96708)
Hakalau, HI Court Reporters (96710)
Haleiwa, HI Court Reporters (96712)
Hana, HI Court Reporters (96713)
Hanalei, HI Court Reporters (96714)
Hanamaulu, HI Court Reporters (96715)
Hanapepe, HI Court Reporters (96716)
Hauula, HI Court Reporters (96717)
Hawaii National Park, HI Court Reporters (96718)
Hawi, HI Court Reporters (96719)
Hickam Air Force Base, HI Court Reporters (96853)
Hilo, HI Court Reporters (96720)
Holualoa, HI Court Reporters (96725)
Honaunau, HI Court Reporters (96726)
Honokaa, HI Court Reporters (96727)
Honolulu, HI Court Reporters (96801)
Honomu, HI Court Reporters (96728)
Hoolehua, HI Court Reporters (96729)
Kaaawa, HI Court Reporters (96730)
Kahuku, HI Court Reporters (96731)
Kahului, HI Court Reporters (96732)
Kailua, HI Court Reporters (96734)
Kailua Kona, HI Court Reporters (96740)
Kalaheo, HI Court Reporters (96741)
Kalaupapa, HI Court Reporters (96742)
Kamuela, HI Court Reporters (96743)
Kaneohe, HI Court Reporters (96744)
Kapaa, HI Court Reporters (96746)
Kapaau, HI Court Reporters (96755)
Kapolei, HI Court Reporters (96707)
Kaumakani, HI Court Reporters (96747)
Kaunakakai, HI Court Reporters (96748)
Keaau, HI Court Reporters (96749)
Kealakekua, HI Court Reporters (96750)
Kealia, HI Court Reporters (96751)
Keauhou, HI Court Reporters (96739)
Kekaha, HI Court Reporters (96752)
Kihei, HI Court Reporters (96753)
Kilauea, HI Court Reporters (96754)
Koloa, HI Court Reporters (96756)
Kualapuu, HI Court Reporters (96757)
Kula, HI Court Reporters (96790)
Kunia, HI Court Reporters (96759)
Kurtistown, HI Court Reporters (96760)
Lahaina, HI Court Reporters (96761)
Laie, HI Court Reporters (96762)
Lanai City, HI Court Reporters (96763)
Laupahoehoe, HI Court Reporters (96764)
Lawai, HI Court Reporters (96765)
Lihue, HI Court Reporters (96766)
M C B H Kaneohe Bay, HI Court Reporters (96863)
Makawao, HI Court Reporters (96768)
Makaweli, HI Court Reporters (96769)
Maunaloa, HI Court Reporters (96770)
Mililani, HI Court Reporters (96789)
Mountain View, HI Court Reporters (96771)
Naalehu, HI Court Reporters (96772)
Ninole, HI Court Reporters (96773)
Ocean View, HI Court Reporters (96737)
Ookala, HI Court Reporters (96774)
Paauilo, HI Court Reporters (96776)
Pahala, HI Court Reporters (96777)
Pahoa, HI Court Reporters (96778)
Paia, HI Court Reporters (96779)
Papaaloa, HI Court Reporters (96780)
Papaikou, HI Court Reporters (96781)
Pearl City, HI Court Reporters (96782)
Pearl Harbor, HI Court Reporters (96860)
Pepeekeo, HI Court Reporters (96783)
Princeville, HI Court Reporters (96722)
Pukalani, HI Court Reporters (96788)
Puunene, HI Court Reporters (96784)
Schofield Barracks, HI Court Reporters (96857)
Tripler Army Medical Center, HI Court Reporters (96859)
Volcano, HI Court Reporters (96785)
Wahiawa, HI Court Reporters (96786)
Waialua, HI Court Reporters (96791)
Waianae, HI Court Reporters (96792)
Waikoloa, HI Court Reporters (96738)
Wailuku, HI Court Reporters (96793)
Waimanalo, HI Court Reporters (96795)
Waimea, HI Court Reporters (96796)
Waipahu, HI Court Reporters (96797)
Wake Island, HI Court Reporters (96898)
Wheeler Army Airfield, HI Court Reporters (96854)