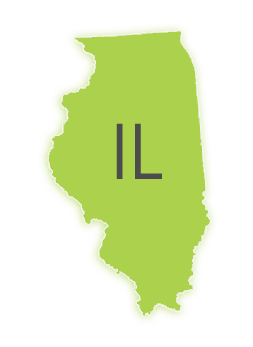 Don't Want To Settle For Just Any Illinois Court Reporter?
Discovery has the right Illinois court reporter for your deposition. Located on Merchandise Street in Chicago is a team of Discovery Litigation Services experts ready to provide you with the most qualified Illinois court reporters and comprehensive legal solutions. With our real time ready, live streaming enabled Illinois court reporters, we can provide you quality, reliability, and accuracy, anywhere in the state.
Our stenographers are highly experienced in a wide array of case sizes pertaining to various industries. Discovery Litigation Services is founded by a seasoned court reporter who understands the importance of the court reporter's role to go above and beyond in meeting your demands.
With An Experienced Court Reporting And Legal Services Firm, You Get More.
Discovery Litigation Services had more at its disposal than your average freelance court reporter:
Connections, expertise, a staff of experienced professionals, technological knowhow.
Hiring a single freelance court reporter gets you just that; a single freelance court reporter. Hiring Discovery Litigation Services gets you a court reporter and everything else you could possibly need for your deposition.
With a one-off freelance court reporter, you are still on the hook for filling every other role and coordinating putting all of the pieces together for the deposition.
Enlisting the services of Discovery gets you more than a one-off service.
You get a comprehensive solution. Just by uploading your deposition notice you're putting the full force of Discovery Litigation Services' team behind you. From coordinating schedules, providing court reporters, interpreters, and even building out your repository and pulling all deposition materials together in a trial ready format to live streaming the deposition to remote parties.
Discovery offers the complete package.
With Discovery, you get a professionalism, expertise, and security in redundancy. Losing individuals due to scheduling conflicts and illness can threaten the success of your case. It provides unnecessary obstacles and is absolutely avoidable.
Discovery Litigation Services' extensive network provides you security in knowing you'll have that court reporter, that document review attorney, and that videographer you need when you need them.
Experience With A Smile
It shouldn't be difficult to get hardworking, experienced professionals who are nice. Often times it is! Just remember back to the last time you went to a mechanic. You shouldn't have to steel yourself against those you are paying to provide you with a service.
Discovery Litigation Services was founded on the premise that you deserve more. We are grateful for the opportunity to work alongside you and to serve you to the best of our abilities.
We believe that you deserve access to high quality professionals at a price that won't break the bank.
You deserve to work with top level court reporters, videographers, document review attorneys and with legal professionals who are helpful and nice.
Discovery Litigation Services was founded by a seasoned court reporter who is motivated to provide you with over twenty years of expertise and support in a helpful and pleasant manner. Alexander Gallo has worked tirelessly to build a team of professionals who are devoted to upholding that culture and in an effort to give you the best.
Discovery Litigation Services knows you have options with your litigation services. We are here to provide superior service, all the time, every time.
From finding a conference room to host your deposition to staffing it with a skilled court reporter, videographer and interpreter, Discovery Litigation Services will go above and beyond to fulfill your needs. We understand the importance of getting it done right. In our business, there is no margin for error.
Call Discovery at (855) 847-0999. See for yourself why so many call us their reporting company.
Schedule Your Deposition Now!
Illinois Court Reporting Available In:
City Name
AMF O'Hare, IL Court Reporters (60666)
Abingdon, IL Court Reporters (61410)
Adair, IL Court Reporters (61411)
Addieville, IL Court Reporters (62214)
Addison, IL Court Reporters (60101)
Adrian, IL Court Reporters (62310)
Akin, IL Court Reporters (62805)
Albany, IL Court Reporters (61230)
Albers, IL Court Reporters (62215)
Albion, IL Court Reporters (62806)
Alden, IL Court Reporters (60001)
Aledo, IL Court Reporters (61231)
Alexander, IL Court Reporters (62601)
Alexis, IL Court Reporters (61412)
Algonquin, IL Court Reporters (60102)
Alhambra, IL Court Reporters (62001)
Allendale, IL Court Reporters (62410)
Allerton, IL Court Reporters (61810)
Alma, IL Court Reporters (62807)
Alpha, IL Court Reporters (61413)
Alsey, IL Court Reporters (62610)
Alsip, IL Court Reporters (60803)
Altamont, IL Court Reporters (62411)
Alto Pass, IL Court Reporters (62905)
Alton, IL Court Reporters (62002)
Altona, IL Court Reporters (61414)
Alvin, IL Court Reporters (61811)
Amboy, IL Court Reporters (61310)
Anchor, IL Court Reporters (61720)
Ancona, IL Court Reporters (61311)
Andalusia, IL Court Reporters (61232)
Andover, IL Court Reporters (61233)
Anna, IL Court Reporters (62906)
Annapolis, IL Court Reporters (62413)
Annawan, IL Court Reporters (61234)
Antioch, IL Court Reporters (60002)
Apple River, IL Court Reporters (61001)
Arcola, IL Court Reporters (61910)
Arenzville, IL Court Reporters (62611)
Argenta, IL Court Reporters (62501)
Arlington, IL Court Reporters (61312)
Arlington Heights, IL Court Reporters (60004)
Armington, IL Court Reporters (61721)
Armstrong, IL Court Reporters (61812)
Aroma Park, IL Court Reporters (60910)
Arrowsmith, IL Court Reporters (61722)
Arthur, IL Court Reporters (61911)
Ashkum, IL Court Reporters (60911)
Ashland, IL Court Reporters (62612)
Ashley, IL Court Reporters (62808)
Ashmore, IL Court Reporters (61912)
Ashton, IL Court Reporters (61006)
Assumption, IL Court Reporters (62510)
Astoria, IL Court Reporters (61501)
Athens, IL Court Reporters (62613)
Atkinson, IL Court Reporters (61235)
Atlanta, IL Court Reporters (61723)
Atwood, IL Court Reporters (61913)
Auburn, IL Court Reporters (62615)
Augusta, IL Court Reporters (62311)
Aurora, IL Court Reporters (60504)
Ava, IL Court Reporters (62907)
Aviston, IL Court Reporters (62216)
Avon, IL Court Reporters (61415)
Baileyville, IL Court Reporters (61007)
Baldwin, IL Court Reporters (62217)
Bardolph, IL Court Reporters (61416)
Barnhill, IL Court Reporters (62809)
Barrington, IL Court Reporters (60010)
Barry, IL Court Reporters (62312)
Barstow, IL Court Reporters (61236)
Bartelso, IL Court Reporters (62218)
Bartlett, IL Court Reporters (60103)
Basco, IL Court Reporters (62313)
Batavia, IL Court Reporters (60510)
Batchtown, IL Court Reporters (62006)
Bath, IL Court Reporters (62617)
Baylis, IL Court Reporters (62314)
Beardstown, IL Court Reporters (62618)
Beason, IL Court Reporters (62512)
Beaverville, IL Court Reporters (60912)
Beckemeyer, IL Court Reporters (62219)
Bedford Park, IL Court Reporters (60499)
Beecher, IL Court Reporters (60401)
Beecher City, IL Court Reporters (62414)
Belknap, IL Court Reporters (62908)
Belle Rive, IL Court Reporters (62810)
Belleville, IL Court Reporters (62220)
Bellflower, IL Court Reporters (61724)
Bellmont, IL Court Reporters (62811)
Bellwood, IL Court Reporters (60104)
Belvidere, IL Court Reporters (61008)
Bement, IL Court Reporters (61813)
Benld, IL Court Reporters (62009)
Bensenville, IL Court Reporters (60105)
Benson, IL Court Reporters (61516)
Benton, IL Court Reporters (62812)
Berkeley, IL Court Reporters (60163)
Berwick, IL Court Reporters (61417)
Berwyn, IL Court Reporters (60402)
Bethalto, IL Court Reporters (62010)
Bethany, IL Court Reporters (61914)
Big Rock, IL Court Reporters (60511)
Biggsville, IL Court Reporters (61418)
Bingham, IL Court Reporters (62011)
Birds, IL Court Reporters (62415)
Bishop Hill, IL Court Reporters (61419)
Bismarck, IL Court Reporters (61814)
Blackstone, IL Court Reporters (61313)
Blandinsville, IL Court Reporters (61420)
Bloomingdale, IL Court Reporters (60108)
Bloomington, IL Court Reporters (61701)
Blue Island, IL Court Reporters (60406)
Blue Mound, IL Court Reporters (62513)
Bluff Springs, IL Court Reporters (62622)
Bluffs, IL Court Reporters (62621)
Bluford, IL Court Reporters (62814)
Boles, IL Court Reporters (62909)
Bolingbrook, IL Court Reporters (60440)
Bondville, IL Court Reporters (61815)
Bone Gap, IL Court Reporters (62815)
Bonfield, IL Court Reporters (60913)
Bonnie, IL Court Reporters (62816)
Boody, IL Court Reporters (62514)
Bourbonnais, IL Court Reporters (60914)
Bowen, IL Court Reporters (62316)
Braceville, IL Court Reporters (60407)
Bradford, IL Court Reporters (61421)
Bradley, IL Court Reporters (60915)
Braidwood, IL Court Reporters (60408)
Breese, IL Court Reporters (62230)
Bridgeport, IL Court Reporters (62417)
Bridgeview, IL Court Reporters (60455)
Brighton, IL Court Reporters (62012)
Brimfield, IL Court Reporters (61517)
Bristol, IL Court Reporters (60512)
Broadlands, IL Court Reporters (61816)
Broadview, IL Court Reporters (60155)
Brocton, IL Court Reporters (61917)
Brookfield, IL Court Reporters (60513)
Brookport, IL Court Reporters (62910)
Broughton, IL Court Reporters (62817)
Browning, IL Court Reporters (62624)
Browns, IL Court Reporters (62818)
Brownstown, IL Court Reporters (62418)
Brussels, IL Court Reporters (62013)
Bryant, IL Court Reporters (61519)
Buckingham, IL Court Reporters (60917)
Buckley, IL Court Reporters (60918)
Buckner, IL Court Reporters (62819)
Buda, IL Court Reporters (61314)
Buffalo, IL Court Reporters (62515)
Buffalo Grove, IL Court Reporters (60089)
Buffalo Prairie, IL Court Reporters (61237)
Bulpitt, IL Court Reporters (62517)
Buncombe, IL Court Reporters (62912)
Bunker Hill, IL Court Reporters (62014)
Burbank, IL Court Reporters (60459)
Bureau, IL Court Reporters (61315)
Burlington, IL Court Reporters (60109)
Burnt Prairie, IL Court Reporters (62820)
Bushnell, IL Court Reporters (61422)
Butler, IL Court Reporters (62015)
Byron, IL Court Reporters (61010)
Cabery, IL Court Reporters (60919)
Cairo, IL Court Reporters (62914)
Caledonia, IL Court Reporters (61011)
Calhoun, IL Court Reporters (62419)
Calumet City, IL Court Reporters (60409)
Camargo, IL Court Reporters (61919)
Cambria, IL Court Reporters (62915)
Cambridge, IL Court Reporters (61238)
Camden, IL Court Reporters (62319)
Cameron, IL Court Reporters (61423)
Camp Grove, IL Court Reporters (61424)
Camp Point, IL Court Reporters (62320)
Campbell Hill, IL Court Reporters (62916)
Campus, IL Court Reporters (60920)
Canton, IL Court Reporters (61520)
Cantrall, IL Court Reporters (62625)
Capron, IL Court Reporters (61012)
Carbon Cliff, IL Court Reporters (61239)
Carbondale, IL Court Reporters (62901)
Carlinville, IL Court Reporters (62626)
Carlock, IL Court Reporters (61725)
Carlyle, IL Court Reporters (62231)
Carman, IL Court Reporters (61425)
Carmi, IL Court Reporters (62821)
Carol Stream, IL Court Reporters (60116)
Carpentersville, IL Court Reporters (60110)
Carrier Mills, IL Court Reporters (62917)
Carrollton, IL Court Reporters (62016)
Carterville, IL Court Reporters (62918)
Carthage, IL Court Reporters (62321)
Cary, IL Court Reporters (60013)
Casey, IL Court Reporters (62420)
Caseyville, IL Court Reporters (62232)
Castleton, IL Court Reporters (61426)
Catlin, IL Court Reporters (61817)
Cave in Rock, IL Court Reporters (62919)
Cedar Point, IL Court Reporters (61316)
Cedarville, IL Court Reporters (61013)
Centralia, IL Court Reporters (62801)
Cerro Gordo, IL Court Reporters (61818)
Chadwick, IL Court Reporters (61014)
Chambersburg, IL Court Reporters (62323)
Champaign, IL Court Reporters (61820)
Chana, IL Court Reporters (61015)
Chandlerville, IL Court Reporters (62627)
Channahon, IL Court Reporters (60410)
Chapin, IL Court Reporters (62628)
Charleston, IL Court Reporters (61920)
Chatham, IL Court Reporters (62629)
Chatsworth, IL Court Reporters (60921)
Chebanse, IL Court Reporters (60922)
Chenoa, IL Court Reporters (61726)
Cherry, IL Court Reporters (61317)
Cherry Valley, IL Court Reporters (61016)
Chester, IL Court Reporters (62233)
Chesterfield, IL Court Reporters (62630)
Chestnut, IL Court Reporters (62518)
Chicago, IL Court Reporters (60601)
Chicago Heights, IL Court Reporters (60411)
Chicago Ridge, IL Court Reporters (60415)
Chillicothe, IL Court Reporters (61523)
Chrisman, IL Court Reporters (61924)
Christopher, IL Court Reporters (62822)
Cicero, IL Court Reporters (60804)
Cisco, IL Court Reporters (61830)
Cisne, IL Court Reporters (62823)
Cissna Park, IL Court Reporters (60924)
Clare, IL Court Reporters (60111)
Claremont, IL Court Reporters (62421)
Clarendon Hills, IL Court Reporters (60514)
Clay City, IL Court Reporters (62824)
Clayton, IL Court Reporters (62324)
Claytonville, IL Court Reporters (60926)
Clifton, IL Court Reporters (60927)
Clinton, IL Court Reporters (61727)
Coal City, IL Court Reporters (60416)
Coal Valley, IL Court Reporters (61240)
Coatsburg, IL Court Reporters (62325)
Cobden, IL Court Reporters (62920)
Coello, IL Court Reporters (62825)
Coffeen, IL Court Reporters (62017)
Colchester, IL Court Reporters (62326)
Colfax, IL Court Reporters (61728)
Collinsville, IL Court Reporters (62234)
Collison, IL Court Reporters (61831)
Colona, IL Court Reporters (61241)
Colp, IL Court Reporters (62921)
Columbia, IL Court Reporters (62236)
Colusa, IL Court Reporters (62329)
Compton, IL Court Reporters (61318)
Concord, IL Court Reporters (62631)
Congerville, IL Court Reporters (61729)
Cooksville, IL Court Reporters (61730)
Cordova, IL Court Reporters (61242)
Cornell, IL Court Reporters (61319)
Cornland, IL Court Reporters (62519)
Cortland, IL Court Reporters (60112)
Cottage Hills, IL Court Reporters (62018)
Coulterville, IL Court Reporters (62237)
Country Club Hills, IL Court Reporters (60478)
Cowden, IL Court Reporters (62422)
Creal Springs, IL Court Reporters (62922)
Crescent City, IL Court Reporters (60928)
Creston, IL Court Reporters (60113)
Crete, IL Court Reporters (60417)
Creve Coeur, IL Court Reporters (61610)
Cropsey, IL Court Reporters (61731)
Crossville, IL Court Reporters (62827)
Crystal Lake, IL Court Reporters (60012)
Cuba, IL Court Reporters (61427)
Cullom, IL Court Reporters (60929)
Cutler, IL Court Reporters (62238)
Cypress, IL Court Reporters (62923)
Dahinda, IL Court Reporters (61428)
Dahlgren, IL Court Reporters (62828)
Dakota, IL Court Reporters (61018)
Dale, IL Court Reporters (62829)
Dallas City, IL Court Reporters (62330)
Dalton City, IL Court Reporters (61925)
Dalzell, IL Court Reporters (61320)
Dana, IL Court Reporters (61321)
Danforth, IL Court Reporters (60930)
Danvers, IL Court Reporters (61732)
Danville, IL Court Reporters (61832)
Darien, IL Court Reporters (60561)
Davis, IL Court Reporters (61019)
Davis Junction, IL Court Reporters (61020)
Dawson, IL Court Reporters (62520)
De Land, IL Court Reporters (61839)
De Soto, IL Court Reporters (62924)
Decatur, IL Court Reporters (62521)
Deer Creek, IL Court Reporters (61733)
Deer Grove, IL Court Reporters (61243)
Deerfield, IL Court Reporters (60015)
Dekalb, IL Court Reporters (60115)
Delavan, IL Court Reporters (61734)
Dennison, IL Court Reporters (62423)
Depue, IL Court Reporters (61322)
Des Plaines, IL Court Reporters (60016)
Dewey, IL Court Reporters (61840)
Dewitt, IL Court Reporters (61735)
Dieterich, IL Court Reporters (62424)
Divernon, IL Court Reporters (62530)
Dix, IL Court Reporters (62830)
Dixon, IL Court Reporters (61021)
Dolton, IL Court Reporters (60419)
Dongola, IL Court Reporters (62926)
Donnellson, IL Court Reporters (62019)
Donovan, IL Court Reporters (60931)
Dorsey, IL Court Reporters (62021)
Dover, IL Court Reporters (61323)
Dow, IL Court Reporters (62022)
Dowell, IL Court Reporters (62927)
Downers Grove, IL Court Reporters (60515)
Downs, IL Court Reporters (61736)
Du Bois, IL Court Reporters (62831)
Du Quoin, IL Court Reporters (62832)
Dundas, IL Court Reporters (62425)
Dundee, IL Court Reporters (60118)
Dunfermline, IL Court Reporters (61524)
Dunlap, IL Court Reporters (61525)
Dupo, IL Court Reporters (62239)
Durand, IL Court Reporters (61024)
Dwight, IL Court Reporters (60420)
Eagarville, IL Court Reporters (62023)
Earlville, IL Court Reporters (60518)
East Alton, IL Court Reporters (62024)
East Carondelet, IL Court Reporters (62240)
East Dubuque, IL Court Reporters (61025)
East Galesburg, IL Court Reporters (61430)
East Lynn, IL Court Reporters (60932)
East Moline, IL Court Reporters (61244)
East Peoria, IL Court Reporters (61611)
East Saint Louis, IL Court Reporters (62201)
Easton, IL Court Reporters (62633)
Eddyville, IL Court Reporters (62928)
Edelstein, IL Court Reporters (61526)
Edgewood, IL Court Reporters (62426)
Edinburg, IL Court Reporters (62531)
Edwards, IL Court Reporters (61528)
Edwardsville, IL Court Reporters (62025)
Effingham, IL Court Reporters (62401)
El Paso, IL Court Reporters (61738)
Elburn, IL Court Reporters (60119)
Eldena, IL Court Reporters (61324)
Eldorado, IL Court Reporters (62930)
Eldred, IL Court Reporters (62027)
Eleroy, IL Court Reporters (61027)
Elgin, IL Court Reporters (60120)
Elizabeth, IL Court Reporters (61028)
Elizabethtown, IL Court Reporters (62931)
Elk Grove Village, IL Court Reporters (60007)
Elkhart, IL Court Reporters (62634)
Elkville, IL Court Reporters (62932)
Ellery, IL Court Reporters (62833)
Elliott, IL Court Reporters (60933)
Ellis Grove, IL Court Reporters (62241)
Ellisville, IL Court Reporters (61431)
Ellsworth, IL Court Reporters (61737)
Elmhurst, IL Court Reporters (60126)
Elmwood, IL Court Reporters (61529)
Elmwood Park, IL Court Reporters (60707)
Elsah, IL Court Reporters (62028)
Elvaston, IL Court Reporters (62334)
Elwin, IL Court Reporters (62532)
Elwood, IL Court Reporters (60421)
Emden, IL Court Reporters (62635)
Emington, IL Court Reporters (60934)
Emma, IL Court Reporters (62834)
Energy, IL Court Reporters (62933)
Enfield, IL Court Reporters (62835)
Eola, IL Court Reporters (60519)
Equality, IL Court Reporters (62934)
Erie, IL Court Reporters (61250)
Esmond, IL Court Reporters (60129)
Essex, IL Court Reporters (60935)
Eureka, IL Court Reporters (61530)
Evanston, IL Court Reporters (60201)
Evansville, IL Court Reporters (62242)
Evergreen Park, IL Court Reporters (60805)
Ewing, IL Court Reporters (62836)
Fairbury, IL Court Reporters (61739)
Fairfield, IL Court Reporters (62837)
Fairmount, IL Court Reporters (61841)
Fairview, IL Court Reporters (61432)
Fairview Heights, IL Court Reporters (62208)
Farina, IL Court Reporters (62838)
Farmer City, IL Court Reporters (61842)
Farmersville, IL Court Reporters (62533)
Farmington, IL Court Reporters (61531)
Fenton, IL Court Reporters (61251)
Ferris, IL Court Reporters (62336)
Fiatt, IL Court Reporters (61433)
Fidelity, IL Court Reporters (62030)
Fieldon, IL Court Reporters (62031)
Fillmore, IL Court Reporters (62032)
Findlay, IL Court Reporters (62534)
Fisher, IL Court Reporters (61843)
Fithian, IL Court Reporters (61844)
Flanagan, IL Court Reporters (61740)
Flat Rock, IL Court Reporters (62427)
Flora, IL Court Reporters (62839)
Flossmoor, IL Court Reporters (60422)
Foosland, IL Court Reporters (61845)
Forest City, IL Court Reporters (61532)
Forest Park, IL Court Reporters (60130)
Forrest, IL Court Reporters (61741)
Forreston, IL Court Reporters (61030)
Forsyth, IL Court Reporters (62535)
Fort Sheridan, IL Court Reporters (60037)
Fowler, IL Court Reporters (62338)
Fox Lake, IL Court Reporters (60020)
Fox River Grove, IL Court Reporters (60021)
Fox Valley, IL Court Reporters (60597)
Frankfort, IL Court Reporters (60423)
Frankfort Heights, IL Court Reporters (62840)
Franklin, IL Court Reporters (62638)
Franklin Grove, IL Court Reporters (61031)
Franklin Park, IL Court Reporters (60131)
Frederick, IL Court Reporters (62639)
Freeburg, IL Court Reporters (62243)
Freeman Spur, IL Court Reporters (62841)
Freeport, IL Court Reporters (61032)
Fulton, IL Court Reporters (61252)
Fults, IL Court Reporters (62244)
Galatia, IL Court Reporters (62935)
Galena, IL Court Reporters (61036)
Galesburg, IL Court Reporters (61401)
Galt, IL Court Reporters (61037)
Galva, IL Court Reporters (61434)
Garden Prairie, IL Court Reporters (61038)
Gardner, IL Court Reporters (60424)
Gays, IL Court Reporters (61928)
Geff, IL Court Reporters (62842)
Geneseo, IL Court Reporters (61254)
Geneva, IL Court Reporters (60134)
Genoa, IL Court Reporters (60135)
Georgetown, IL Court Reporters (61846)
Gerlaw, IL Court Reporters (61435)
German Valley, IL Court Reporters (61039)
Germantown, IL Court Reporters (62245)
Gibson City, IL Court Reporters (60936)
Gifford, IL Court Reporters (61847)
Gilberts, IL Court Reporters (60136)
Gillespie, IL Court Reporters (62033)
Gilman, IL Court Reporters (60938)
Gilson, IL Court Reporters (61436)
Girard, IL Court Reporters (62640)
Gladstone, IL Court Reporters (61437)
Glasford, IL Court Reporters (61533)
Glen Carbon, IL Court Reporters (62034)
Glen Ellyn, IL Court Reporters (60137)
Glenarm, IL Court Reporters (62536)
Glencoe, IL Court Reporters (60022)
Glendale Heights, IL Court Reporters (60139)
Glenview, IL Court Reporters (60025)
Glenview NAS, IL Court Reporters (60026)
Glenwood, IL Court Reporters (60425)
Godfrey, IL Court Reporters (62035)
Golconda, IL Court Reporters (62938)
Golden, IL Court Reporters (62339)
Golden Eagle, IL Court Reporters (62036)
Golden Gate, IL Court Reporters (62843)
Golf, IL Court Reporters (60029)
Good Hope, IL Court Reporters (61438)
Goodfield, IL Court Reporters (61742)
Goodwine, IL Court Reporters (60939)
Goreville, IL Court Reporters (62939)
Gorham, IL Court Reporters (62940)
Grafton, IL Court Reporters (62037)
Grand Chain, IL Court Reporters (62941)
Grand Ridge, IL Court Reporters (61325)
Grand Tower, IL Court Reporters (62942)
Granite City, IL Court Reporters (62040)
Grant Park, IL Court Reporters (60940)
Grantsburg, IL Court Reporters (62943)
Granville, IL Court Reporters (61326)
Graymont, IL Court Reporters (61743)
Grayslake, IL Court Reporters (60030)
Grayville, IL Court Reporters (62844)
Great Lakes, IL Court Reporters (60088)
Green Valley, IL Court Reporters (61534)
Greenfield, IL Court Reporters (62044)
Greenup, IL Court Reporters (62428)
Greenview, IL Court Reporters (62642)
Greenville, IL Court Reporters (62246)
Gridley, IL Court Reporters (61744)
Griggsville, IL Court Reporters (62340)
Groveland, IL Court Reporters (61535)
Gurnee, IL Court Reporters (60031)
Hagarstown, IL Court Reporters (62247)
Hamburg, IL Court Reporters (62045)
Hamel, IL Court Reporters (62046)
Hamilton, IL Court Reporters (62341)
Hamletsburg, IL Court Reporters (62944)
Hammond, IL Court Reporters (61929)
Hampshire, IL Court Reporters (60140)
Hampton, IL Court Reporters (61256)
Hanna City, IL Court Reporters (61536)
Hanover, IL Court Reporters (61041)
Hanover Park, IL Court Reporters (60133)
Hardin, IL Court Reporters (62047)
Harmon, IL Court Reporters (61042)
Harrisburg, IL Court Reporters (62946)
Harristown, IL Court Reporters (62537)
Hartford, IL Court Reporters (62048)
Hartsburg, IL Court Reporters (62643)
Harvard, IL Court Reporters (60033)
Harvel, IL Court Reporters (62538)
Harvey, IL Court Reporters (60426)
Harwood Heights, IL Court Reporters (60706)
Havana, IL Court Reporters (62644)
Hazel Crest, IL Court Reporters (60429)
Hebron, IL Court Reporters (60034)
Hecker, IL Court Reporters (62248)
Henderson, IL Court Reporters (61439)
Hennepin, IL Court Reporters (61327)
Henning, IL Court Reporters (61848)
Henry, IL Court Reporters (61537)
Herald, IL Court Reporters (62845)
Herod, IL Court Reporters (62947)
Herrick, IL Court Reporters (62431)
Herrin, IL Court Reporters (62948)
Herscher, IL Court Reporters (60941)
Hettick, IL Court Reporters (62649)
Heyworth, IL Court Reporters (61745)
Hickory Hills, IL Court Reporters (60457)
Hidalgo, IL Court Reporters (62432)
Highland, IL Court Reporters (62249)
Highland Park, IL Court Reporters (60035)
Highwood, IL Court Reporters (60040)
Hillsboro, IL Court Reporters (62049)
Hillsdale, IL Court Reporters (61257)
Hillside, IL Court Reporters (60162)
Hillview, IL Court Reporters (62050)
Hinckley, IL Court Reporters (60520)
Hindsboro, IL Court Reporters (61930)
Hines, IL Court Reporters (60141)
Hinsdale, IL Court Reporters (60521)
Hoffman, IL Court Reporters (62250)
Hoffman Estates, IL Court Reporters (60179)
Holcomb, IL Court Reporters (61043)
Homer, IL Court Reporters (61849)
Hometown, IL Court Reporters (60456)
Homewood, IL Court Reporters (60430)
Hoopeston, IL Court Reporters (60942)
Hooppole, IL Court Reporters (61258)
Hopedale, IL Court Reporters (61747)
Hopkins Park, IL Court Reporters (60944)
Hoyleton, IL Court Reporters (62803)
Hudson, IL Court Reporters (61748)
Huey, IL Court Reporters (62252)
Hull, IL Court Reporters (62343)
Humboldt, IL Court Reporters (61931)
Hume, IL Court Reporters (61932)
Huntley, IL Court Reporters (60142)
Huntsville, IL Court Reporters (62344)
Hurst, IL Court Reporters (62949)
Hutsonville, IL Court Reporters (62433)
Illinois City, IL Court Reporters (61259)
Illiopolis, IL Court Reporters (62539)
Ina, IL Court Reporters (62846)
Indianola, IL Court Reporters (61850)
Industry, IL Court Reporters (61440)
Ingleside, IL Court Reporters (60041)
Ingraham, IL Court Reporters (62434)
Iola, IL Court Reporters (62847)
Ipava, IL Court Reporters (61441)
Iroquois, IL Court Reporters (60945)
Irving, IL Court Reporters (62051)
Irvington, IL Court Reporters (62848)
Island Lake, IL Court Reporters (60042)
Itasca, IL Court Reporters (60143)
Iuka, IL Court Reporters (62849)
Ivesdale, IL Court Reporters (61851)
Jacksonville, IL Court Reporters (62650)
Jacob, IL Court Reporters (62950)
Janesville, IL Court Reporters (62435)
Jerseyville, IL Court Reporters (62052)
Jewett, IL Court Reporters (62436)
Johnsonville, IL Court Reporters (62850)
Johnston City, IL Court Reporters (62951)
Joliet, IL Court Reporters (60431)
Jonesboro, IL Court Reporters (62952)
Joppa, IL Court Reporters (62953)
Joy, IL Court Reporters (61260)
Junction, IL Court Reporters (62954)
Justice, IL Court Reporters (60458)
Kampsville, IL Court Reporters (62053)
Kane, IL Court Reporters (62054)
Kaneville, IL Court Reporters (60144)
Kankakee, IL Court Reporters (60901)
Kansas, IL Court Reporters (61933)
Karbers Ridge, IL Court Reporters (62955)
Karnak, IL Court Reporters (62956)
Kasbeer, IL Court Reporters (61328)
Keenes, IL Court Reporters (62851)
Keensburg, IL Court Reporters (62852)
Keithsburg, IL Court Reporters (61442)
Kell, IL Court Reporters (62853)
Kempton, IL Court Reporters (60946)
Kenilworth, IL Court Reporters (60043)
Kenney, IL Court Reporters (61749)
Kent, IL Court Reporters (61044)
Kewanee, IL Court Reporters (61443)
Keyesport, IL Court Reporters (62253)
Kilbourne, IL Court Reporters (62655)
Kincaid, IL Court Reporters (62540)
Kinderhook, IL Court Reporters (62345)
Kingston, IL Court Reporters (60145)
Kingston Mines, IL Court Reporters (61539)
Kinmundy, IL Court Reporters (62854)
Kinsman, IL Court Reporters (60437)
Kirkland, IL Court Reporters (60146)
Kirkwood, IL Court Reporters (61447)
Knoxville, IL Court Reporters (61448)
La Fayette, IL Court Reporters (61449)
La Grange, IL Court Reporters (60525)
La Grange Park, IL Court Reporters (60526)
La Harpe, IL Court Reporters (61450)
La Moille, IL Court Reporters (61330)
La Place, IL Court Reporters (61936)
La Prairie, IL Court Reporters (62346)
La Rose, IL Court Reporters (61541)
La Salle, IL Court Reporters (61301)
Lacon, IL Court Reporters (61540)
Ladd, IL Court Reporters (61329)
Lafox, IL Court Reporters (60147)
Lake Bluff, IL Court Reporters (60044)
Lake Forest, IL Court Reporters (60045)
Lake Fork, IL Court Reporters (62541)
Lake Villa, IL Court Reporters (60046)
Lake Zurich, IL Court Reporters (60047)
Lake in the Hills, IL Court Reporters (60156)
Lakewood, IL Court Reporters (62438)
Lanark, IL Court Reporters (61046)
Lancaster, IL Court Reporters (62855)
Lane, IL Court Reporters (61750)
Lansing, IL Court Reporters (60438)
Latham, IL Court Reporters (62543)
Laura, IL Court Reporters (61451)
Lawndale, IL Court Reporters (61751)
Lawrenceville, IL Court Reporters (62439)
Le Roy, IL Court Reporters (61752)
Leaf River, IL Court Reporters (61047)
Lebanon, IL Court Reporters (62254)
Lee, IL Court Reporters (60530)
Lee Center, IL Court Reporters (61331)
Leland, IL Court Reporters (60531)
Lemont, IL Court Reporters (60439)
Lena, IL Court Reporters (61048)
Lenzburg, IL Court Reporters (62255)
Leonore, IL Court Reporters (61332)
Lerna, IL Court Reporters (62440)
Lewistown, IL Court Reporters (61542)
Lexington, IL Court Reporters (61753)
Liberty, IL Court Reporters (62347)
Libertyville, IL Court Reporters (60048)
Lima, IL Court Reporters (62348)
Lincoln, IL Court Reporters (62656)
Lincoln's New Salem, IL Court Reporters (62659)
Lincolnshire, IL Court Reporters (60069)
Lincolnwood, IL Court Reporters (60712)
Lindenwood, IL Court Reporters (61049)
Lisle, IL Court Reporters (60532)
Litchfield, IL Court Reporters (62056)
Literberry, IL Court Reporters (62660)
Little York, IL Court Reporters (61453)
Littleton, IL Court Reporters (61452)
Liverpool, IL Court Reporters (61543)
Livingston, IL Court Reporters (62058)
Loami, IL Court Reporters (62661)
Lockport, IL Court Reporters (60441)
Loda, IL Court Reporters (60948)
Logan, IL Court Reporters (62856)
Lomax, IL Court Reporters (61454)
Lombard, IL Court Reporters (60148)
London Mills, IL Court Reporters (61544)
Long Grove, IL Court Reporters (60049)
Long Point, IL Court Reporters (61333)
Longview, IL Court Reporters (61852)
Loogootee, IL Court Reporters (62857)
Loraine, IL Court Reporters (62349)
Lostant, IL Court Reporters (61334)
Louisville, IL Court Reporters (62858)
Lovejoy, IL Court Reporters (62059)
Loves Park, IL Court Reporters (61111)
Lovington, IL Court Reporters (61937)
Lowder, IL Court Reporters (62662)
Lowpoint, IL Court Reporters (61545)
Ludlow, IL Court Reporters (60949)
Lyndon, IL Court Reporters (61261)
Lynn Center, IL Court Reporters (61262)
Lyons, IL Court Reporters (60534)
Macedonia, IL Court Reporters (62860)
Machesney Park, IL Court Reporters (61115)
Mackinaw, IL Court Reporters (61755)
Macomb, IL Court Reporters (61455)
Macon, IL Court Reporters (62544)
Madison, IL Court Reporters (62060)
Maeystown, IL Court Reporters (62256)
Magnolia, IL Court Reporters (61336)
Mahomet, IL Court Reporters (61853)
Makanda, IL Court Reporters (62958)
Malden, IL Court Reporters (61337)
Malta, IL Court Reporters (60150)
Manchester, IL Court Reporters (62663)
Manhattan, IL Court Reporters (60442)
Manito, IL Court Reporters (61546)
Manlius, IL Court Reporters (61338)
Mansfield, IL Court Reporters (61854)
Manteno, IL Court Reporters (60950)
Maple Park, IL Court Reporters (60151)
Mapleton, IL Court Reporters (61547)
Maquon, IL Court Reporters (61458)
Marengo, IL Court Reporters (60152)
Marietta, IL Court Reporters (61459)
Marine, IL Court Reporters (62061)
Marion, IL Court Reporters (62959)
Marissa, IL Court Reporters (62257)
Mark, IL Court Reporters (61340)
Maroa, IL Court Reporters (61756)
Marseilles, IL Court Reporters (61341)
Marshall, IL Court Reporters (62441)
Martinsville, IL Court Reporters (62442)
Martinton, IL Court Reporters (60951)
Maryville, IL Court Reporters (62062)
Mascoutah, IL Court Reporters (62224)
Mason, IL Court Reporters (62443)
Mason City, IL Court Reporters (62664)
Matherville, IL Court Reporters (61263)
Matteson, IL Court Reporters (60443)
Mattoon, IL Court Reporters (61938)
Maunie, IL Court Reporters (62861)
Maywood, IL Court Reporters (60153)
Mazon, IL Court Reporters (60444)
Mc Connell, IL Court Reporters (61050)
Mc Lean, IL Court Reporters (61754)
Mc Nabb, IL Court Reporters (61335)
McClure, IL Court Reporters (62957)
McHenry, IL Court Reporters (60050)
McLeansboro, IL Court Reporters (62859)
Mechanicsburg, IL Court Reporters (62545)
Media, IL Court Reporters (61460)
Medinah, IL Court Reporters (60157)
Medora, IL Court Reporters (62063)
Melrose Park, IL Court Reporters (60160)
Melvin, IL Court Reporters (60952)
Menard, IL Court Reporters (62259)
Mendon, IL Court Reporters (62351)
Mendota, IL Court Reporters (61342)
Meredosia, IL Court Reporters (62665)
Merna, IL Court Reporters (61758)
Metamora, IL Court Reporters (61548)
Metcalf, IL Court Reporters (61940)
Metropolis, IL Court Reporters (62960)
Michael, IL Court Reporters (62065)
Middletown, IL Court Reporters (62666)
Midlothian, IL Court Reporters (60445)
Milan, IL Court Reporters (61264)
Milford, IL Court Reporters (60953)
Mill Shoals, IL Court Reporters (62862)
Millbrook, IL Court Reporters (60536)
Millcreek, IL Court Reporters (62961)
Milledgeville, IL Court Reporters (61051)
Miller City, IL Court Reporters (62962)
Millington, IL Court Reporters (60537)
Millstadt, IL Court Reporters (62260)
Milmine, IL Court Reporters (61855)
Milton, IL Court Reporters (62352)
Mineral, IL Court Reporters (61344)
Minier, IL Court Reporters (61759)
Minonk, IL Court Reporters (61760)
Minooka, IL Court Reporters (60447)
Mode, IL Court Reporters (62444)
Modesto, IL Court Reporters (62667)
Modoc, IL Court Reporters (62261)
Mokena, IL Court Reporters (60448)
Moline, IL Court Reporters (61265)
Momence, IL Court Reporters (60954)
Monee, IL Court Reporters (60449)
Monmouth, IL Court Reporters (61462)
Monroe Center, IL Court Reporters (61052)
Montgomery, IL Court Reporters (60538)
Monticello, IL Court Reporters (61856)
Montrose, IL Court Reporters (62445)
Mooseheart, IL Court Reporters (60539)
Moro, IL Court Reporters (62067)
Morris, IL Court Reporters (60450)
Morrison, IL Court Reporters (61270)
Morrisonville, IL Court Reporters (62546)
Morton, IL Court Reporters (61550)
Morton Grove, IL Court Reporters (60053)
Mossville, IL Court Reporters (61552)
Mound City, IL Court Reporters (62963)
Mounds, IL Court Reporters (62964)
Mount Auburn, IL Court Reporters (62547)
Mount Carmel, IL Court Reporters (62863)
Mount Carroll, IL Court Reporters (61053)
Mount Erie, IL Court Reporters (62446)
Mount Morris, IL Court Reporters (61054)
Mount Olive, IL Court Reporters (62069)
Mount Prospect, IL Court Reporters (60056)
Mount Pulaski, IL Court Reporters (62548)
Mount Sterling, IL Court Reporters (62353)
Mount Vernon, IL Court Reporters (62864)
Mount Zion, IL Court Reporters (62549)
Moweaqua, IL Court Reporters (62550)
Mozier, IL Court Reporters (62070)
Muddy, IL Court Reporters (62965)
Mulberry Grove, IL Court Reporters (62262)
Mulkeytown, IL Court Reporters (62865)
Muncie, IL Court Reporters (61857)
Mundelein, IL Court Reporters (60060)
Murdock, IL Court Reporters (61941)
Murphysboro, IL Court Reporters (62966)
Murrayville, IL Court Reporters (62668)
Nachusa, IL Court Reporters (61057)
Naperville, IL Court Reporters (60540)
Nashville, IL Court Reporters (62263)
Nason, IL Court Reporters (62866)
National Stock Yards, IL Court Reporters (62071)
Nauvoo, IL Court Reporters (62354)
Nebo, IL Court Reporters (62355)
Nelson, IL Court Reporters (61058)
Neoga, IL Court Reporters (62447)
Neponset, IL Court Reporters (61345)
New Athens, IL Court Reporters (62264)
New Baden, IL Court Reporters (62265)
New Bedford, IL Court Reporters (61346)
New Berlin, IL Court Reporters (62670)
New Boston, IL Court Reporters (61272)
New Burnside, IL Court Reporters (62967)
New Canton, IL Court Reporters (62356)
New Douglas, IL Court Reporters (62074)
New Haven, IL Court Reporters (62867)
New Holland, IL Court Reporters (62671)
New Lenox, IL Court Reporters (60451)
New Memphis, IL Court Reporters (62266)
New Salem, IL Court Reporters (62357)
New Windsor, IL Court Reporters (61465)
Newark, IL Court Reporters (60541)
Newman, IL Court Reporters (61942)
Newton, IL Court Reporters (62448)
Niantic, IL Court Reporters (62551)
Niles, IL Court Reporters (60714)
Nilwood, IL Court Reporters (62672)
Niota, IL Court Reporters (62358)
Noble, IL Court Reporters (62868)
Nokomis, IL Court Reporters (62075)
Nora, IL Court Reporters (61059)
Normal, IL Court Reporters (61761)
Norris, IL Court Reporters (61553)
Norris City, IL Court Reporters (62869)
North Aurora, IL Court Reporters (60542)
North Chicago, IL Court Reporters (60064)
North Henderson, IL Court Reporters (61466)
Northbrook, IL Court Reporters (60062)
O'Fallon, IL Court Reporters (62269)
Oak Brook, IL Court Reporters (60523)
Oak Forest, IL Court Reporters (60452)
Oak Lawn, IL Court Reporters (60453)
Oak Park, IL Court Reporters (60301)
Oakdale, IL Court Reporters (62268)
Oakford, IL Court Reporters (62673)
Oakland, IL Court Reporters (61943)
Oakwood, IL Court Reporters (61858)
Oblong, IL Court Reporters (62449)
Oconee, IL Court Reporters (62553)
Odell, IL Court Reporters (60460)
Odin, IL Court Reporters (62870)
Ogden, IL Court Reporters (61859)
Oglesby, IL Court Reporters (61348)
Ohio, IL Court Reporters (61349)
Ohlman, IL Court Reporters (62076)
Okawville, IL Court Reporters (62271)
Olive Branch, IL Court Reporters (62969)
Olmsted, IL Court Reporters (62970)
Olney, IL Court Reporters (62450)
Olympia Fields, IL Court Reporters (60461)
Omaha, IL Court Reporters (62871)
Onarga, IL Court Reporters (60955)
Oneida, IL Court Reporters (61467)
Opdyke, IL Court Reporters (62872)
Opheim, IL Court Reporters (61468)
Oquawka, IL Court Reporters (61469)
Orangeville, IL Court Reporters (61060)
Oraville, IL Court Reporters (62971)
Oreana, IL Court Reporters (62554)
Oregon, IL Court Reporters (61061)
Orient, IL Court Reporters (62874)
Orion, IL Court Reporters (61273)
Orland Park, IL Court Reporters (60462)
Osco, IL Court Reporters (61274)
Oswego, IL Court Reporters (60543)
Ottawa, IL Court Reporters (61350)
Owaneco, IL Court Reporters (62555)
Ozark, IL Court Reporters (62972)
Palatine, IL Court Reporters (60038)
Palestine, IL Court Reporters (62451)
Palmer, IL Court Reporters (62556)
Palmyra, IL Court Reporters (62674)
Paloma, IL Court Reporters (62359)
Palos Heights, IL Court Reporters (60463)
Palos Hills, IL Court Reporters (60465)
Palos Park, IL Court Reporters (60464)
Pana, IL Court Reporters (62557)
Panama, IL Court Reporters (62077)
Papineau, IL Court Reporters (60956)
Paris, IL Court Reporters (61944)
Park Forest, IL Court Reporters (60466)
Park Ridge, IL Court Reporters (60068)
Parkersburg, IL Court Reporters (62452)
Patoka, IL Court Reporters (62875)
Patterson, IL Court Reporters (62078)
Paw Paw, IL Court Reporters (61353)
Pawnee, IL Court Reporters (62558)
Paxton, IL Court Reporters (60957)
Payson, IL Court Reporters (62360)
Pearl, IL Court Reporters (62361)
Pearl City, IL Court Reporters (61062)
Pecatonica, IL Court Reporters (61063)
Pekin, IL Court Reporters (61554)
Penfield, IL Court Reporters (61862)
Peoria, IL Court Reporters (61601)
Peoria Heights, IL Court Reporters (61616)
Peotone, IL Court Reporters (60468)
Percy, IL Court Reporters (62272)
Perks, IL Court Reporters (62973)
Perry, IL Court Reporters (62362)
Peru, IL Court Reporters (61354)
Pesotum, IL Court Reporters (61863)
Petersburg, IL Court Reporters (62675)
Philo, IL Court Reporters (61864)
Piasa, IL Court Reporters (62079)
Pierron, IL Court Reporters (62273)
Pinckneyville, IL Court Reporters (62274)
Piper City, IL Court Reporters (60959)
Pittsburg, IL Court Reporters (62974)
Pittsfield, IL Court Reporters (62363)
Plainfield, IL Court Reporters (60544)
Plainville, IL Court Reporters (62365)
Plano, IL Court Reporters (60545)
Plato Center, IL Court Reporters (60170)
Pleasant Hill, IL Court Reporters (62366)
Pleasant Plains, IL Court Reporters (62677)
Plymouth, IL Court Reporters (62367)
Pocahontas, IL Court Reporters (62275)
Polo, IL Court Reporters (61064)
Pomona, IL Court Reporters (62975)
Pontiac, IL Court Reporters (61764)
Poplar Grove, IL Court Reporters (61065)
Port Byron, IL Court Reporters (61275)
Posen, IL Court Reporters (60469)
Potomac, IL Court Reporters (61865)
Prairie City, IL Court Reporters (61470)
Prairie du Rocher, IL Court Reporters (62277)
Preemption, IL Court Reporters (61276)
Princeton, IL Court Reporters (61356)
Princeville, IL Court Reporters (61559)
Prophetstown, IL Court Reporters (61277)
Prospect Heights, IL Court Reporters (60070)
Pulaski, IL Court Reporters (62976)
Putnam, IL Court Reporters (61560)
Quincy, IL Court Reporters (62301)
Radom, IL Court Reporters (62876)
Raleigh, IL Court Reporters (62977)
Ramsey, IL Court Reporters (62080)
Rankin, IL Court Reporters (60960)
Ransom, IL Court Reporters (60470)
Rantoul, IL Court Reporters (61866)
Rapids City, IL Court Reporters (61278)
Raritan, IL Court Reporters (61471)
Raymond, IL Court Reporters (62560)
Red Bud, IL Court Reporters (62278)
Reddick, IL Court Reporters (60961)
Redmon, IL Court Reporters (61949)
Renault, IL Court Reporters (62279)
Reynolds, IL Court Reporters (61279)
Richmond, IL Court Reporters (60071)
Richton Park, IL Court Reporters (60471)
Richview, IL Court Reporters (62877)
Ridge Farm, IL Court Reporters (61870)
Ridgway, IL Court Reporters (62979)
Ridott, IL Court Reporters (61067)
Rinard, IL Court Reporters (62878)
Ringwood, IL Court Reporters (60072)
Rio, IL Court Reporters (61472)
River Forest, IL Court Reporters (60305)
River Grove, IL Court Reporters (60171)
Riverdale, IL Court Reporters (60827)
Riverside, IL Court Reporters (60546)
Riverton, IL Court Reporters (62561)
Roanoke, IL Court Reporters (61561)
Robbins, IL Court Reporters (60472)
Roberts, IL Court Reporters (60962)
Robinson, IL Court Reporters (62454)
Rochelle, IL Court Reporters (61068)
Rochester, IL Court Reporters (62563)
Rock City, IL Court Reporters (61070)
Rock Falls, IL Court Reporters (61071)
Rock Island, IL Court Reporters (61201)
Rockbridge, IL Court Reporters (62081)
Rockford, IL Court Reporters (61101)
Rockport, IL Court Reporters (62370)
Rockton, IL Court Reporters (61072)
Rockwood, IL Court Reporters (62280)
Rolling Meadows, IL Court Reporters (60008)
Rome, IL Court Reporters (61562)
Romeoville, IL Court Reporters (60446)
Roodhouse, IL Court Reporters (62082)
Rosamond, IL Court Reporters (62083)
Roscoe, IL Court Reporters (61073)
Roselle, IL Court Reporters (60172)
Roseville, IL Court Reporters (61473)
Rosiclare, IL Court Reporters (62982)
Rossville, IL Court Reporters (60963)
Round Lake, IL Court Reporters (60073)
Roxana, IL Court Reporters (62084)
Royal, IL Court Reporters (61871)
Royalton, IL Court Reporters (62983)
Rushville, IL Court Reporters (62681)
Russell, IL Court Reporters (60075)
Rutland, IL Court Reporters (61358)
Sadorus, IL Court Reporters (61872)
Sailor Springs, IL Court Reporters (62879)
Saint Anne, IL Court Reporters (60964)
Saint Augustine, IL Court Reporters (61474)
Saint Charles, IL Court Reporters (60174)
Saint David, IL Court Reporters (61563)
Saint Elmo, IL Court Reporters (62458)
Saint Francisville, IL Court Reporters (62460)
Saint Jacob, IL Court Reporters (62281)
Saint Joseph, IL Court Reporters (61873)
Saint Libory, IL Court Reporters (62282)
Saint Peter, IL Court Reporters (62880)
Sainte Marie, IL Court Reporters (62459)
Salem, IL Court Reporters (62881)
San Jose, IL Court Reporters (62682)
Sandoval, IL Court Reporters (62882)
Sandwich, IL Court Reporters (60548)
Saunemin, IL Court Reporters (61769)
Savanna, IL Court Reporters (61074)
Savoy, IL Court Reporters (61874)
Sawyerville, IL Court Reporters (62085)
Saybrook, IL Court Reporters (61770)
Scales Mound, IL Court Reporters (61075)
Schaumburg, IL Court Reporters (60159)
Scheller, IL Court Reporters (62883)
Schiller Park, IL Court Reporters (60176)
Sciota, IL Court Reporters (61475)
Scott Air Force Base, IL Court Reporters (62225)
Scottville, IL Court Reporters (62683)
Seaton, IL Court Reporters (61476)
Seatonville, IL Court Reporters (61359)
Secor, IL Court Reporters (61771)
Seneca, IL Court Reporters (61360)
Serena, IL Court Reporters (60549)
Sesser, IL Court Reporters (62884)
Seward, IL Court Reporters (61077)
Seymour, IL Court Reporters (61875)
Shabbona, IL Court Reporters (60550)
Shannon, IL Court Reporters (61078)
Shawneetown, IL Court Reporters (62984)
Sheffield, IL Court Reporters (61361)
Shelbyville, IL Court Reporters (62565)
Sheldon, IL Court Reporters (60966)
Sheridan, IL Court Reporters (60551)
Sherman, IL Court Reporters (62684)
Sherrard, IL Court Reporters (61281)
Shipman, IL Court Reporters (62685)
Shirland, IL Court Reporters (61079)
Shirley, IL Court Reporters (61772)
Shobonier, IL Court Reporters (62885)
Shumway, IL Court Reporters (62461)
Sibley, IL Court Reporters (61773)
Sidell, IL Court Reporters (61876)
Sidney, IL Court Reporters (61877)
Sigel, IL Court Reporters (62462)
Silvis, IL Court Reporters (61282)
Simpson, IL Court Reporters (62985)
Sims, IL Court Reporters (62886)
Skokie, IL Court Reporters (60076)
Smithboro, IL Court Reporters (62284)
Smithfield, IL Court Reporters (61477)
Smithshire, IL Court Reporters (61478)
Smithton, IL Court Reporters (62285)
Somonauk, IL Court Reporters (60552)
Sorento, IL Court Reporters (62086)
South Beloit, IL Court Reporters (61080)
South Elgin, IL Court Reporters (60177)
South Holland, IL Court Reporters (60473)
South Pekin, IL Court Reporters (61564)
South Roxana, IL Court Reporters (62087)
South Wilmington, IL Court Reporters (60474)
Sparland, IL Court Reporters (61565)
Sparta, IL Court Reporters (62286)
Speer, IL Court Reporters (61479)
Spring Grove, IL Court Reporters (60081)
Spring Valley, IL Court Reporters (61362)
Springerton, IL Court Reporters (62887)
Springfield, IL Court Reporters (62701)
Standard, IL Court Reporters (61363)
Stanford, IL Court Reporters (61774)
Staunton, IL Court Reporters (62088)
Steeleville, IL Court Reporters (62288)
Steger, IL Court Reporters (60475)
Sterling, IL Court Reporters (61081)
Steward, IL Court Reporters (60553)
Stewardson, IL Court Reporters (62463)
Stillman Valley, IL Court Reporters (61084)
Stockland, IL Court Reporters (60967)
Stockton, IL Court Reporters (61085)
Stone Park, IL Court Reporters (60165)
Stonefort, IL Court Reporters (62987)
Stonington, IL Court Reporters (62567)
Stoy, IL Court Reporters (62464)
Strasburg, IL Court Reporters (62465)
Strawn, IL Court Reporters (61775)
Streamwood, IL Court Reporters (60107)
Streator, IL Court Reporters (61364)
Stronghurst, IL Court Reporters (61480)
Sublette, IL Court Reporters (61367)
Sugar Grove, IL Court Reporters (60554)
Sullivan, IL Court Reporters (61951)
Summerfield, IL Court Reporters (62289)
Summit Argo, IL Court Reporters (60501)
Sumner, IL Court Reporters (62466)
Sutter, IL Court Reporters (62373)
Sycamore, IL Court Reporters (60178)
Table Grove, IL Court Reporters (61482)
Tallula, IL Court Reporters (62688)
Tamaroa, IL Court Reporters (62888)
Tamms, IL Court Reporters (62988)
Tampico, IL Court Reporters (61283)
Taylor Ridge, IL Court Reporters (61284)
Taylor Springs, IL Court Reporters (62089)
Taylorville, IL Court Reporters (62568)
Techny, IL Court Reporters (60082)
Tennessee, IL Court Reporters (62374)
Teutopolis, IL Court Reporters (62467)
Texico, IL Court Reporters (62889)
Thawville, IL Court Reporters (60968)
Thayer, IL Court Reporters (62689)
Thebes, IL Court Reporters (62990)
Thomasboro, IL Court Reporters (61878)
Thompsonville, IL Court Reporters (62890)
Thomson, IL Court Reporters (61285)
Thornton, IL Court Reporters (60476)
Tilden, IL Court Reporters (62292)
Tilton, IL Court Reporters (61833)
Timewell, IL Court Reporters (62375)
Tinley Park, IL Court Reporters (60477)
Tiskilwa, IL Court Reporters (61368)
Toledo, IL Court Reporters (62468)
Tolono, IL Court Reporters (61880)
Toluca, IL Court Reporters (61369)
Tonica, IL Court Reporters (61370)
Topeka, IL Court Reporters (61567)
Toulon, IL Court Reporters (61483)
Tovey, IL Court Reporters (62570)
Towanda, IL Court Reporters (61776)
Tower Hill, IL Court Reporters (62571)
Tremont, IL Court Reporters (61568)
Trenton, IL Court Reporters (62293)
Trilla, IL Court Reporters (62469)
Triumph, IL Court Reporters (61371)
Trivoli, IL Court Reporters (61569)
Troy, IL Court Reporters (62294)
Troy Grove, IL Court Reporters (61372)
Tuscola, IL Court Reporters (61953)
Ullin, IL Court Reporters (62992)
Union, IL Court Reporters (60180)
Union Hill, IL Court Reporters (60969)
Unity, IL Court Reporters (62993)
Urbana, IL Court Reporters (61801)
Ursa, IL Court Reporters (62376)
Utica, IL Court Reporters (61373)
Valier, IL Court Reporters (62891)
Valmeyer, IL Court Reporters (62295)
Van Orin, IL Court Reporters (61374)
Vandalia, IL Court Reporters (62471)
Varna, IL Court Reporters (61375)
Venice, IL Court Reporters (62090)
Vergennes, IL Court Reporters (62994)
Vermilion, IL Court Reporters (61955)
Vermont, IL Court Reporters (61484)
Vernon, IL Court Reporters (62892)
Vernon Hills, IL Court Reporters (60061)
Verona, IL Court Reporters (60479)
Versailles, IL Court Reporters (62378)
Victoria, IL Court Reporters (61485)
Vienna, IL Court Reporters (62995)
Villa Grove, IL Court Reporters (61956)
Villa Park, IL Court Reporters (60181)
Villa Ridge, IL Court Reporters (62996)
Viola, IL Court Reporters (61486)
Virden, IL Court Reporters (62690)
Virginia, IL Court Reporters (62691)
Wadsworth, IL Court Reporters (60083)
Waggoner, IL Court Reporters (62572)
Walnut, IL Court Reporters (61376)
Walnut Hill, IL Court Reporters (62893)
Walsh, IL Court Reporters (62297)
Walshville, IL Court Reporters (62091)
Waltonville, IL Court Reporters (62894)
Wapella, IL Court Reporters (61777)
Warren, IL Court Reporters (61087)
Warrensburg, IL Court Reporters (62573)
Warrenville, IL Court Reporters (60555)
Warsaw, IL Court Reporters (62379)
Wasco, IL Court Reporters (60183)
Washburn, IL Court Reporters (61570)
Washington, IL Court Reporters (61571)
Wataga, IL Court Reporters (61488)
Waterloo, IL Court Reporters (62298)
Waterman, IL Court Reporters (60556)
Watseka, IL Court Reporters (60970)
Watson, IL Court Reporters (62473)
Wauconda, IL Court Reporters (60084)
Waukegan, IL Court Reporters (60079)
Waverly, IL Court Reporters (62692)
Wayne, IL Court Reporters (60184)
Wayne City, IL Court Reporters (62895)
Waynesville, IL Court Reporters (61778)
Wedron, IL Court Reporters (60557)
Weldon, IL Court Reporters (61882)
Wellington, IL Court Reporters (60973)
Wenona, IL Court Reporters (61377)
West Brooklyn, IL Court Reporters (61378)
West Chicago, IL Court Reporters (60185)
West Frankfort, IL Court Reporters (62896)
West Liberty, IL Court Reporters (62475)
West Point, IL Court Reporters (62380)
West Salem, IL Court Reporters (62476)
West Union, IL Court Reporters (62477)
West York, IL Court Reporters (62478)
Westchester, IL Court Reporters (60154)
Western Springs, IL Court Reporters (60558)
Westfield, IL Court Reporters (62474)
Westmont, IL Court Reporters (60559)
Westville, IL Court Reporters (61883)
Wheaton, IL Court Reporters (60187)
Wheeler, IL Court Reporters (62479)
Wheeling, IL Court Reporters (60090)
White Hall, IL Court Reporters (62092)
White Heath, IL Court Reporters (61884)
Whittington, IL Court Reporters (62897)
Williamsfield, IL Court Reporters (61489)
Williamsville, IL Court Reporters (62693)
Willisville, IL Court Reporters (62997)
Willow Hill, IL Court Reporters (62480)
Willow Springs, IL Court Reporters (60480)
Willowbrook, IL Court Reporters (60527)
Wilmette, IL Court Reporters (60091)
Wilmington, IL Court Reporters (60481)
Wilsonville, IL Court Reporters (62093)
Winchester, IL Court Reporters (62694)
Windsor, IL Court Reporters (61957)
Winfield, IL Court Reporters (60190)
Winnebago, IL Court Reporters (61088)
Winnetka, IL Court Reporters (60093)
Winslow, IL Court Reporters (61089)
Winthrop Harbor, IL Court Reporters (60096)
Witt, IL Court Reporters (62094)
Wolf Lake, IL Court Reporters (62998)
Wonder Lake, IL Court Reporters (60097)
Wood Dale, IL Court Reporters (60191)
Wood River, IL Court Reporters (62095)
Woodhull, IL Court Reporters (61490)
Woodland, IL Court Reporters (60974)
Woodlawn, IL Court Reporters (62898)
Woodridge, IL Court Reporters (60517)
Woodson, IL Court Reporters (62695)
Woodstock, IL Court Reporters (60098)
Woosung, IL Court Reporters (61091)
Worden, IL Court Reporters (62097)
Worth, IL Court Reporters (60482)
Wrights, IL Court Reporters (62098)
Wyanet, IL Court Reporters (61379)
Wyoming, IL Court Reporters (61491)
Xenia, IL Court Reporters (62899)
Yale, IL Court Reporters (62481)
Yates City, IL Court Reporters (61572)
Yorkville, IL Court Reporters (60560)
Zeigler, IL Court Reporters (62999)
Zion, IL Court Reporters (60099)