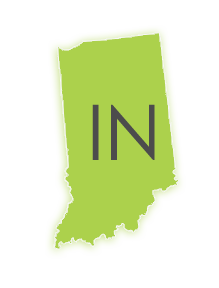 GET AN INSTANT INDIANA COURT REPORTER
Don't waste time in search of of certified Indiana court reporters. Avoid the hiring process altogether and instead get more time to devote to your case.
If your research has landed you here, then probably know the importance of finding the right court reporters for your deposition. You understand the importance of matching qualified people to the right job, but see how that can often take the backseat to seemingly more important issues.
If you are operating in an environment where you are constantly pressed for time and the vetting process is consuming too much of your bandwidth, then book your deposition today with our easy to use online scheduling and we will handle the rest.
This Tech Is Like Magic
Our technology makes it easy for you to hire qualified Indiana court reporters and choose from a host of litigation services that are right for you while putting the power to run the show at your fingertips.
The Discovery Litigations Services platform enables you to conduct depositions utilizing electronic exhibits. Parties present at a deposition have the ability to receive exhibits when introduced to the deponent, to leave a deposition suite with their own electronic set of all introduced exhibits which can all be imported directly from your own database.
Make Your Life Easier
Discovery's aim is to make the process fluid and easy for you. Along with our host of technological solutions, you get the power of the team behind the name. Our seasoned expertise in this industry is honed and polished, ready to bolster your case as a member of your team.
Our exclusive experience working as a litigation services provider is leveraged to know exactly what you need and guarantee you will not be paying for superfluous features or processes not essential to your deposition.
We take a hands-on approach to catering to our clients and are available to you anytime you need. We believe in coupling powerful tools with the right people to implement them and will remain as involved with you as you need to meet your goals.
PUT DECADES OF EXPERIENCE ON YOUR SIDE
Our services go beyond the digital realm. We offer Trial Presentation Services that will be your ace in the hole. With Discovery Litigation Services, your pre-trial team gains decades of experience overnight.
Our Trial Consultants will provide you with a pre-trial strategy ready to go into the courtroom. We will handle the exhibit database creation, and creation of video-clips packaged in a trial-ready solution. We will assist in the courtroom, in mediation, or in arbitration as an actively involved member of your team. Our trial consultants are accessible and available whenever and wherever required.
When you schedule your deposition, you are getting more than a quick solution. You are acquiring an arsenal of tools, an army of highly qualified professionals, and decades of experience. With Discovery Litigation Services you are getting more.
This Is How You Get More
We pride ourselves on cultivating partnerships and elevating them by supplying the right tools and guidance to be successful. Our success is dependent on your success. Our unique position within the industry has afforded us a front row seat to view what works and what doesn't and how to apply this knowledge to best perform for you.
With Discovery Litigation Services you get quality. Our certified Indiana court reporters are ready and available anywhere you require. With our court reporters, you can be sure that every aspect is covered from expedited transcripts to text-to-video synchronization. We have you covered.
Just click schedule a deposition and see just how fast we can supply you with a highly qualified Indiana court reporter.
Our exemplary reputation serves as added assurance that you will receive the quality and care you require. The 20+ Years of experience we bring to the table gives you the foundation for a secure and efficient proceeding.
No More Headaches. No Stress.
We go beyond court reporting. Browse our stable of litigation solutions to see how you can 10x your free time and get the quality results you need. We are a company staffed full of experts with experience in various cases and skills ready to provide you with the necessary support for your litigation's requirements.
Review our full host of litigation services available and Schedule Your Deposition Online Today
If you are unsure of the services you need, call us and we will happily work with you to tailor fit the right solutions to your specific case. Let us know what you need and we will create a plan that uniquely satisfies all of your concerns to the highest level available while saving you money, time, and giving you peace of mind.
Discovery Litigation Services knows you have options with your litigation services. We are here to provide superior service, all the time, every time.
From finding a conference room to host your deposition to staffing it with a skilled court reporter, videographer and interpreter, Discovery Litigation Services will go above and beyond to fulfill your needs. We understand the importance of getting it done right. In our business, there is no margin for error.
Call Discovery at (855) 847-0999. See for yourself why so many call us their reporting company.
Schedule Your Deposition Now!
Indiana Court Reporting Available In:
City Name
Advance, IN Court Reporters (46102)
Akron, IN Court Reporters (46910)
Alamo, IN Court Reporters (47916)
Albany, IN Court Reporters (47320)
Albion, IN Court Reporters (46701)
Alexandria, IN Court Reporters (46001)
Ambia, IN Court Reporters (47917)
Amboy, IN Court Reporters (46911)
Amo, IN Court Reporters (46103)
Anderson, IN Court Reporters (46011)
Andrews, IN Court Reporters (46702)
Angola, IN Court Reporters (46703)
Arcadia, IN Court Reporters (46030)
Arcola, IN Court Reporters (46704)
Argos, IN Court Reporters (46501)
Arlington, IN Court Reporters (46104)
Ashley, IN Court Reporters (46705)
Athens, IN Court Reporters (46912)
Atlanta, IN Court Reporters (46031)
Attica, IN Court Reporters (47918)
Atwood, IN Court Reporters (46502)
Auburn, IN Court Reporters (46706)
Aurora, IN Court Reporters (47001)
Austin, IN Court Reporters (47102)
Avilla, IN Court Reporters (46710)
Avoca, IN Court Reporters (47420)
Avon, IN Court Reporters (46123)
Bainbridge, IN Court Reporters (46105)
Bargersville, IN Court Reporters (46106)
Batesville, IN Court Reporters (47006)
Bath, IN Court Reporters (47010)
Battle Ground, IN Court Reporters (47920)
Bedford, IN Court Reporters (47421)
Beech Grove, IN Court Reporters (46107)
Bellmore, IN Court Reporters (47830)
Bennington, IN Court Reporters (47011)
Bentonville, IN Court Reporters (47322)
Berne, IN Court Reporters (46711)
Bethlehem, IN Court Reporters (47104)
Beverly Shores, IN Court Reporters (46301)
Bicknell, IN Court Reporters (47512)
Bippus, IN Court Reporters (46713)
Birdseye, IN Court Reporters (47513)
Blanford, IN Court Reporters (47831)
Bloomfield, IN Court Reporters (47424)
Bloomingdale, IN Court Reporters (47832)
Bloomington, IN Court Reporters (47401)
Bluffton, IN Court Reporters (46714)
Boggstown, IN Court Reporters (46110)
Boone Grove, IN Court Reporters (46302)
Boonville, IN Court Reporters (47601)
Borden, IN Court Reporters (47106)
Boston, IN Court Reporters (47324)
Boswell, IN Court Reporters (47921)
Bourbon, IN Court Reporters (46504)
Bowling Green, IN Court Reporters (47833)
Bradford, IN Court Reporters (47107)
Branchville, IN Court Reporters (47514)
Brazil, IN Court Reporters (47834)
Bremen, IN Court Reporters (46506)
Bridgeton, IN Court Reporters (47836)
Brimfield, IN Court Reporters (46720)
Bringhurst, IN Court Reporters (46913)
Bristol, IN Court Reporters (46507)
Bristow, IN Court Reporters (47515)
Brook, IN Court Reporters (47922)
Brooklyn, IN Court Reporters (46111)
Brookston, IN Court Reporters (47923)
Brookville, IN Court Reporters (47012)
Brownsburg, IN Court Reporters (46112)
Brownstown, IN Court Reporters (47220)
Brownsville, IN Court Reporters (47325)
Bruceville, IN Court Reporters (47516)
Bryant, IN Court Reporters (47326)
Buck Creek, IN Court Reporters (47924)
Buckskin, IN Court Reporters (47647)
Buffalo, IN Court Reporters (47925)
Bunker Hill, IN Court Reporters (46914)
Burket, IN Court Reporters (46508)
Burlington, IN Court Reporters (46915)
Burnettsville, IN Court Reporters (47926)
Burrows, IN Court Reporters (46916)
Butler, IN Court Reporters (46721)
Butlerville, IN Court Reporters (47223)
Cambridge City, IN Court Reporters (47327)
Camby, IN Court Reporters (46113)
Camden, IN Court Reporters (46917)
Campbellsburg, IN Court Reporters (47108)
Canaan, IN Court Reporters (47224)
Cannelburg, IN Court Reporters (47519)
Cannelton, IN Court Reporters (47520)
Carbon, IN Court Reporters (47837)
Carlisle, IN Court Reporters (47838)
Carmel, IN Court Reporters (46032)
Carthage, IN Court Reporters (46115)
Cayuga, IN Court Reporters (47928)
Cedar Grove, IN Court Reporters (47016)
Cedar Lake, IN Court Reporters (46303)
Celestine, IN Court Reporters (47521)
Centerpoint, IN Court Reporters (47840)
Centerville, IN Court Reporters (47330)
Central, IN Court Reporters (47110)
Chalmers, IN Court Reporters (47929)
Chandler, IN Court Reporters (47610)
Charlestown, IN Court Reporters (47111)
Charlottesville, IN Court Reporters (46117)
Chesterton, IN Court Reporters (46304)
Chrisney, IN Court Reporters (47611)
Churubusco, IN Court Reporters (46723)
Cicero, IN Court Reporters (46034)
Clarks Hill, IN Court Reporters (47930)
Clarksburg, IN Court Reporters (47225)
Clarksville, IN Court Reporters (47129)
Clay City, IN Court Reporters (47841)
Claypool, IN Court Reporters (46510)
Clayton, IN Court Reporters (46118)
Clear Creek, IN Court Reporters (47426)
Clifford, IN Court Reporters (47226)
Clinton, IN Court Reporters (47842)
Cloverdale, IN Court Reporters (46120)
Coal City, IN Court Reporters (47427)
Coalmont, IN Court Reporters (47845)
Coatesville, IN Court Reporters (46121)
Colfax, IN Court Reporters (46035)
Columbia City, IN Court Reporters (46725)
Columbus, IN Court Reporters (47201)
Commiskey, IN Court Reporters (47227)
Connersville, IN Court Reporters (47331)
Converse, IN Court Reporters (46919)
Cortland, IN Court Reporters (47228)
Corunna, IN Court Reporters (46730)
Cory, IN Court Reporters (47846)
Corydon, IN Court Reporters (47112)
Covington, IN Court Reporters (47932)
Craigville, IN Court Reporters (46731)
Crandall, IN Court Reporters (47114)
Crane, IN Court Reporters (47522)
Crawfordsville, IN Court Reporters (47933)
Cromwell, IN Court Reporters (46732)
Cross Plains, IN Court Reporters (47017)
Crothersville, IN Court Reporters (47229)
Crown Point, IN Court Reporters (46307)
Culver, IN Court Reporters (46511)
Cutler, IN Court Reporters (46920)
Cynthiana, IN Court Reporters (47612)
Dale, IN Court Reporters (47523)
Daleville, IN Court Reporters (47334)
Dana, IN Court Reporters (47847)
Danville, IN Court Reporters (46122)
Darlington, IN Court Reporters (47940)
Dayton, IN Court Reporters (47941)
Decatur, IN Court Reporters (46733)
Decker, IN Court Reporters (47524)
Deedsville, IN Court Reporters (46921)
Delong, IN Court Reporters (46922)
Delphi, IN Court Reporters (46923)
Demotte, IN Court Reporters (46310)
Denver, IN Court Reporters (46926)
Depauw, IN Court Reporters (47115)
Deputy, IN Court Reporters (47230)
Derby, IN Court Reporters (47525)
Dillsboro, IN Court Reporters (47018)
Donaldson, IN Court Reporters (46513)
Dublin, IN Court Reporters (47335)
Dubois, IN Court Reporters (47527)
Dugger, IN Court Reporters (47848)
Dunkirk, IN Court Reporters (47336)
Dunreith, IN Court Reporters (47337)
Dupont, IN Court Reporters (47231)
Dyer, IN Court Reporters (46311)
Earl Park, IN Court Reporters (47942)
East Chicago, IN Court Reporters (46312)
East Enterprise, IN Court Reporters (47019)
Eaton, IN Court Reporters (47338)
Eckerty, IN Court Reporters (47116)
Economy, IN Court Reporters (47339)
Edinburgh, IN Court Reporters (46124)
Edwardsport, IN Court Reporters (47528)
Elberfeld, IN Court Reporters (47613)
Elizabeth, IN Court Reporters (47117)
Elizabethtown, IN Court Reporters (47232)
Elkhart, IN Court Reporters (46514)
Ellettsville, IN Court Reporters (47429)
Elnora, IN Court Reporters (47529)
Elwood, IN Court Reporters (46036)
Eminence, IN Court Reporters (46125)
English, IN Court Reporters (47118)
Etna Green, IN Court Reporters (46524)
Evanston, IN Court Reporters (47531)
Evansville, IN Court Reporters (47701)
Fair Oaks, IN Court Reporters (47943)
Fairbanks, IN Court Reporters (47849)
Fairland, IN Court Reporters (46126)
Fairmount, IN Court Reporters (46928)
Falmouth, IN Court Reporters (46127)
Farmersburg, IN Court Reporters (47850)
Farmland, IN Court Reporters (47340)
Ferdinand, IN Court Reporters (47532)
Fillmore, IN Court Reporters (46128)
Finly, IN Court Reporters (46129)
Fishers, IN Court Reporters (46038)
Flat Rock, IN Court Reporters (47234)
Flora, IN Court Reporters (46929)
Florence, IN Court Reporters (47020)
Floyds Knobs, IN Court Reporters (47119)
Folsomville, IN Court Reporters (47614)
Fontanet, IN Court Reporters (47851)
Forest, IN Court Reporters (46039)
Fort Branch, IN Court Reporters (47648)
Fort Ritner, IN Court Reporters (47430)
Fort Wayne, IN Court Reporters (46801)
Fortville, IN Court Reporters (46040)
Fountain City, IN Court Reporters (47341)
Fountaintown, IN Court Reporters (46130)
Fowler, IN Court Reporters (47944)
Fowlerton, IN Court Reporters (46930)
Francesville, IN Court Reporters (47946)
Francisco, IN Court Reporters (47649)
Frankfort, IN Court Reporters (46041)
Franklin, IN Court Reporters (46131)
Frankton, IN Court Reporters (46044)
Fredericksburg, IN Court Reporters (47120)
Freedom, IN Court Reporters (47431)
Freelandville, IN Court Reporters (47535)
Freetown, IN Court Reporters (47235)
Fremont, IN Court Reporters (46737)
French Lick, IN Court Reporters (47432)
Friendship, IN Court Reporters (47021)
Fulda, IN Court Reporters (47536)
Fulton, IN Court Reporters (46931)
Galveston, IN Court Reporters (46932)
Garrett, IN Court Reporters (46738)
Gary, IN Court Reporters (46401)
Gas City, IN Court Reporters (46933)
Gaston, IN Court Reporters (47342)
Geneva, IN Court Reporters (46740)
Gentryville, IN Court Reporters (47537)
Georgetown, IN Court Reporters (47122)
Glenwood, IN Court Reporters (46133)
Goldsmith, IN Court Reporters (46045)
Goodland, IN Court Reporters (47948)
Goshen, IN Court Reporters (46526)
Gosport, IN Court Reporters (47433)
Grabill, IN Court Reporters (46741)
Grammer, IN Court Reporters (47236)
Grandview, IN Court Reporters (47615)
Granger, IN Court Reporters (46530)
Grantsburg, IN Court Reporters (47123)
Grass Creek, IN Court Reporters (46935)
Graysville, IN Court Reporters (47852)
Greencastle, IN Court Reporters (46135)
Greenfield, IN Court Reporters (46140)
Greens Fork, IN Court Reporters (47345)
Greensboro, IN Court Reporters (47344)
Greensburg, IN Court Reporters (47240)
Greentown, IN Court Reporters (46936)
Greenville, IN Court Reporters (47124)
Greenwood, IN Court Reporters (46142)
Griffin, IN Court Reporters (47616)
Griffith, IN Court Reporters (46319)
Grissom ARB, IN Court Reporters (46971)
Grovertown, IN Court Reporters (46531)
Guilford, IN Court Reporters (47022)
Gwynneville, IN Court Reporters (46144)
Hagerstown, IN Court Reporters (47346)
Hamilton, IN Court Reporters (46742)
Hamlet, IN Court Reporters (46532)
Hammond, IN Court Reporters (46320)
Hanna, IN Court Reporters (46340)
Hanover, IN Court Reporters (47243)
Hardinsburg, IN Court Reporters (47125)
Harlan, IN Court Reporters (46743)
Harmony, IN Court Reporters (47853)
Harrodsburg, IN Court Reporters (47434)
Hartford City, IN Court Reporters (47348)
Hartsville, IN Court Reporters (47244)
Hatfield, IN Court Reporters (47617)
Haubstadt, IN Court Reporters (47639)
Hayden, IN Court Reporters (47245)
Hazleton, IN Court Reporters (47640)
Hebron, IN Court Reporters (46341)
Helmsburg, IN Court Reporters (47435)
Heltonville, IN Court Reporters (47436)
Hemlock, IN Court Reporters (46937)
Henryville, IN Court Reporters (47126)
Highland, IN Court Reporters (46322)
Hillsboro, IN Court Reporters (47949)
Hillsdale, IN Court Reporters (47854)
Hoagland, IN Court Reporters (46745)
Hobart, IN Court Reporters (46342)
Hobbs, IN Court Reporters (46047)
Holland, IN Court Reporters (47541)
Holton, IN Court Reporters (47023)
Homer, IN Court Reporters (46146)
Hope, IN Court Reporters (47246)
Howe, IN Court Reporters (46746)
Hudson, IN Court Reporters (46747)
Huntertown, IN Court Reporters (46748)
Huntingburg, IN Court Reporters (47542)
Huntington, IN Court Reporters (46750)
Huron, IN Court Reporters (47437)
Hymera, IN Court Reporters (47855)
Idaville, IN Court Reporters (47950)
Indianapolis, IN Court Reporters (46201)
Ingalls, IN Court Reporters (46048)
Inglefield, IN Court Reporters (47618)
Ireland, IN Court Reporters (47545)
Jamestown, IN Court Reporters (46147)
Jasonville, IN Court Reporters (47438)
Jasper, IN Court Reporters (47546)
Jeffersonville, IN Court Reporters (47130)
Jonesboro, IN Court Reporters (46938)
Jonesville, IN Court Reporters (47247)
Judson, IN Court Reporters (47856)
Kempton, IN Court Reporters (46049)
Kendallville, IN Court Reporters (46755)
Kennard, IN Court Reporters (47351)
Kentland, IN Court Reporters (47951)
Kewanna, IN Court Reporters (46939)
Keystone, IN Court Reporters (46759)
Kimmell, IN Court Reporters (46760)
Kingman, IN Court Reporters (47952)
Kingsbury, IN Court Reporters (46345)
Kingsford Heights, IN Court Reporters (46346)
Kirklin, IN Court Reporters (46050)
Knightstown, IN Court Reporters (46148)
Knightsville, IN Court Reporters (47857)
Knox, IN Court Reporters (46534)
Kokomo, IN Court Reporters (46901)
Koleen, IN Court Reporters (47439)
Kouts, IN Court Reporters (46347)
Kurtz, IN Court Reporters (47249)
La Crosse, IN Court Reporters (46348)
La Fontaine, IN Court Reporters (46940)
La Porte, IN Court Reporters (46350)
Laconia, IN Court Reporters (47135)
Ladoga, IN Court Reporters (47954)
Lafayette, IN Court Reporters (47901)
Lagrange, IN Court Reporters (46761)
Lagro, IN Court Reporters (46941)
Lake Cicott, IN Court Reporters (46942)
Lake Station, IN Court Reporters (46405)
Lake Village, IN Court Reporters (46349)
Laketon, IN Court Reporters (46943)
Lakeville, IN Court Reporters (46536)
Lamar, IN Court Reporters (47550)
Lanesville, IN Court Reporters (47136)
Laotto, IN Court Reporters (46763)
Lapaz, IN Court Reporters (46537)
Lapel, IN Court Reporters (46051)
Larwill, IN Court Reporters (46764)
Laurel, IN Court Reporters (47024)
Lawrenceburg, IN Court Reporters (47025)
Leavenworth, IN Court Reporters (47137)
Lebanon, IN Court Reporters (46052)
Leesburg, IN Court Reporters (46538)
Leiters Ford, IN Court Reporters (46945)
Leo, IN Court Reporters (46765)
Leopold, IN Court Reporters (47551)
Leroy, IN Court Reporters (46355)
Lewis, IN Court Reporters (47858)
Lewisville, IN Court Reporters (47352)
Lexington, IN Court Reporters (47138)
Liberty, IN Court Reporters (47353)
Liberty Center, IN Court Reporters (46766)
Liberty Mills, IN Court Reporters (46946)
Ligonier, IN Court Reporters (46767)
Lincoln City, IN Court Reporters (47552)
Linden, IN Court Reporters (47955)
Linn Grove, IN Court Reporters (46769)
Linton, IN Court Reporters (47441)
Little York, IN Court Reporters (47139)
Lizton, IN Court Reporters (46149)
Logansport, IN Court Reporters (46947)
Loogootee, IN Court Reporters (47553)
Losantville, IN Court Reporters (47354)
Lowell, IN Court Reporters (46356)
Lucerne, IN Court Reporters (46950)
Lynn, IN Court Reporters (47355)
Lynnville, IN Court Reporters (47619)
Lyons, IN Court Reporters (47443)
Mackey, IN Court Reporters (47654)
Macy, IN Court Reporters (46951)
Madison, IN Court Reporters (47250)
Manilla, IN Court Reporters (46150)
Marengo, IN Court Reporters (47140)
Mariah Hill, IN Court Reporters (47556)
Marion, IN Court Reporters (46952)
Markle, IN Court Reporters (46770)
Markleville, IN Court Reporters (46056)
Marshall, IN Court Reporters (47859)
Martinsville, IN Court Reporters (46151)
Marysville, IN Court Reporters (47141)
Matthews, IN Court Reporters (46957)
Mauckport, IN Court Reporters (47142)
Maxwell, IN Court Reporters (46154)
Mays, IN Court Reporters (46155)
Mc Cordsville, IN Court Reporters (46055)
Mecca, IN Court Reporters (47860)
Medaryville, IN Court Reporters (47957)
Medora, IN Court Reporters (47260)
Mellott, IN Court Reporters (47958)
Memphis, IN Court Reporters (47143)
Mentone, IN Court Reporters (46539)
Merom, IN Court Reporters (47861)
Merrillville, IN Court Reporters (46410)
Metamora, IN Court Reporters (47030)
Mexico, IN Court Reporters (46958)
Miami, IN Court Reporters (46959)
Michigan City, IN Court Reporters (46360)
Michigantown, IN Court Reporters (46057)
Middlebury, IN Court Reporters (46540)
Middletown, IN Court Reporters (47356)
Midland, IN Court Reporters (47445)
Milan, IN Court Reporters (47031)
Milford, IN Court Reporters (46542)
Mill Creek, IN Court Reporters (46365)
Millersburg, IN Court Reporters (46543)
Millhousen, IN Court Reporters (47261)
Milltown, IN Court Reporters (47145)
Milroy, IN Court Reporters (46156)
Milton, IN Court Reporters (47357)
Mishawaka, IN Court Reporters (46544)
Mitchell, IN Court Reporters (47446)
Modoc, IN Court Reporters (47358)
Mongo, IN Court Reporters (46771)
Monon, IN Court Reporters (47959)
Monroe, IN Court Reporters (46772)
Monroe City, IN Court Reporters (47557)
Monroeville, IN Court Reporters (46773)
Monrovia, IN Court Reporters (46157)
Monterey, IN Court Reporters (46960)
Montezuma, IN Court Reporters (47862)
Montgomery, IN Court Reporters (47558)
Monticello, IN Court Reporters (47960)
Montmorenci, IN Court Reporters (47962)
Montpelier, IN Court Reporters (47359)
Mooreland, IN Court Reporters (47360)
Moores Hill, IN Court Reporters (47032)
Mooresville, IN Court Reporters (46158)
Morgantown, IN Court Reporters (46160)
Morocco, IN Court Reporters (47963)
Morris, IN Court Reporters (47033)
Morristown, IN Court Reporters (46161)
Mount Ayr, IN Court Reporters (47964)
Mount Saint Francis, IN Court Reporters (47146)
Mount Summit, IN Court Reporters (47361)
Mount Vernon, IN Court Reporters (47620)
Mulberry, IN Court Reporters (46058)
Muncie, IN Court Reporters (47302)
Munster, IN Court Reporters (46321)
Nabb, IN Court Reporters (47147)
Napoleon, IN Court Reporters (47034)
Nappanee, IN Court Reporters (46550)
Nashville, IN Court Reporters (47448)
Needham, IN Court Reporters (46162)
New Albany, IN Court Reporters (47150)
New Carlisle, IN Court Reporters (46552)
New Castle, IN Court Reporters (47362)
New Goshen, IN Court Reporters (47863)
New Harmony, IN Court Reporters (47631)
New Haven, IN Court Reporters (46774)
New Lebanon, IN Court Reporters (47864)
New Lisbon, IN Court Reporters (47366)
New Market, IN Court Reporters (47965)
New Middletown, IN Court Reporters (47160)
New Palestine, IN Court Reporters (46163)
New Paris, IN Court Reporters (46553)
New Point, IN Court Reporters (47263)
New Richmond, IN Court Reporters (47967)
New Ross, IN Court Reporters (47968)
New Salisbury, IN Court Reporters (47161)
New Trenton, IN Court Reporters (47035)
New Washington, IN Court Reporters (47162)
New Waverly, IN Court Reporters (46961)
Newberry, IN Court Reporters (47449)
Newburgh, IN Court Reporters (47629)
Newport, IN Court Reporters (47966)
Newtown, IN Court Reporters (47969)
Nineveh, IN Court Reporters (46164)
Noblesville, IN Court Reporters (46060)
Norman, IN Court Reporters (47264)
North Judson, IN Court Reporters (46366)
North Liberty, IN Court Reporters (46554)
North Manchester, IN Court Reporters (46962)
North Salem, IN Court Reporters (46165)
North Vernon, IN Court Reporters (47265)
North Webster, IN Court Reporters (46555)
Notre Dame, IN Court Reporters (46556)
Oakford, IN Court Reporters (46965)
Oakland City, IN Court Reporters (47660)
Oaktown, IN Court Reporters (47561)
Oakville, IN Court Reporters (47367)
Odon, IN Court Reporters (47562)
Oldenburg, IN Court Reporters (47036)
Onward, IN Court Reporters (46967)
Oolitic, IN Court Reporters (47451)
Ora, IN Court Reporters (46968)
Orestes, IN Court Reporters (46063)
Orland, IN Court Reporters (46776)
Orleans, IN Court Reporters (47452)
Osceola, IN Court Reporters (46561)
Osgood, IN Court Reporters (47037)
Ossian, IN Court Reporters (46777)
Otisco, IN Court Reporters (47163)
Otterbein, IN Court Reporters (47970)
Otwell, IN Court Reporters (47564)
Owensburg, IN Court Reporters (47453)
Owensville, IN Court Reporters (47665)
Oxford, IN Court Reporters (47971)
Palmyra, IN Court Reporters (47164)
Paoli, IN Court Reporters (47454)
Paragon, IN Court Reporters (46166)
Paris Crossing, IN Court Reporters (47270)
Parker City, IN Court Reporters (47368)
Patoka, IN Court Reporters (47666)
Patricksburg, IN Court Reporters (47455)
Patriot, IN Court Reporters (47038)
Paxton, IN Court Reporters (47865)
Pekin, IN Court Reporters (47165)
Pendleton, IN Court Reporters (46064)
Pennville, IN Court Reporters (47369)
Perrysville, IN Court Reporters (47974)
Pershing, IN Court Reporters (47370)
Peru, IN Court Reporters (46970)
Petersburg, IN Court Reporters (47567)
Petroleum, IN Court Reporters (46778)
Pierceton, IN Court Reporters (46562)
Pierceville, IN Court Reporters (47039)
Pimento, IN Court Reporters (47866)
Pine Village, IN Court Reporters (47975)
Pittsboro, IN Court Reporters (46167)
Plainfield, IN Court Reporters (46168)
Plainville, IN Court Reporters (47568)
Pleasant Lake, IN Court Reporters (46779)
Pleasant Mills, IN Court Reporters (46780)
Plymouth, IN Court Reporters (46563)
Poland, IN Court Reporters (47868)
Poneto, IN Court Reporters (46781)
Portage, IN Court Reporters (46368)
Portland, IN Court Reporters (47371)
Poseyville, IN Court Reporters (47633)
Prairie Creek, IN Court Reporters (47869)
Prairieton, IN Court Reporters (47870)
Preble, IN Court Reporters (46782)
Princeton, IN Court Reporters (47670)
Putnamville, IN Court Reporters (46170)
Quincy, IN Court Reporters (47456)
Ragsdale, IN Court Reporters (47573)
Ramsey, IN Court Reporters (47166)
Redkey, IN Court Reporters (47373)
Reelsville, IN Court Reporters (46171)
Remington, IN Court Reporters (47977)
Rensselaer, IN Court Reporters (47978)
Reynolds, IN Court Reporters (47980)
Richland, IN Court Reporters (47634)
Richmond, IN Court Reporters (47374)
Ridgeville, IN Court Reporters (47380)
Riley, IN Court Reporters (47871)
Rising Sun, IN Court Reporters (47040)
Roachdale, IN Court Reporters (46172)
Roann, IN Court Reporters (46974)
Roanoke, IN Court Reporters (46783)
Rochester, IN Court Reporters (46975)
Rockfield, IN Court Reporters (46977)
Rockport, IN Court Reporters (47635)
Rockville, IN Court Reporters (47872)
Rolling Prairie, IN Court Reporters (46371)
Rome, IN Court Reporters (47574)
Rome City, IN Court Reporters (46784)
Romney, IN Court Reporters (47981)
Rosedale, IN Court Reporters (47874)
Roselawn, IN Court Reporters (46372)
Rossville, IN Court Reporters (46065)
Royal Center, IN Court Reporters (46978)
Rushville, IN Court Reporters (46173)
Russellville, IN Court Reporters (46175)
Russiaville, IN Court Reporters (46979)
Saint Anthony, IN Court Reporters (47575)
Saint Bernice, IN Court Reporters (47875)
Saint Croix, IN Court Reporters (47576)
Saint Joe, IN Court Reporters (46785)
Saint John, IN Court Reporters (46373)
Saint Mary of the Woods, IN Court Reporters (47876)
Saint Meinrad, IN Court Reporters (47577)
Saint Paul, IN Court Reporters (47272)
Salamonia, IN Court Reporters (47381)
Salem, IN Court Reporters (47167)
San Pierre, IN Court Reporters (46374)
Sandborn, IN Court Reporters (47578)
Santa Claus, IN Court Reporters (47579)
Saratoga, IN Court Reporters (47382)
Schererville, IN Court Reporters (46375)
Schneider, IN Court Reporters (46376)
Schnellville, IN Court Reporters (47580)
Scipio, IN Court Reporters (47273)
Scotland, IN Court Reporters (47457)
Scottsburg, IN Court Reporters (47170)
Sedalia, IN Court Reporters (46067)
Seelyville, IN Court Reporters (47878)
Sellersburg, IN Court Reporters (47172)
Selma, IN Court Reporters (47383)
Servia, IN Court Reporters (46980)
Seymour, IN Court Reporters (47274)
Sharpsville, IN Court Reporters (46068)
Shelburn, IN Court Reporters (47879)
Shelby, IN Court Reporters (46377)
Shelbyville, IN Court Reporters (46176)
Shepardsville, IN Court Reporters (47880)
Sheridan, IN Court Reporters (46069)
Shipshewana, IN Court Reporters (46565)
Shirley, IN Court Reporters (47384)
Shoals, IN Court Reporters (47581)
Sidney, IN Court Reporters (46566)
Silver Lake, IN Court Reporters (46982)
Smithville, IN Court Reporters (47458)
Solsberry, IN Court Reporters (47459)
Somerset, IN Court Reporters (46984)
Somerville, IN Court Reporters (47683)
South Bend, IN Court Reporters (46601)
South Milford, IN Court Reporters (46786)
South Whitley, IN Court Reporters (46787)
Spencer, IN Court Reporters (47460)
Spencerville, IN Court Reporters (46788)
Spiceland, IN Court Reporters (47385)
Springport, IN Court Reporters (47386)
Springville, IN Court Reporters (47462)
Spurgeon, IN Court Reporters (47584)
Stanford, IN Court Reporters (47463)
Star City, IN Court Reporters (46985)
State Line, IN Court Reporters (47982)
Staunton, IN Court Reporters (47881)
Stendal, IN Court Reporters (47585)
Stilesville, IN Court Reporters (46180)
Stinesville, IN Court Reporters (47464)
Stockwell, IN Court Reporters (47983)
Straughn, IN Court Reporters (47387)
Stroh, IN Court Reporters (46789)
Sullivan, IN Court Reporters (47882)
Sulphur, IN Court Reporters (47174)
Sulphur Springs, IN Court Reporters (47388)
Sumava Resorts, IN Court Reporters (46379)
Summitville, IN Court Reporters (46070)
Sunman, IN Court Reporters (47041)
Swayzee, IN Court Reporters (46986)
Sweetser, IN Court Reporters (46987)
Switz City, IN Court Reporters (47465)
Syracuse, IN Court Reporters (46567)
Talbot, IN Court Reporters (47984)
Taswell, IN Court Reporters (47175)
Taylorsville, IN Court Reporters (47280)
Tefft, IN Court Reporters (46380)
Tell City, IN Court Reporters (47586)
Templeton, IN Court Reporters (47986)
Tennyson, IN Court Reporters (47637)
Terre Haute, IN Court Reporters (47801)
Thayer, IN Court Reporters (46381)
Thorntown, IN Court Reporters (46071)
Tippecanoe, IN Court Reporters (46570)
Tipton, IN Court Reporters (46072)
Topeka, IN Court Reporters (46571)
Trafalgar, IN Court Reporters (46181)
Troy, IN Court Reporters (47588)
Tunnelton, IN Court Reporters (47467)
Twelve Mile, IN Court Reporters (46988)
Tyner, IN Court Reporters (46572)
Underwood, IN Court Reporters (47177)
Union City, IN Court Reporters (47390)
Union Mills, IN Court Reporters (46382)
Uniondale, IN Court Reporters (46791)
Unionville, IN Court Reporters (47468)
Universal, IN Court Reporters (47884)
Upland, IN Court Reporters (46989)
Urbana, IN Court Reporters (46990)
Vallonia, IN Court Reporters (47281)
Valparaiso, IN Court Reporters (46383)
Van Buren, IN Court Reporters (46991)
Veedersburg, IN Court Reporters (47987)
Velpen, IN Court Reporters (47590)
Vernon, IN Court Reporters (47282)
Versailles, IN Court Reporters (47042)
Vevay, IN Court Reporters (47043)
Vincennes, IN Court Reporters (47591)
Wabash, IN Court Reporters (46992)
Wadesville, IN Court Reporters (47638)
Wakarusa, IN Court Reporters (46573)
Waldron, IN Court Reporters (46182)
Walkerton, IN Court Reporters (46574)
Wallace, IN Court Reporters (47988)
Walton, IN Court Reporters (46994)
Wanatah, IN Court Reporters (46390)
Warren, IN Court Reporters (46792)
Warsaw, IN Court Reporters (46580)
Washington, IN Court Reporters (47501)
Waterloo, IN Court Reporters (46793)
Waveland, IN Court Reporters (47989)
Wawaka, IN Court Reporters (46794)
Waynetown, IN Court Reporters (47990)
Webster, IN Court Reporters (47392)
West Baden Springs, IN Court Reporters (47469)
West College Corner, IN Court Reporters (47003)
West Harrison, IN Court Reporters (47060)
West Lafayette, IN Court Reporters (47906)
West Lebanon, IN Court Reporters (47991)
West Middleton, IN Court Reporters (46995)
West Newton, IN Court Reporters (46183)
West Terre Haute, IN Court Reporters (47885)
Westfield, IN Court Reporters (46074)
Westphalia, IN Court Reporters (47596)
Westpoint, IN Court Reporters (47992)
Westport, IN Court Reporters (47283)
Westville, IN Court Reporters (46391)
Wheatfield, IN Court Reporters (46392)
Wheatland, IN Court Reporters (47597)
Wheeler, IN Court Reporters (46393)
Whiteland, IN Court Reporters (46184)
Whitestown, IN Court Reporters (46075)
Whiting, IN Court Reporters (46394)
Wilkinson, IN Court Reporters (46186)
Williams, IN Court Reporters (47470)
Williamsburg, IN Court Reporters (47393)
Williamsport, IN Court Reporters (47993)
Winamac, IN Court Reporters (46996)
Winchester, IN Court Reporters (47394)
Windfall, IN Court Reporters (46076)
Wingate, IN Court Reporters (47994)
Winona Lake, IN Court Reporters (46590)
Winslow, IN Court Reporters (47598)
Wolcott, IN Court Reporters (47995)
Wolcottville, IN Court Reporters (46795)
Wolflake, IN Court Reporters (46796)
Woodburn, IN Court Reporters (46797)
Worthington, IN Court Reporters (47471)
Wyatt, IN Court Reporters (46595)
Yeoman, IN Court Reporters (47997)
Yoder, IN Court Reporters (46798)
Yorktown, IN Court Reporters (47396)
Young America, IN Court Reporters (46998)
Zanesville, IN Court Reporters (46799)
Zionsville, IN Court Reporters (46077)