Louisiana Court Reporters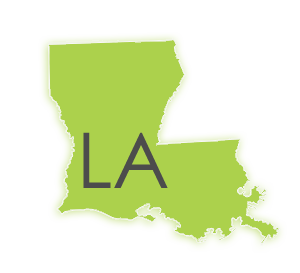 Starting with a qualified Louisiana court reporter is essential to the health of your deposition. When you elevate the bar of productivity, efficiency, and professionalism you are creating a stronger foundation from which to build.
GET MORE FROM YOUR SERVICES (LOOK INSIDE)
We will supply you with the most qualified Louisiana court reporter for your case. All you have to do is schedule a deposition and we will do the rest. We then provide you with a seamless platform to quickly review costs and ensure your budget is being honored at every step of the way.
The Louisiana Court Reporter Package
Discovery Litigation Services was founded by a seasoned court reporter with over twenty years of experience in the industry and can ensure a hands-on level of quality and sensitive attention to the uniqueness of every case's requirements.
Real-Time Ready Reporting
Discovery Litigation Services keeps up with your expectations to get what you need now, rather than later. Our Louisiana Court Reporters are equipped with the necessary technologies to offer Real Time Reporting enabling you to monitor scheduled depositions from anywhere in the world. With this level of oversight, you are at the helm making it easy to keep costs in check. Complete transparency on all invoicing ensures you will never pay for extraneous products and services. Learn More
On Demand Tech To Fortify Your Case
If you are looking for an easier way, then you have come to the right place. Discovery Litigation Services provides you with a simple point-and-click solution to your deposition needs, housing all necessary materials, services, and tools under one easy to use platform with easy to use online case management tools.
24-7 Access To All Deposition Materials
The Discovery Litigation Services online repository gives you complete access to all deposition materials anytime from anywhere. Do you need to quickly review a video? Log-in, and Click. Get easy access to your important documents and deposition footage anywhere you need to be. A key DLS tenet is that our clients receive the absolute best tools and services needed to make the successful regardless of geography.
Beam The Deposition To You (It's Like Teleportation)
With Discovery Litigation Services high definition streaming, real-time ready court reporting we can provide you with a certified court reporter anywhere in Louisiana. The quality of professionals you have access to is no longer dictated by your geography and personal rolodex. We have court reporters experienced in a wide range of cases ready for you.
Do you have someone who can't make it to the deposition location? Maybe you just want to eliminate travel expenses all together (airfare, hotel stay, 3 meals, and time). Step into a DLS HD Videoconference and be where you need to be at a fraction of the cost of physically traversing the country. Deposing remotely does not mean you will "go without." Our HD feeds are fully capable of transmitting all exhibits and everything you need to conduct a deposition properly.
HOW TO GET MORE FROM YOUR TEAM
When you have highly qualified professionals working for you and the most up-to-date technology in your toolbox, you will find the rest just naturally flows. You will spend less time troubleshooting because there is already a tool readily available to satisfy that need.
You will spend no time searching for competent court reporters because Discovery Litigation Services provides you with an expert Louisiana court reporter ready to work for you. You will spend a lot more time focusing on the important things in your case.
Discovery Litigation Services knows you have options with your litigation services. We are here to provide superior service, all the time, every time.
From finding a conference room to host your deposition to staffing it with a skilled court reporter, videographer and interpreter, Discovery Litigation Services will go above and beyond to fulfill your needs. We understand the importance of getting it done right. In our business, there is no margin for error.
Call Discovery at (855) 847-0999. See for yourself why so many call us their reporting company.
Schedule Your Deposition Now!
Louisiana Court Reporting Available In:
City Name
Abbeville, LA Court Reporters (70510)
Abita Springs, LA Court Reporters (70420)
Acme, LA Court Reporters (71316)
Addis, LA Court Reporters (70710)
Aimwell, LA Court Reporters (71401)
Akers, LA Court Reporters (70421)
Albany, LA Court Reporters (70711)
Alexandria, LA Court Reporters (71301)
Ama, LA Court Reporters (70031)
Amelia, LA Court Reporters (70340)
Amite, LA Court Reporters (70422)
Anacoco, LA Court Reporters (71403)
Angie, LA Court Reporters (70426)
Angola, LA Court Reporters (70712)
Arabi, LA Court Reporters (70032)
Arcadia, LA Court Reporters (71001)
Archibald, LA Court Reporters (71218)
Arnaudville, LA Court Reporters (70512)
Ashland, LA Court Reporters (71002)
Athens, LA Court Reporters (71003)
Atlanta, LA Court Reporters (71404)
Avery Island, LA Court Reporters (70513)
Baker, LA Court Reporters (70704)
Baldwin, LA Court Reporters (70514)
Ball, LA Court Reporters (71405)
Barataria, LA Court Reporters (70036)
Barksdale Air Force Base, LA Court Reporters (71110)
Basile, LA Court Reporters (70515)
Baskin, LA Court Reporters (71219)
Bastrop, LA Court Reporters (71220)
Batchelor, LA Court Reporters (70715)
Baton Rouge, LA Court Reporters (70801)
Belcher, LA Court Reporters (71004)
Bell City, LA Court Reporters (70630)
Belle Chasse, LA Court Reporters (70037)
Belle Rose, LA Court Reporters (70341)
Belmont, LA Court Reporters (71406)
Bentley, LA Court Reporters (71407)
Benton, LA Court Reporters (71006)
Bernice, LA Court Reporters (71222)
Berwick, LA Court Reporters (70342)
Bethany, LA Court Reporters (71007)
Bienville, LA Court Reporters (71008)
Blanchard, LA Court Reporters (71009)
Bogalusa, LA Court Reporters (70427)
Bonita, LA Court Reporters (71223)
Boothville, LA Court Reporters (70038)
Bordelonville, LA Court Reporters (71320)
Bossier City, LA Court Reporters (71111)
Bourg, LA Court Reporters (70343)
Boutte, LA Court Reporters (70039)
Boyce, LA Court Reporters (71409)
Braithwaite, LA Court Reporters (70040)
Branch, LA Court Reporters (70516)
Breaux Bridge, LA Court Reporters (70517)
Brittany, LA Court Reporters (70718)
Broussard, LA Court Reporters (70518)
Brusly, LA Court Reporters (70719)
Bunkie, LA Court Reporters (71322)
Buras, LA Court Reporters (70041)
Burnside, LA Court Reporters (70738)
Bush, LA Court Reporters (70431)
Cade, LA Court Reporters (70519)
Calhoun, LA Court Reporters (71225)
Calvin, LA Court Reporters (71410)
Cameron, LA Court Reporters (70631)
Campti, LA Court Reporters (71411)
Carencro, LA Court Reporters (70520)
Carville, LA Court Reporters (70721)
Castor, LA Court Reporters (71016)
Cecilia, LA Court Reporters (70521)
Center Point, LA Court Reporters (71323)
Centerville, LA Court Reporters (70522)
Chalmette, LA Court Reporters (70043)
Charenton, LA Court Reporters (70523)
Chase, LA Court Reporters (71324)
Chataignier, LA Court Reporters (70524)
Chatham, LA Court Reporters (71226)
Chauvin, LA Court Reporters (70344)
Cheneyville, LA Court Reporters (71325)
Choudrant, LA Court Reporters (71227)
Church Point, LA Court Reporters (70525)
Clarence, LA Court Reporters (71414)
Clarks, LA Court Reporters (71415)
Clayton, LA Court Reporters (71326)
Clinton, LA Court Reporters (70722)
Cloutierville, LA Court Reporters (71416)
Colfax, LA Court Reporters (71417)
Collinston, LA Court Reporters (71229)
Columbia, LA Court Reporters (71418)
Convent, LA Court Reporters (70723)
Converse, LA Court Reporters (71419)
Cotton Valley, LA Court Reporters (71018)
Cottonport, LA Court Reporters (71327)
Coushatta, LA Court Reporters (71019)
Covington, LA Court Reporters (70433)
Creole, LA Court Reporters (70632)
Crowley, LA Court Reporters (70526)
Crowville, LA Court Reporters (71230)
Cullen, LA Court Reporters (71021)
Cut Off, LA Court Reporters (70345)
Darrow, LA Court Reporters (70725)
Delcambre, LA Court Reporters (70528)
Delhi, LA Court Reporters (71232)
Delta, LA Court Reporters (71233)
Denham Springs, LA Court Reporters (70706)
Dequincy, LA Court Reporters (70633)
Deridder, LA Court Reporters (70634)
Des Allemands, LA Court Reporters (70030)
Destrehan, LA Court Reporters (70047)
Deville, LA Court Reporters (71328)
Dodson, LA Court Reporters (71422)
Donaldsonville, LA Court Reporters (70346)
Donner, LA Court Reporters (70352)
Downsville, LA Court Reporters (71234)
Doyline, LA Court Reporters (71023)
Dry Creek, LA Court Reporters (70637)
Dry Prong, LA Court Reporters (71423)
Dubach, LA Court Reporters (71235)
Dubberly, LA Court Reporters (71024)
Dulac, LA Court Reporters (70353)
Duplessis, LA Court Reporters (70728)
Dupont, LA Court Reporters (71329)
Duson, LA Court Reporters (70529)
East Point, LA Court Reporters (71025)
Echo, LA Court Reporters (71330)
Edgard, LA Court Reporters (70049)
Effie, LA Court Reporters (71331)
Egan, LA Court Reporters (70531)
Elizabeth, LA Court Reporters (70638)
Elm Grove, LA Court Reporters (71051)
Elmer, LA Court Reporters (71424)
Elton, LA Court Reporters (70532)
Empire, LA Court Reporters (70050)
Enterprise, LA Court Reporters (71425)
Epps, LA Court Reporters (71237)
Erath, LA Court Reporters (70533)
Eros, LA Court Reporters (71238)
Erwinville, LA Court Reporters (70729)
Estherwood, LA Court Reporters (70534)
Ethel, LA Court Reporters (70730)
Eunice, LA Court Reporters (70535)
Evangeline, LA Court Reporters (70537)
Evans, LA Court Reporters (70639)
Evergreen, LA Court Reporters (71333)
Fairbanks, LA Court Reporters (71240)
Farmerville, LA Court Reporters (71241)
Fenton, LA Court Reporters (70640)
Ferriday, LA Court Reporters (71334)
Fisher, LA Court Reporters (71426)
Flatwoods, LA Court Reporters (71427)
Flora, LA Court Reporters (71428)
Florien, LA Court Reporters (71429)
Fluker, LA Court Reporters (70436)
Folsom, LA Court Reporters (70437)
Fordoche, LA Court Reporters (70732)
Forest, LA Court Reporters (71242)
Forest Hill, LA Court Reporters (71430)
Fort Necessity, LA Court Reporters (71243)
Franklin, LA Court Reporters (70538)
Franklinton, LA Court Reporters (70438)
French Settlement, LA Court Reporters (70733)
Frierson, LA Court Reporters (71027)
Galliano, LA Court Reporters (70354)
Garden City, LA Court Reporters (70540)
Gardner, LA Court Reporters (71431)
Garyville, LA Court Reporters (70051)
Geismar, LA Court Reporters (70734)
Georgetown, LA Court Reporters (71432)
Gheens, LA Court Reporters (70355)
Gibsland, LA Court Reporters (71028)
Gibson, LA Court Reporters (70356)
Gilbert, LA Court Reporters (71336)
Gilliam, LA Court Reporters (71029)
Glenmora, LA Court Reporters (71433)
Gloster, LA Court Reporters (71030)
Glynn, LA Court Reporters (70736)
Golden Meadow, LA Court Reporters (70357)
Goldonna, LA Court Reporters (71031)
Gonzales, LA Court Reporters (70707)
Gorum, LA Court Reporters (71434)
Grambling, LA Court Reporters (71245)
Gramercy, LA Court Reporters (70052)
Grand Cane, LA Court Reporters (71032)
Grand Chenier, LA Court Reporters (70643)
Grand Coteau, LA Court Reporters (70541)
Grand Isle, LA Court Reporters (70358)
Grant, LA Court Reporters (70644)
Gray, LA Court Reporters (70359)
Grayson, LA Court Reporters (71435)
Greensburg, LA Court Reporters (70441)
Greenwell Springs, LA Court Reporters (70739)
Greenwood, LA Court Reporters (71033)
Gretna, LA Court Reporters (70053)
Grosse Tete, LA Court Reporters (70740)
Gueydan, LA Court Reporters (70542)
Hackberry, LA Court Reporters (70645)
Hahnville, LA Court Reporters (70057)
Hall Summit, LA Court Reporters (71034)
Hamburg, LA Court Reporters (71339)
Hammond, LA Court Reporters (70401)
Harmon, LA Court Reporters (71036)
Harrisonburg, LA Court Reporters (71340)
Harvey, LA Court Reporters (70058)
Haughton, LA Court Reporters (71037)
Hayes, LA Court Reporters (70646)
Haynesville, LA Court Reporters (71038)
Heflin, LA Court Reporters (71039)
Hessmer, LA Court Reporters (71341)
Hester, LA Court Reporters (70743)
Hineston, LA Court Reporters (71438)
Hodge, LA Court Reporters (71247)
Holden, LA Court Reporters (70744)
Homer, LA Court Reporters (71040)
Hornbeck, LA Court Reporters (71439)
Hosston, LA Court Reporters (71043)
Houma, LA Court Reporters (70360)
Husser, LA Court Reporters (70442)
Ida, LA Court Reporters (71044)
Independence, LA Court Reporters (70443)
Innis, LA Court Reporters (70747)
Iota, LA Court Reporters (70543)
Iowa, LA Court Reporters (70647)
Jackson, LA Court Reporters (70748)
Jamestown, LA Court Reporters (71045)
Jarreau, LA Court Reporters (70749)
Jeanerette, LA Court Reporters (70544)
Jena, LA Court Reporters (71342)
Jennings, LA Court Reporters (70546)
Jigger, LA Court Reporters (71249)
Jones, LA Court Reporters (71250)
Jonesboro, LA Court Reporters (71251)
Jonesville, LA Court Reporters (71343)
Joyce, LA Court Reporters (71440)
Kaplan, LA Court Reporters (70548)
Keatchie, LA Court Reporters (71046)
Keithville, LA Court Reporters (71047)
Kelly, LA Court Reporters (71441)
Kenner, LA Court Reporters (70062)
Kentwood, LA Court Reporters (70444)
Kilbourne, LA Court Reporters (71253)
Kinder, LA Court Reporters (70648)
Kraemer, LA Court Reporters (70371)
Krotz Springs, LA Court Reporters (70750)
Kurthwood, LA Court Reporters (71443)
La Place, LA Court Reporters (70068)
Labadieville, LA Court Reporters (70372)
Lacassine, LA Court Reporters (70650)
Lacombe, LA Court Reporters (70445)
Lafayette, LA Court Reporters (70501)
Lafitte, LA Court Reporters (70067)
Lake Arthur, LA Court Reporters (70549)
Lake Charles, LA Court Reporters (70601)
Lake Providence, LA Court Reporters (71254)
Lakeland, LA Court Reporters (70752)
Larose, LA Court Reporters (70373)
Lawtell, LA Court Reporters (70550)
Lebeau, LA Court Reporters (71345)
Leblanc, LA Court Reporters (70651)
Lecompte, LA Court Reporters (71346)
Leesville, LA Court Reporters (71446)
Lena, LA Court Reporters (71447)
Leonville, LA Court Reporters (70551)
Lettsworth, LA Court Reporters (70753)
Libuse, LA Court Reporters (71348)
Lillie, LA Court Reporters (71256)
Lisbon, LA Court Reporters (71048)
Livingston, LA Court Reporters (70754)
Livonia, LA Court Reporters (70755)
Lockport, LA Court Reporters (70374)
Logansport, LA Court Reporters (71049)
Longleaf, LA Court Reporters (71448)
Longstreet, LA Court Reporters (71050)
Longville, LA Court Reporters (70652)
Loranger, LA Court Reporters (70446)
Loreauville, LA Court Reporters (70552)
Lottie, LA Court Reporters (70756)
Luling, LA Court Reporters (70070)
Lutcher, LA Court Reporters (70071)
Lydia, LA Court Reporters (70569)
Madisonville, LA Court Reporters (70447)
Mamou, LA Court Reporters (70554)
Mandeville, LA Court Reporters (70448)
Mangham, LA Court Reporters (71259)
Mansfield, LA Court Reporters (71052)
Mansura, LA Court Reporters (71350)
Many, LA Court Reporters (71449)
Maringouin, LA Court Reporters (70757)
Marion, LA Court Reporters (71260)
Marksville, LA Court Reporters (71351)
Marrero, LA Court Reporters (70072)
Marthaville, LA Court Reporters (71450)
Mathews, LA Court Reporters (70375)
Maurepas, LA Court Reporters (70449)
Maurice, LA Court Reporters (70555)
Melrose, LA Court Reporters (71452)
Melville, LA Court Reporters (71353)
Mer Rouge, LA Court Reporters (71261)
Meraux, LA Court Reporters (70075)
Mermentau, LA Court Reporters (70556)
Merryville, LA Court Reporters (70653)
Metairie, LA Court Reporters (70001)
Milton, LA Court Reporters (70558)
Minden, LA Court Reporters (71055)
Mittie, LA Court Reporters (70654)
Monroe, LA Court Reporters (71201)
Montegut, LA Court Reporters (70377)
Monterey, LA Court Reporters (71354)
Montgomery, LA Court Reporters (71454)
Mooringsport, LA Court Reporters (71060)
Mora, LA Court Reporters (71455)
Moreauville, LA Court Reporters (71355)
Morgan City, LA Court Reporters (70380)
Morganza, LA Court Reporters (70759)
Morrow, LA Court Reporters (71356)
Morse, LA Court Reporters (70559)
Mount Airy, LA Court Reporters (70076)
Mount Hermon, LA Court Reporters (70450)
Napoleonville, LA Court Reporters (70390)
Natalbany, LA Court Reporters (70451)
Natchez, LA Court Reporters (71456)
Natchitoches, LA Court Reporters (71457)
Negreet, LA Court Reporters (71460)
New Iberia, LA Court Reporters (70560)
New Orleans, LA Court Reporters (70112)
New Roads, LA Court Reporters (70760)
New Sarpy, LA Court Reporters (70078)
Newellton, LA Court Reporters (71357)
Newllano, LA Court Reporters (71461)
Noble, LA Court Reporters (71462)
Norco, LA Court Reporters (70079)
Norwood, LA Court Reporters (70761)
Oak Grove, LA Court Reporters (71263)
Oak Ridge, LA Court Reporters (71264)
Oakdale, LA Court Reporters (71463)
Oberlin, LA Court Reporters (70655)
Oil City, LA Court Reporters (71061)
Olla, LA Court Reporters (71465)
Opelousas, LA Court Reporters (70570)
Oscar, LA Court Reporters (70762)
Otis, LA Court Reporters (71466)
Paincourtville, LA Court Reporters (70391)
Palmetto, LA Court Reporters (71358)
Paradis, LA Court Reporters (70080)
Patterson, LA Court Reporters (70392)
Paulina, LA Court Reporters (70763)
Pearl River, LA Court Reporters (70452)
Pelican, LA Court Reporters (71063)
Perry, LA Court Reporters (70575)
Pierre Part, LA Court Reporters (70339)
Pilottown, LA Court Reporters (70081)
Pine Grove, LA Court Reporters (70453)
Pine Prairie, LA Court Reporters (70576)
Pineville, LA Court Reporters (71359)
Pioneer, LA Court Reporters (71266)
Pitkin, LA Court Reporters (70656)
Plain Dealing, LA Court Reporters (71064)
Plaquemine, LA Court Reporters (70764)
Plattenville, LA Court Reporters (70393)
Plaucheville, LA Court Reporters (71362)
Pleasant Hill, LA Court Reporters (71065)
Pointe A la Hache, LA Court Reporters (70082)
Pollock, LA Court Reporters (71467)
Ponchatoula, LA Court Reporters (70454)
Port Allen, LA Court Reporters (70767)
Port Barre, LA Court Reporters (70577)
Port Sulphur, LA Court Reporters (70083)
Powhatan, LA Court Reporters (71066)
Prairieville, LA Court Reporters (70769)
Pride, LA Court Reporters (70770)
Princeton, LA Court Reporters (71067)
Provencal, LA Court Reporters (71468)
Quitman, LA Court Reporters (71268)
Raceland, LA Court Reporters (70394)
Ragley, LA Court Reporters (70657)
Rayne, LA Court Reporters (70578)
Rayville, LA Court Reporters (71269)
Reddell, LA Court Reporters (70580)
Reeves, LA Court Reporters (70658)
Reserve, LA Court Reporters (70084)
Rhinehart, LA Court Reporters (71363)
Ringgold, LA Court Reporters (71068)
Roanoke, LA Court Reporters (70581)
Robeline, LA Court Reporters (71469)
Robert, LA Court Reporters (70455)
Rodessa, LA Court Reporters (71069)
Rosedale, LA Court Reporters (70772)
Roseland, LA Court Reporters (70456)
Rosepine, LA Court Reporters (70659)
Rougon, LA Court Reporters (70773)
Ruby, LA Court Reporters (71365)
Ruston, LA Court Reporters (71270)
Saint Amant, LA Court Reporters (70774)
Saint Benedict, LA Court Reporters (70457)
Saint Bernard, LA Court Reporters (70085)
Saint Francisville, LA Court Reporters (70775)
Saint Gabriel, LA Court Reporters (70776)
Saint James, LA Court Reporters (70086)
Saint Joseph, LA Court Reporters (71366)
Saint Landry, LA Court Reporters (71367)
Saint Martinville, LA Court Reporters (70582)
Saint Maurice, LA Court Reporters (71471)
Saint Rose, LA Court Reporters (70087)
Saline, LA Court Reporters (71070)
Sarepta, LA Court Reporters (71071)
Schriever, LA Court Reporters (70395)
Scott, LA Court Reporters (70583)
Shongaloo, LA Court Reporters (71072)
Shreveport, LA Court Reporters (71101)
Sibley, LA Court Reporters (71073)
Sicily Island, LA Court Reporters (71368)
Sieper, LA Court Reporters (71472)
Sikes, LA Court Reporters (71473)
Simmesport, LA Court Reporters (71369)
Simpson, LA Court Reporters (71474)
Simsboro, LA Court Reporters (71275)
Singer, LA Court Reporters (70660)
Slagle, LA Court Reporters (71475)
Slaughter, LA Court Reporters (70777)
Slidell, LA Court Reporters (70458)
Sondheimer, LA Court Reporters (71276)
Sorrento, LA Court Reporters (70778)
Spearsville, LA Court Reporters (71277)
Springfield, LA Court Reporters (70462)
Springhill, LA Court Reporters (71075)
Starks, LA Court Reporters (70661)
Start, LA Court Reporters (71279)
Sterlington, LA Court Reporters (71280)
Stonewall, LA Court Reporters (71078)
Sugartown, LA Court Reporters (70662)
Sulphur, LA Court Reporters (70663)
Summerfield, LA Court Reporters (71079)
Sun, LA Court Reporters (70463)
Sunset, LA Court Reporters (70584)
Sunshine, LA Court Reporters (70780)
Swartz, LA Court Reporters (71281)
Talisheek, LA Court Reporters (70464)
Tallulah, LA Court Reporters (71282)
Tangipahoa, LA Court Reporters (70465)
Taylor, LA Court Reporters (71080)
Theriot, LA Court Reporters (70397)
Thibodaux, LA Court Reporters (70301)
Tickfaw, LA Court Reporters (70466)
Tioga, LA Court Reporters (71477)
Transylvania, LA Court Reporters (71286)
Trout, LA Court Reporters (71371)
Tullos, LA Court Reporters (71479)
Tunica, LA Court Reporters (70782)
Turkey Creek, LA Court Reporters (70585)
Uncle Sam, LA Court Reporters (70792)
Urania, LA Court Reporters (71480)
Vacherie, LA Court Reporters (70090)
Venice, LA Court Reporters (70091)
Ventress, LA Court Reporters (70783)
Vidalia, LA Court Reporters (71373)
Ville Platte, LA Court Reporters (70586)
Vinton, LA Court Reporters (70668)
Violet, LA Court Reporters (70092)
Vivian, LA Court Reporters (71082)
Wakefield, LA Court Reporters (70784)
Walker, LA Court Reporters (70785)
Washington, LA Court Reporters (70589)
Waterproof, LA Court Reporters (71375)
Watson, LA Court Reporters (70786)
Welsh, LA Court Reporters (70591)
West Monroe, LA Court Reporters (71291)
Westlake, LA Court Reporters (70669)
Westwego, LA Court Reporters (70094)
Weyanoke, LA Court Reporters (70787)
White Castle, LA Court Reporters (70788)
Wildsville, LA Court Reporters (71377)
Wilson, LA Court Reporters (70789)
Winnfield, LA Court Reporters (71483)
Winnsboro, LA Court Reporters (71295)
Wisner, LA Court Reporters (71378)
Woodworth, LA Court Reporters (71485)
Youngsville, LA Court Reporters (70592)
Zachary, LA Court Reporters (70791)
Zwolle, LA Court Reporters (71486)