Have you been using the best Maine court reporter?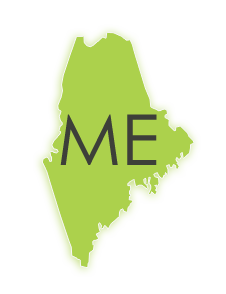 Discovery Litigation Services is founded by a court reporter with over 20 years of experience. Operated by seasoned professionals, we understand the importance of providing highly-rated court reporters to cover your depositions.
Our Maine court reporters know from firsthand experience the importance of their role in the deposition process. Our Maine stenographers are certified at the state and/or national levels. Our highly skilled court reporters in Maine and throughout the united states are eager to support you wherever your deposition takes place.
Our court reporters in Maine handle an abundance of depositions throughout the year. Discovery Litigation Services' court reporters provide expertise rooted in hands-on experience, and their personal professionalism gives you the support required for a successful deposition.
The experience and professionalism of our Maine court reporters are the keys to producing a quality transcript in a timely manner.
Discovery Litigation Services will cover your court reporting requirements anywhere in the State of Maine.
We'll even supply you with the meeting room.
At Discovery Litigation Services we pride ourselves on every relationship we foster. Whether we are providing you with a quick deposition solution or bolstering your entire case with our pre-trial team, your case is our priority.
We know firsthand the pressures our clients face. Our job is to eliminate the stressors of your deposition. With our experience managing hundreds of thousands of depositions around the world, we draw upon a depth of experience to professionally, promptly and courteously satisfy your needs.
Discovery Litigation Services knows you have options with your litigation services.
We are here to provide superior services, all the time, every time.
Every client has needs unique to their case, but every deposition requires accurate and qualified professionals regardless of their location. Discovery Litigation Services provides top-rated Maine court reporters, videographers and interpreters everywhere in the state.
Operating at the forefront of litigation technology, Discovery provides the latest cost effective and compelling services. As a standard, all exhibits are provided in an OCR text-searchable format and hyperlinked to the transcript for easy navigation through hours of deposition material.
Every videotaped deposition is synchronized to the text at no additional cost. Discovery Litigation Services provides solutions that allow for litigation teams to work collaboratively across all case documents.
Our commitment to you does not end with accurate records. We have the team of experienced professionals to bring the added energy and support to your case.
We can also help you with...
Document Review Attorneys
Paralegals
Legal Videographers
Pre-trial strategy
Hi-Definition Video Streaming
Court Reporters
Discovery Litigation Services offers a one-stop-shop for your litigation needs. We stop at nothing to bring you the most feature-rich solutions to eliminate virtually every obstacle, headache, or pain point you can encounter.
Browse our various litigation services and see how we can provide your case with the right bit of expertise to get you your verdict. Reach out to us, and let us know what you need. We'll cover it.
Discovery Litigation Services knows you have options with your litigation services. We are here to provide superior service, all the time, every time.
From finding a conference room to host your deposition to staffing it with a skilled court reporter, videographer and interpreter, Discovery Litigation Services will go above and beyond to fulfill your needs. We understand the importance of getting it done right. In our business, there is no margin for error.
Call Discovery at (855) 847-0999. See for yourself why so many call us their reporting company.
Schedule Your Deposition Now!
Maine Court Reporting Available In:
City Name
Abbot, ME Court Reporters (04406)
Acton, ME Court Reporters (04001)
Addison, ME Court Reporters (04606)
Albion, ME Court Reporters (04910)
Alfred, ME Court Reporters (04002)
Alna, ME Court Reporters (04535)
Andover, ME Court Reporters (04216)
Anson, ME Court Reporters (04911)
Ashland, ME Court Reporters (04732)
Athens, ME Court Reporters (04912)
Auburn, ME Court Reporters (04210)
Augusta, ME Court Reporters (04330)
Aurora, ME Court Reporters (04408)
Bailey Island, ME Court Reporters (04003)
Baileyville, ME Court Reporters (04694)
Bangor, ME Court Reporters (04401)
Bar Harbor, ME Court Reporters (04609)
Bar Mills, ME Court Reporters (04004)
Bass Harbor, ME Court Reporters (04653)
Bath, ME Court Reporters (04530)
Bayville, ME Court Reporters (04536)
Beals, ME Court Reporters (04611)
Belfast, ME Court Reporters (04915)
Belgrade, ME Court Reporters (04917)
Belgrade Lakes, ME Court Reporters (04918)
Benedicta, ME Court Reporters (04733)
Bernard, ME Court Reporters (04612)
Berwick, ME Court Reporters (03901)
Bethel, ME Court Reporters (04217)
Biddeford, ME Court Reporters (04005)
Biddeford Pool, ME Court Reporters (04006)
Bingham, ME Court Reporters (04920)
Birch Harbor, ME Court Reporters (04613)
Blaine, ME Court Reporters (04734)
Blue Hill, ME Court Reporters (04614)
Blue Hill Falls, ME Court Reporters (04615)
Boothbay, ME Court Reporters (04537)
Boothbay Harbor, ME Court Reporters (04538)
Bowdoin, ME Court Reporters (04287)
Bowdoinham, ME Court Reporters (04008)
Bradford, ME Court Reporters (04410)
Bradley, ME Court Reporters (04411)
Bremen, ME Court Reporters (04551)
Brewer, ME Court Reporters (04412)
Bridgewater, ME Court Reporters (04735)
Bridgton, ME Court Reporters (04009)
Bristol, ME Court Reporters (04539)
Brooklin, ME Court Reporters (04616)
Brooks, ME Court Reporters (04921)
Brooksville, ME Court Reporters (04617)
Brookton, ME Court Reporters (04413)
Brownfield, ME Court Reporters (04010)
Brownville, ME Court Reporters (04414)
Brownville Junction, ME Court Reporters (04415)
Brunswick, ME Court Reporters (04011)
Bryant Pond, ME Court Reporters (04219)
Buckfield, ME Court Reporters (04220)
Bucksport, ME Court Reporters (04416)
Burlington, ME Court Reporters (04417)
Burnham, ME Court Reporters (04922)
Bustins Island, ME Court Reporters (04013)
Buxton, ME Court Reporters (04093)
Calais, ME Court Reporters (04619)
Cambridge, ME Court Reporters (04923)
Camden, ME Court Reporters (04843)
Canaan, ME Court Reporters (04924)
Canton, ME Court Reporters (04221)
Cape Elizabeth, ME Court Reporters (04107)
Cape Neddick, ME Court Reporters (03902)
Cape Porpoise, ME Court Reporters (04014)
Caratunk, ME Court Reporters (04925)
Caribou, ME Court Reporters (04736)
Carmel, ME Court Reporters (04419)
Casco, ME Court Reporters (04015)
Castine, ME Court Reporters (04420)
Center Lovell, ME Court Reporters (04016)
Chamberlain, ME Court Reporters (04541)
Charleston, ME Court Reporters (04422)
Chebeague Island, ME Court Reporters (04017)
Cherryfield, ME Court Reporters (04622)
China Village, ME Court Reporters (04926)
Clayton Lake, ME Court Reporters (04737)
Cliff Island, ME Court Reporters (04019)
Clinton, ME Court Reporters (04927)
Columbia Falls, ME Court Reporters (04623)
Coopers Mills, ME Court Reporters (04341)
Corea, ME Court Reporters (04624)
Corinna, ME Court Reporters (04928)
Corinth, ME Court Reporters (04427)
Cornish, ME Court Reporters (04020)
Costigan, ME Court Reporters (04423)
Cranberry Isles, ME Court Reporters (04625)
Crouseville, ME Court Reporters (04738)
Cumberland Center, ME Court Reporters (04021)
Cumberland Foreside, ME Court Reporters (04110)
Cushing, ME Court Reporters (04563)
Cutler, ME Court Reporters (04626)
Damariscotta, ME Court Reporters (04543)
Danforth, ME Court Reporters (04424)
Danville, ME Court Reporters (04223)
Deer Isle, ME Court Reporters (04627)
Denmark, ME Court Reporters (04022)
Dennysville, ME Court Reporters (04628)
Detroit, ME Court Reporters (04929)
Dexter, ME Court Reporters (04930)
Dixfield, ME Court Reporters (04224)
Dixmont, ME Court Reporters (04932)
Dover Foxcroft, ME Court Reporters (04426)
Dresden, ME Court Reporters (04342)
Dryden, ME Court Reporters (04225)
Durham, ME Court Reporters (04222)
Eagle Lake, ME Court Reporters (04739)
East Andover, ME Court Reporters (04226)
East Baldwin, ME Court Reporters (04024)
East Blue Hill, ME Court Reporters (04629)
East Boothbay, ME Court Reporters (04544)
East Dixfield, ME Court Reporters (04227)
East Livermore, ME Court Reporters (04228)
East Machias, ME Court Reporters (04630)
East Millinocket, ME Court Reporters (04430)
East Newport, ME Court Reporters (04933)
East Orland, ME Court Reporters (04431)
East Parsonfield, ME Court Reporters (04028)
East Poland, ME Court Reporters (04230)
East Vassalboro, ME Court Reporters (04935)
East Waterboro, ME Court Reporters (04030)
East Wilton, ME Court Reporters (04234)
East Winthrop, ME Court Reporters (04343)
Easton, ME Court Reporters (04740)
Eastport, ME Court Reporters (04631)
Eddington, ME Court Reporters (04428)
Edgecomb, ME Court Reporters (04556)
Eliot, ME Court Reporters (03903)
Ellsworth, ME Court Reporters (04605)
Estcourt Station, ME Court Reporters (04741)
Etna, ME Court Reporters (04434)
Eustis, ME Court Reporters (04936)
Exeter, ME Court Reporters (04435)
Fairfield, ME Court Reporters (04937)
Falmouth, ME Court Reporters (04105)
Farmingdale, ME Court Reporters (04344)
Farmington, ME Court Reporters (04938)
Farmington Falls, ME Court Reporters (04940)
Fort Fairfield, ME Court Reporters (04742)
Fort Kent, ME Court Reporters (04743)
Fort Kent Mills, ME Court Reporters (04744)
Frankfort, ME Court Reporters (04438)
Franklin, ME Court Reporters (04634)
Freedom, ME Court Reporters (04941)
Freeport, ME Court Reporters (04032)
Frenchboro, ME Court Reporters (04635)
Frenchville, ME Court Reporters (04745)
Friendship, ME Court Reporters (04547)
Fryeburg, ME Court Reporters (04037)
Gardiner, ME Court Reporters (04345)
Garland, ME Court Reporters (04939)
Georgetown, ME Court Reporters (04548)
Glen Cove, ME Court Reporters (04846)
Gorham, ME Court Reporters (04038)
Gouldsboro, ME Court Reporters (04607)
Grand Isle, ME Court Reporters (04746)
Grand Lake Stream, ME Court Reporters (04637)
Gray, ME Court Reporters (04039)
Greenbush, ME Court Reporters (04418)
Greene, ME Court Reporters (04236)
Greenville, ME Court Reporters (04441)
Greenville Junction, ME Court Reporters (04442)
Greenwood, ME Court Reporters (04255)
Guilford, ME Court Reporters (04443)
Hallowell, ME Court Reporters (04347)
Hampden, ME Court Reporters (04444)
Hancock, ME Court Reporters (04640)
Hanover, ME Court Reporters (04237)
Harborside, ME Court Reporters (04642)
Harmony, ME Court Reporters (04942)
Harpswell, ME Court Reporters (04079)
Harrington, ME Court Reporters (04643)
Harrison, ME Court Reporters (04040)
Hartland, ME Court Reporters (04943)
Hebron, ME Court Reporters (04238)
Hinckley, ME Court Reporters (04944)
Hiram, ME Court Reporters (04041)
Holden, ME Court Reporters (04429)
Hollis Center, ME Court Reporters (04042)
Hope, ME Court Reporters (04847)
Houlton, ME Court Reporters (04730)
Howland, ME Court Reporters (04448)
Hudson, ME Court Reporters (04449)
Hulls Cove, ME Court Reporters (04644)
Island Falls, ME Court Reporters (04747)
Isle au Haut, ME Court Reporters (04645)
Isle of Springs, ME Court Reporters (04549)
Islesboro, ME Court Reporters (04848)
Islesford, ME Court Reporters (04646)
Jackman, ME Court Reporters (04945)
Jay, ME Court Reporters (04239)
Jefferson, ME Court Reporters (04348)
Jonesboro, ME Court Reporters (04648)
Jonesport, ME Court Reporters (04649)
Kenduskeag, ME Court Reporters (04450)
Kennebunk, ME Court Reporters (04043)
Kennebunkport, ME Court Reporters (04046)
Kents Hill, ME Court Reporters (04349)
Kingfield, ME Court Reporters (04947)
Kingman, ME Court Reporters (04451)
Kittery, ME Court Reporters (03904)
Kittery Point, ME Court Reporters (03905)
Lagrange, ME Court Reporters (04453)
Lambert Lake, ME Court Reporters (04454)
Lebanon, ME Court Reporters (04027)
Lee, ME Court Reporters (04455)
Leeds, ME Court Reporters (04263)
Levant, ME Court Reporters (04456)
Lewiston, ME Court Reporters (04240)
Liberty, ME Court Reporters (04949)
Limerick, ME Court Reporters (04048)
Limestone, ME Court Reporters (04750)
Limington, ME Court Reporters (04049)
Lincoln, ME Court Reporters (04457)
Lincolnville, ME Court Reporters (04849)
Lincolnville Center, ME Court Reporters (04850)
Lisbon, ME Court Reporters (04250)
Lisbon Falls, ME Court Reporters (04252)
Litchfield, ME Court Reporters (04350)
Little Deer Isle, ME Court Reporters (04650)
Livermore, ME Court Reporters (04253)
Livermore Falls, ME Court Reporters (04254)
Long Island, ME Court Reporters (04050)
Lovell, ME Court Reporters (04051)
Lubec, ME Court Reporters (04652)
Machias, ME Court Reporters (04654)
Machiasport, ME Court Reporters (04655)
Madawaska, ME Court Reporters (04756)
Madison, ME Court Reporters (04950)
Manchester, ME Court Reporters (04351)
Manset, ME Court Reporters (04656)
Mapleton, ME Court Reporters (04757)
Mars Hill, ME Court Reporters (04758)
Masardis, ME Court Reporters (04759)
Matinicus, ME Court Reporters (04851)
Mattawamkeag, ME Court Reporters (04459)
Mechanic Falls, ME Court Reporters (04256)
Meddybemps, ME Court Reporters (04657)
Medway, ME Court Reporters (04460)
Merepoint, ME Court Reporters (04053)
Mexico, ME Court Reporters (04257)
Milbridge, ME Court Reporters (04658)
Milford, ME Court Reporters (04461)
Millinocket, ME Court Reporters (04462)
Milo, ME Court Reporters (04463)
Minot, ME Court Reporters (04258)
Monhegan, ME Court Reporters (04852)
Monmouth, ME Court Reporters (04259)
Monroe, ME Court Reporters (04951)
Monson, ME Court Reporters (04464)
Monticello, ME Court Reporters (04760)
Moody, ME Court Reporters (04054)
Morrill, ME Court Reporters (04952)
Mount Desert, ME Court Reporters (04660)
Mount Vernon, ME Court Reporters (04352)
Naples, ME Court Reporters (04055)
New Gloucester, ME Court Reporters (04260)
New Harbor, ME Court Reporters (04554)
New Limerick, ME Court Reporters (04761)
New Portland, ME Court Reporters (04954)
New Sharon, ME Court Reporters (04955)
New Sweden, ME Court Reporters (04762)
New Vineyard, ME Court Reporters (04956)
Newcastle, ME Court Reporters (04553)
Newfield, ME Court Reporters (04056)
Newport, ME Court Reporters (04953)
Newry, ME Court Reporters (04261)
Nobleboro, ME Court Reporters (04555)
Norridgewock, ME Court Reporters (04957)
North Anson, ME Court Reporters (04958)
North Berwick, ME Court Reporters (03906)
North Bridgton, ME Court Reporters (04057)
North Haven, ME Court Reporters (04853)
North Jay, ME Court Reporters (04262)
North Monmouth, ME Court Reporters (04265)
North Turner, ME Court Reporters (04266)
North Vassalboro, ME Court Reporters (04962)
North Waterboro, ME Court Reporters (04061)
North Waterford, ME Court Reporters (04267)
North Yarmouth, ME Court Reporters (04097)
Northeast Harbor, ME Court Reporters (04662)
Norway, ME Court Reporters (04268)
Oakfield, ME Court Reporters (04763)
Oakland, ME Court Reporters (04963)
Ocean Park, ME Court Reporters (04063)
Ogunquit, ME Court Reporters (03907)
Olamon, ME Court Reporters (04467)
Old Orchard Beach, ME Court Reporters (04064)
Old Town, ME Court Reporters (04468)
Oquossoc, ME Court Reporters (04964)
Orient, ME Court Reporters (04471)
Orland, ME Court Reporters (04472)
Orono, ME Court Reporters (04469)
Orrington, ME Court Reporters (04474)
Orrs Island, ME Court Reporters (04066)
Owls Head, ME Court Reporters (04854)
Oxbow, ME Court Reporters (04764)
Oxford, ME Court Reporters (04270)
Palermo, ME Court Reporters (04354)
Palmyra, ME Court Reporters (04965)
Paris, ME Court Reporters (04271)
Parsonsfield, ME Court Reporters (04047)
Passadumkeag, ME Court Reporters (04475)
Patten, ME Court Reporters (04765)
Peaks Island, ME Court Reporters (04108)
Pemaquid, ME Court Reporters (04558)
Pembroke, ME Court Reporters (04666)
Penobscot, ME Court Reporters (04476)
Perham, ME Court Reporters (04766)
Perry, ME Court Reporters (04667)
Peru, ME Court Reporters (04290)
Phillips, ME Court Reporters (04966)
Phippsburg, ME Court Reporters (04562)
Pittsfield, ME Court Reporters (04967)
Plymouth, ME Court Reporters (04969)
Poland, ME Court Reporters (04274)
Port Clyde, ME Court Reporters (04855)
Portage, ME Court Reporters (04768)
Porter, ME Court Reporters (04068)
Portland, ME Court Reporters (04101)
Pownal, ME Court Reporters (04069)
Presque Isle, ME Court Reporters (04769)
Princeton, ME Court Reporters (04668)
Prospect Harbor, ME Court Reporters (04669)
Quimby, ME Court Reporters (04770)
Randolph, ME Court Reporters (04346)
Rangeley, ME Court Reporters (04970)
Raymond, ME Court Reporters (04071)
Readfield, ME Court Reporters (04355)
Richmond, ME Court Reporters (04357)
Robbinston, ME Court Reporters (04671)
Rockland, ME Court Reporters (04841)
Rockport, ME Court Reporters (04856)
Rockwood, ME Court Reporters (04478)
Round Pond, ME Court Reporters (04564)
Roxbury, ME Court Reporters (04275)
Rumford, ME Court Reporters (04276)
Rumford Center, ME Court Reporters (04278)
Sabattus, ME Court Reporters (04280)
Saco, ME Court Reporters (04072)
Saint Agatha, ME Court Reporters (04772)
Saint Albans, ME Court Reporters (04971)
Saint David, ME Court Reporters (04773)
Saint Francis, ME Court Reporters (04774)
Salsbury Cove, ME Court Reporters (04672)
Sandy Point, ME Court Reporters (04972)
Sanford, ME Court Reporters (04073)
Sangerville, ME Court Reporters (04479)
Sargentville, ME Court Reporters (04673)
Scarborough, ME Court Reporters (04070)
Seal Cove, ME Court Reporters (04674)
Seal Harbor, ME Court Reporters (04675)
Searsmont, ME Court Reporters (04973)
Searsport, ME Court Reporters (04974)
Sebago, ME Court Reporters (04029)
Sebago Lake, ME Court Reporters (04075)
Sebasco Estates, ME Court Reporters (04565)
Sebec, ME Court Reporters (04481)
Sedgwick, ME Court Reporters (04676)
Shapleigh, ME Court Reporters (04076)
Shawmut, ME Court Reporters (04975)
Sheridan, ME Court Reporters (04775)
Sherman Mills, ME Court Reporters (04776)
Sherman Station, ME Court Reporters (04777)
Shirley Mills, ME Court Reporters (04485)
Sinclair, ME Court Reporters (04779)
Skowhegan, ME Court Reporters (04976)
Small Point, ME Court Reporters (04567)
Smithfield, ME Court Reporters (04978)
Smyrna Mills, ME Court Reporters (04780)
Solon, ME Court Reporters (04979)
Sorrento, ME Court Reporters (04677)
South Berwick, ME Court Reporters (03908)
South Bristol, ME Court Reporters (04568)
South Casco, ME Court Reporters (04077)
South China, ME Court Reporters (04358)
South Freeport, ME Court Reporters (04078)
South Gardiner, ME Court Reporters (04359)
South Paris, ME Court Reporters (04281)
South Portland, ME Court Reporters (04106)
South Thomaston, ME Court Reporters (04858)
South Windham, ME Court Reporters (04082)
Southport, ME Court Reporters (04576)
Southwest Harbor, ME Court Reporters (04679)
Springfield, ME Court Reporters (04487)
Springvale, ME Court Reporters (04083)
Spruce Head, ME Court Reporters (04859)
Squirrel Island, ME Court Reporters (04570)
Standish, ME Court Reporters (04084)
Steep Falls, ME Court Reporters (04085)
Stetson, ME Court Reporters (04488)
Steuben, ME Court Reporters (04680)
Stillwater, ME Court Reporters (04489)
Stockholm, ME Court Reporters (04783)
Stockton Springs, ME Court Reporters (04981)
Stoneham, ME Court Reporters (04231)
Stonington, ME Court Reporters (04681)
Stratton, ME Court Reporters (04982)
Strong, ME Court Reporters (04983)
Sullivan, ME Court Reporters (04664)
Sumner, ME Court Reporters (04292)
Sunset, ME Court Reporters (04683)
Surry, ME Court Reporters (04684)
Swans Island, ME Court Reporters (04685)
Temple, ME Court Reporters (04984)
Tenants Harbor, ME Court Reporters (04860)
Thomaston, ME Court Reporters (04861)
Thorndike, ME Court Reporters (04986)
Topsfield, ME Court Reporters (04490)
Topsham, ME Court Reporters (04086)
Trevett, ME Court Reporters (04571)
Troy, ME Court Reporters (04987)
Turner, ME Court Reporters (04282)
Turner Center, ME Court Reporters (04283)
Union, ME Court Reporters (04862)
Unity, ME Court Reporters (04988)
Van Buren, ME Court Reporters (04785)
Vanceboro, ME Court Reporters (04491)
Vassalboro, ME Court Reporters (04989)
Vienna, ME Court Reporters (04360)
Vinalhaven, ME Court Reporters (04863)
Waite, ME Court Reporters (04492)
Waldoboro, ME Court Reporters (04572)
Wallagrass, ME Court Reporters (04781)
Walpole, ME Court Reporters (04573)
Warren, ME Court Reporters (04864)
Washburn, ME Court Reporters (04786)
Washington, ME Court Reporters (04574)
Waterboro, ME Court Reporters (04087)
Waterford, ME Court Reporters (04088)
Waterville, ME Court Reporters (04901)
Wayne, ME Court Reporters (04284)
Weld, ME Court Reporters (04285)
Wells, ME Court Reporters (04090)
Wesley, ME Court Reporters (04686)
West Baldwin, ME Court Reporters (04091)
West Bethel, ME Court Reporters (04286)
West Boothbay Harbor, ME Court Reporters (04575)
West Enfield, ME Court Reporters (04493)
West Farmington, ME Court Reporters (04992)
West Forks, ME Court Reporters (04985)
West Kennebunk, ME Court Reporters (04094)
West Minot, ME Court Reporters (04288)
West Newfield, ME Court Reporters (04095)
West Paris, ME Court Reporters (04289)
West Poland, ME Court Reporters (04291)
West Rockport, ME Court Reporters (04865)
Westbrook, ME Court Reporters (04092)
Westfield, ME Court Reporters (04787)
Whitefield, ME Court Reporters (04353)
Whiting, ME Court Reporters (04691)
Wileys Corner, ME Court Reporters (04857)
Wilton, ME Court Reporters (04294)
Windham, ME Court Reporters (04062)
Windsor, ME Court Reporters (04363)
Winn, ME Court Reporters (04495)
Winter Harbor, ME Court Reporters (04693)
Winterport, ME Court Reporters (04496)
Winterville, ME Court Reporters (04788)
Winthrop, ME Court Reporters (04364)
Wiscasset, ME Court Reporters (04578)
Woolwich, ME Court Reporters (04579)
Wytopitlock, ME Court Reporters (04497)
Yarmouth, ME Court Reporters (04096)
York, ME Court Reporters (03909)
York Beach, ME Court Reporters (03910)
York Harbor, ME Court Reporters (03911)