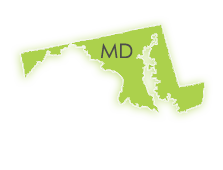 It's the eleventh hour, your deposition is fast approaching and you are without a court reporter. What do you do?
When it comes to legal professionals, it is too important of a process to trust untested, unreliable, amateurs. Whatever the reason, those involved in any legal process are often going through a life changing event. It does not pay to play fast and loose when hiring people for the job. No matter the time constraints, you need a Maryland court reporter who can get the job done right the first time.
NO, NOT ALL COURT REPORTERS ARE CREATED EQUALLY
Personally vetting every Maryland court reporter in your stack of referrals is time consuming and labor intensive. The hiring process is a time thief that does not guarantee results. Yes, there are ill prepared and under experienced court reporters who will make it into your rolodex, but incompetence and unreliability are only one potential downside to your limited stable of Maryland court reporters.
You need a reliable Maryland court reporter who is experienced in the size of the case at hand. You need a court reporter who has experience working within the subject matter of your case and won't make costly mistakes or cause unnecessary delays due to a lack of knowledge on their part.
Discovery Litigation Services pulls talent from a wide network of highly trained, highly qualified realtime ready court reporters. When you inherit Discovery's legal resources you gain access to a host of reliable and seasoned experts who can deliver on cue and on short notice. Unlike your typical freelance Maryland court reporter, Discovery Litigation Services can guarantee reliability.
What happens when a freelance court reporter falls ill or has a conflict of interest with the opposition? When you put your eggs in that one basket, you open yourself up to potential delays and harm to your overall case.
How does Discovery Litigation Services ensure against this? Based on the nature of how we operate, we always have a court reporter available to fill in last minute. Attendance, however, is only half of the equation. Discovery Litigation Services will always have the right court reporter available - experienced, professional, and reliable.
With Discovery Litigation Services you get certainty. Hiring your court reporter shouldn't even be a blip on your radar of challenges. We make it easy by reducing that process to a simple one-click action. Simply give us a call or Schedule your deposition to put us to work for you.
THIS IS WHAT CLICK OF THE MOUSE CAN GETt YOU
On the most basic level, we offer superior realtime ready court reporting. Realtime court reporting provides a direct link between you and the court reporter as the record is being recorded. In realtime reporting, you will be provided a direct feed of the transcript being produced as the deposition unfolds. A direct translation from the court reporter's shorthand into readable text.
Realtime court reporters are trained with a higher level of accuracy. Since their transcription is immediately available for viewing, there is a greater emphasis on precision in producing a verbatim transcript with an industry average of 90% accuracy.
This higher level of accuracy not only gives you an immediate "rough" draft, but it makes for a lightning fast turnaround in delivering you the final official transcript. No more waiting weeks to obtain the official record. We make expedited transcripts the new normal.
Our video streaming enabled court reporters offer you flexibility. No longer are you bound by availability and locality in finding the perfect court reporter for your case. We can deliver the most qualified professional anywhere in the world. There is no deposition too remote. With Discovery's wide stretching network you are guaranteed reliability and professionalism. With our long, global reach you are guaranteed the experience and skill you require for your case.
GET MORE THAN THE BASIC PACKAGE
Discovery Litigation Services goes beyond court reporting. Our reach taps the most qualified legal videographers, arbitrators and mediators, document review attorneys, paralegals, pre-trial consultants and more.
Checkout Our Full List Of Services
We have the manpower to quickly and effectively handle all of your deposition needs at the highest level of standard. We are a one-stop-shop of tailored fit solutions and a superior standard of excellence. With a single phone call or the click of a mouse Discovery Litigation Services will take care of everything.
Discovery Litigation Services knows you have options with your litigation services. We are here to provide superior service, all the time, every time.
From finding a conference room to host your deposition to staffing it with a skilled court reporter, videographer and interpreter, Discovery Litigation Services will go above and beyond to fulfill your needs. We understand the importance of getting it done right. In our business, there is no margin for error.
Call Discovery at (855) 847-0999. See for yourself why so many call us their reporting company.
Schedule Your Deposition Now!
Maryland Court Reporting Available In:
City Name
Abell, MD Court Reporters (20606)
Aberdeen, MD Court Reporters (21001)
Aberdeen Proving Ground, MD Court Reporters (21005)
Abingdon, MD Court Reporters (21009)
Accident, MD Court Reporters (21520)
Accokeek, MD Court Reporters (20607)
Adamstown, MD Court Reporters (21710)
Allen, MD Court Reporters (21810)
Andrews Air Force Base, MD Court Reporters (20762)
Annapolis, MD Court Reporters (21401)
Annapolis Junction, MD Court Reporters (20701)
Aquasco, MD Court Reporters (20608)
Arnold, MD Court Reporters (21012)
Ashton, MD Court Reporters (20861)
Avenue, MD Court Reporters (20609)
Baldwin, MD Court Reporters (21013)
Baltimore, MD Court Reporters (21201)
Barclay, MD Court Reporters (21607)
Barnesville, MD Court Reporters (20838)
Barstow, MD Court Reporters (20610)
Barton, MD Court Reporters (21521)
Beallsville, MD Court Reporters (20839)
Bel Air, MD Court Reporters (21014)
Bel Alton, MD Court Reporters (20611)
Belcamp, MD Court Reporters (21017)
Beltsville, MD Court Reporters (20704)
Benedict, MD Court Reporters (20612)
Benson, MD Court Reporters (21018)
Berlin, MD Court Reporters (21811)
Bethesda, MD Court Reporters (20810)
Bethlehem, MD Court Reporters (21609)
Betterton, MD Court Reporters (21610)
Big Pool, MD Court Reporters (21711)
Bishopville, MD Court Reporters (21813)
Bittinger, MD Court Reporters (21522)
Bivalve, MD Court Reporters (21814)
Bladensburg, MD Court Reporters (20710)
Bloomington, MD Court Reporters (21523)
Boonsboro, MD Court Reporters (21713)
Boring, MD Court Reporters (21020)
Bowie, MD Court Reporters (20715)
Boyds, MD Court Reporters (20841)
Bozman, MD Court Reporters (21612)
Braddock Heights, MD Court Reporters (21714)
Brandywine, MD Court Reporters (20613)
Brentwood, MD Court Reporters (20722)
Brinklow, MD Court Reporters (20862)
Brookeville, MD Court Reporters (20833)
Brooklandville, MD Court Reporters (21022)
Brooklyn, MD Court Reporters (21225)
Broomes Island, MD Court Reporters (20615)
Brownsville, MD Court Reporters (21715)
Brunswick, MD Court Reporters (21716)
Bryans Road, MD Court Reporters (20616)
Bryantown, MD Court Reporters (20617)
Buckeystown, MD Court Reporters (21717)
Burkittsville, MD Court Reporters (21718)
Burtonsville, MD Court Reporters (20866)
Bushwood, MD Court Reporters (20618)
Butler, MD Court Reporters (21023)
Cabin John, MD Court Reporters (20818)
California, MD Court Reporters (20619)
Callaway, MD Court Reporters (20620)
Cambridge, MD Court Reporters (21613)
Capitol Heights, MD Court Reporters (20731)
Cascade, MD Court Reporters (21719)
Catonsville, MD Court Reporters (21228)
Cavetown, MD Court Reporters (21720)
Cecilton, MD Court Reporters (21913)
Centreville, MD Court Reporters (21617)
Chaptico, MD Court Reporters (20621)
Charlestown, MD Court Reporters (21914)
Charlotte Hall, MD Court Reporters (20622)
Chase, MD Court Reporters (21027)
Cheltenham, MD Court Reporters (20623)
Chesapeake Beach, MD Court Reporters (20732)
Chesapeake City, MD Court Reporters (21915)
Chester, MD Court Reporters (21619)
Chestertown, MD Court Reporters (21620)
Chevy Chase, MD Court Reporters (20815)
Chewsville, MD Court Reporters (21721)
Childs, MD Court Reporters (21916)
Church Creek, MD Court Reporters (21622)
Church Hill, MD Court Reporters (21623)
Churchton, MD Court Reporters (20733)
Churchville, MD Court Reporters (21028)
Claiborne, MD Court Reporters (21624)
Clarksburg, MD Court Reporters (20871)
Clarksville, MD Court Reporters (21029)
Clear Spring, MD Court Reporters (21722)
Clements, MD Court Reporters (20624)
Clinton, MD Court Reporters (20735)
Cobb Island, MD Court Reporters (20625)
Cockeysville, MD Court Reporters (21030)
College Park, MD Court Reporters (20740)
Colora, MD Court Reporters (21917)
Coltons Point, MD Court Reporters (20626)
Columbia, MD Court Reporters (21044)
Compton, MD Court Reporters (20627)
Conowingo, MD Court Reporters (21918)
Cooksville, MD Court Reporters (21723)
Cordova, MD Court Reporters (21625)
Corriganville, MD Court Reporters (21524)
Crapo, MD Court Reporters (21626)
Crisfield, MD Court Reporters (21817)
Crocheron, MD Court Reporters (21627)
Crofton, MD Court Reporters (21114)
Crownsville, MD Court Reporters (21032)
Crumpton, MD Court Reporters (21628)
Cumberland, MD Court Reporters (21501)
Curtis Bay, MD Court Reporters (21226)
Damascus, MD Court Reporters (20872)
Dameron, MD Court Reporters (20628)
Darlington, MD Court Reporters (21034)
Davidsonville, MD Court Reporters (21035)
Dayton, MD Court Reporters (21036)
Deal Island, MD Court Reporters (21821)
Deale, MD Court Reporters (20751)
Delmar, MD Court Reporters (21875)
Denton, MD Court Reporters (21629)
Derwood, MD Court Reporters (20855)
Dickerson, MD Court Reporters (20842)
District Heights, MD Court Reporters (20747)
Dowell, MD Court Reporters (20629)
Drayden, MD Court Reporters (20630)
Dundalk, MD Court Reporters (21222)
Dunkirk, MD Court Reporters (20754)
Earleville, MD Court Reporters (21919)
East New Market, MD Court Reporters (21631)
Easton, MD Court Reporters (21601)
Eckhart Mines, MD Court Reporters (21528)
Eden, MD Court Reporters (21822)
Edgewater, MD Court Reporters (21037)
Edgewood, MD Court Reporters (21040)
Elk Mills, MD Court Reporters (21920)
Elkridge, MD Court Reporters (21075)
Elkton, MD Court Reporters (21921)
Ellerslie, MD Court Reporters (21529)
Ellicott City, MD Court Reporters (21041)
Emmitsburg, MD Court Reporters (21727)
Essex, MD Court Reporters (21221)
Ewell, MD Court Reporters (21824)
Fairplay, MD Court Reporters (21733)
Fallston, MD Court Reporters (21047)
Faulkner, MD Court Reporters (20632)
Federalsburg, MD Court Reporters (21632)
Finksburg, MD Court Reporters (21048)
Fishing Creek, MD Court Reporters (21634)
Flintstone, MD Court Reporters (21530)
Forest Hill, MD Court Reporters (21050)
Fork, MD Court Reporters (21051)
Fort George G Meade, MD Court Reporters (20755)
Fort Howard, MD Court Reporters (21052)
Fort Washington, MD Court Reporters (20744)
Frederick, MD Court Reporters (21701)
Freeland, MD Court Reporters (21053)
Friendship, MD Court Reporters (20758)
Friendsville, MD Court Reporters (21531)
Frostburg, MD Court Reporters (21532)
Fruitland, MD Court Reporters (21826)
Fulton, MD Court Reporters (20759)
Funkstown, MD Court Reporters (21734)
Gaithersburg, MD Court Reporters (20877)
Galena, MD Court Reporters (21635)
Galesville, MD Court Reporters (20765)
Gambrills, MD Court Reporters (21054)
Garrett Park, MD Court Reporters (20896)
Garrison, MD Court Reporters (21055)
Georgetown, MD Court Reporters (21930)
Germantown, MD Court Reporters (20874)
Gibson Island, MD Court Reporters (21056)
Girdletree, MD Court Reporters (21829)
Glen Arm, MD Court Reporters (21057)
Glen Burnie, MD Court Reporters (21060)
Glen Echo, MD Court Reporters (20812)
Glenelg, MD Court Reporters (21737)
Glenn Dale, MD Court Reporters (20769)
Glenwood, MD Court Reporters (21738)
Glyndon, MD Court Reporters (21071)
Goldsboro, MD Court Reporters (21636)
Grantsville, MD Court Reporters (21536)
Grasonville, MD Court Reporters (21638)
Great Mills, MD Court Reporters (20634)
Greenbelt, MD Court Reporters (20768)
Greensboro, MD Court Reporters (21639)
Gunpowder, MD Court Reporters (21010)
Gwynn Oak, MD Court Reporters (21207)
Hagerstown, MD Court Reporters (21740)
Halethorpe, MD Court Reporters (21227)
Hampstead, MD Court Reporters (21074)
Hancock, MD Court Reporters (21750)
Hanover, MD Court Reporters (21076)
Harmans, MD Court Reporters (21077)
Harwood, MD Court Reporters (20776)
Havre de Grace, MD Court Reporters (21078)
Hebron, MD Court Reporters (21830)
Helen, MD Court Reporters (20635)
Henderson, MD Court Reporters (21640)
Highland, MD Court Reporters (20777)
Hillsboro, MD Court Reporters (21641)
Hollywood, MD Court Reporters (20636)
Hughesville, MD Court Reporters (20637)
Hunt Valley, MD Court Reporters (21031)
Huntingtown, MD Court Reporters (20639)
Hurlock, MD Court Reporters (21643)
Hyattsville, MD Court Reporters (20781)
Hydes, MD Court Reporters (21082)
Ijamsville, MD Court Reporters (21754)
Indian Head, MD Court Reporters (20640)
Ingleside, MD Court Reporters (21644)
Ironsides, MD Court Reporters (20643)
Issue, MD Court Reporters (20645)
Jarrettsville, MD Court Reporters (21084)
Jefferson, MD Court Reporters (21755)
Jessup, MD Court Reporters (20794)
Joppa, MD Court Reporters (21085)
Keedysville, MD Court Reporters (21756)
Kennedyville, MD Court Reporters (21645)
Kensington, MD Court Reporters (20891)
Keymar, MD Court Reporters (21757)
Kingsville, MD Court Reporters (21087)
Kitzmiller, MD Court Reporters (21538)
Knoxville, MD Court Reporters (21758)
La Plata, MD Court Reporters (20646)
Ladiesburg, MD Court Reporters (21759)
Lanham, MD Court Reporters (20703)
Laurel, MD Court Reporters (20707)
Leonardtown, MD Court Reporters (20650)
Lexington Park, MD Court Reporters (20653)
Libertytown, MD Court Reporters (21762)
Lineboro CPO, MD Court Reporters (21088)
Linkwood, MD Court Reporters (21835)
Linthicum Heights, MD Court Reporters (21090)
Lisbon, MD Court Reporters (21765)
Little Orleans, MD Court Reporters (21766)
Lonaconing, MD Court Reporters (21539)
Long Green, MD Court Reporters (21092)
Lothian, MD Court Reporters (20711)
Loveville, MD Court Reporters (20656)
Luke, MD Court Reporters (21540)
Lusby, MD Court Reporters (20657)
Lutherville Timonium, MD Court Reporters (21093)
Madison, MD Court Reporters (21648)
Manchester, MD Court Reporters (21102)
Manokin, MD Court Reporters (21836)
Marbury, MD Court Reporters (20658)
Mardela Springs, MD Court Reporters (21837)
Marion Station, MD Court Reporters (21838)
Marriottsville, MD Court Reporters (21104)
Marydel, MD Court Reporters (21649)
Maryland Line, MD Court Reporters (21105)
Massey, MD Court Reporters (21650)
Maugansville, MD Court Reporters (21767)
Mayo, MD Court Reporters (21106)
McDaniel, MD Court Reporters (21647)
McHenry, MD Court Reporters (21541)
Mechanicsville, MD Court Reporters (20659)
Middle River, MD Court Reporters (21220)
Middletown, MD Court Reporters (21769)
Midland, MD Court Reporters (21542)
Midlothian, MD Court Reporters (21543)
Millersville, MD Court Reporters (21108)
Millington, MD Court Reporters (21651)
Monkton, MD Court Reporters (21111)
Monrovia, MD Court Reporters (21770)
Montgomery Village, MD Court Reporters (20886)
Morganza, MD Court Reporters (20660)
Mount Airy, MD Court Reporters (21771)
Mount Rainier, MD Court Reporters (20712)
Mount Savage, MD Court Reporters (21545)
Mount Victoria, MD Court Reporters (20661)
Myersville, MD Court Reporters (21773)
Nanjemoy, MD Court Reporters (20662)
Nanticoke, MD Court Reporters (21840)
Neavitt, MD Court Reporters (21652)
New Market, MD Court Reporters (21774)
New Midway, MD Court Reporters (21775)
New Windsor, MD Court Reporters (21776)
Newark, MD Court Reporters (21841)
Newburg, MD Court Reporters (20664)
Newcomb, MD Court Reporters (21653)
North Beach, MD Court Reporters (20714)
North East, MD Court Reporters (21901)
Nottingham, MD Court Reporters (21236)
Oakland, MD Court Reporters (21550)
Ocean City, MD Court Reporters (21842)
Odenton, MD Court Reporters (21113)
Oldtown, MD Court Reporters (21555)
Olney, MD Court Reporters (20830)
Owings, MD Court Reporters (20736)
Owings Mills, MD Court Reporters (21117)
Oxford, MD Court Reporters (21654)
Oxon Hill, MD Court Reporters (20745)
Park Hall, MD Court Reporters (20667)
Parkton, MD Court Reporters (21120)
Parkville, MD Court Reporters (21234)
Parsonsburg, MD Court Reporters (21849)
Pasadena, MD Court Reporters (21122)
Patuxent River, MD Court Reporters (20670)
Perry Hall, MD Court Reporters (21128)
Perry Point, MD Court Reporters (21902)
Perryman, MD Court Reporters (21130)
Perryville, MD Court Reporters (21903)
Phoenix, MD Court Reporters (21131)
Pikesville, MD Court Reporters (21208)
Piney Point, MD Court Reporters (20674)
Pinto, MD Court Reporters (21556)
Pittsville, MD Court Reporters (21850)
Pocomoke City, MD Court Reporters (21851)
Point of Rocks, MD Court Reporters (21777)
Pomfret, MD Court Reporters (20675)
Poolesville, MD Court Reporters (20837)
Port Deposit, MD Court Reporters (21904)
Port Republic, MD Court Reporters (20676)
Port Tobacco, MD Court Reporters (20677)
Potomac, MD Court Reporters (20854)
Powellville, MD Court Reporters (21852)
Preston, MD Court Reporters (21655)
Price, MD Court Reporters (21656)
Prince Frederick, MD Court Reporters (20678)
Princess Anne, MD Court Reporters (21853)
Pylesville, MD Court Reporters (21132)
Quantico, MD Court Reporters (21856)
Queen Anne, MD Court Reporters (21657)
Queenstown, MD Court Reporters (21658)
Randallstown, MD Court Reporters (21133)
Rawlings, MD Court Reporters (21557)
Rehobeth, MD Court Reporters (21857)
Reisterstown, MD Court Reporters (21136)
Rhodesdale, MD Court Reporters (21659)
Riderwood, MD Court Reporters (21139)
Ridge, MD Court Reporters (20680)
Ridgely, MD Court Reporters (21660)
Rising Sun, MD Court Reporters (21911)
Riva, MD Court Reporters (21140)
Riverdale, MD Court Reporters (20737)
Rock Hall, MD Court Reporters (21661)
Rock Point, MD Court Reporters (20682)
Rockville, MD Court Reporters (20847)
Rocky Ridge, MD Court Reporters (21778)
Rohrersville, MD Court Reporters (21779)
Rosedale, MD Court Reporters (21237)
Royal Oak, MD Court Reporters (21662)
Sabillasville, MD Court Reporters (21780)
Saint Inigoes, MD Court Reporters (20684)
Saint James, MD Court Reporters (21781)
Saint Leonard, MD Court Reporters (20685)
Saint Marys City, MD Court Reporters (20686)
Saint Michaels, MD Court Reporters (21663)
Salisbury, MD Court Reporters (21801)
Sandy Spring, MD Court Reporters (20860)
Savage, MD Court Reporters (20763)
Scotland, MD Court Reporters (20687)
Secretary, MD Court Reporters (21664)
Severn, MD Court Reporters (21144)
Severna Park, MD Court Reporters (21146)
Shady Side, MD Court Reporters (20764)
Sharpsburg, MD Court Reporters (21782)
Sharptown, MD Court Reporters (21861)
Sherwood, MD Court Reporters (21665)
Showell, MD Court Reporters (21862)
Silver Spring, MD Court Reporters (20901)
Simpsonville, MD Court Reporters (21150)
Smithsburg, MD Court Reporters (21783)
Snow Hill, MD Court Reporters (21863)
Solomons, MD Court Reporters (20688)
Southern MD Facility, MD Court Reporters (20697)
Sparks Glencoe, MD Court Reporters (21152)
Sparrows Point, MD Court Reporters (21219)
Spencerville, MD Court Reporters (20868)
Spring Gap, MD Court Reporters (21560)
Stevenson, MD Court Reporters (21153)
Stevensville, MD Court Reporters (21666)
Still Pond, MD Court Reporters (21667)
Stockton, MD Court Reporters (21864)
Street, MD Court Reporters (21154)
Suburban Maryland Facility, MD Court Reporters (20897)
Sudlersville, MD Court Reporters (21668)
Suitland, MD Court Reporters (20746)
Sunderland, MD Court Reporters (20689)
Swanton, MD Court Reporters (21561)
Sykesville, MD Court Reporters (21784)
Takoma Park, MD Court Reporters (20912)
Tall Timbers, MD Court Reporters (20690)
Taneytown, MD Court Reporters (21787)
Taylors Island, MD Court Reporters (21669)
Temple Hills, MD Court Reporters (20748)
Templeville, MD Court Reporters (21670)
Thurmont, MD Court Reporters (21788)
Tilghman, MD Court Reporters (21671)
Toddville, MD Court Reporters (21672)
Towson, MD Court Reporters (21204)
Tracys Landing, MD Court Reporters (20779)
Trappe, MD Court Reporters (21673)
Tuscarora, MD Court Reporters (21790)
Tyaskin, MD Court Reporters (21865)
Tylerton, MD Court Reporters (21866)
Union Bridge, MD Court Reporters (21791)
Unionville, MD Court Reporters (21792)
Upper Fairmount, MD Court Reporters (21867)
Upper Falls, MD Court Reporters (21156)
Upper Marlboro, MD Court Reporters (20772)
Upperco, MD Court Reporters (21155)
Valley Lee, MD Court Reporters (20692)
Vienna, MD Court Reporters (21869)
Waldorf, MD Court Reporters (20601)
Walkersville, MD Court Reporters (21793)
Warwick, MD Court Reporters (21912)
Washington Grove, MD Court Reporters (20880)
Welcome, MD Court Reporters (20693)
Wenona, MD Court Reporters (21870)
West Friendship, MD Court Reporters (21794)
West River, MD Court Reporters (20778)
Westernport, MD Court Reporters (21562)
Westminster, MD Court Reporters (21157)
Westover, MD Court Reporters (21871)
Whaleyville, MD Court Reporters (21872)
White Hall, MD Court Reporters (21161)
White Marsh, MD Court Reporters (21162)
White Plains, MD Court Reporters (20695)
Whiteford, MD Court Reporters (21160)
Willards, MD Court Reporters (21874)
Williamsport, MD Court Reporters (21795)
Windsor Mill, MD Court Reporters (21244)
Wingate, MD Court Reporters (21675)
Wittman, MD Court Reporters (21676)
Woodbine, MD Court Reporters (21797)
Woodsboro, MD Court Reporters (21798)
Woodstock, MD Court Reporters (21163)
Woolford, MD Court Reporters (21677)
Worton, MD Court Reporters (21678)
Wye Mills, MD Court Reporters (21679)