Your Oklahoma Court Reporter Is Ready To Deploy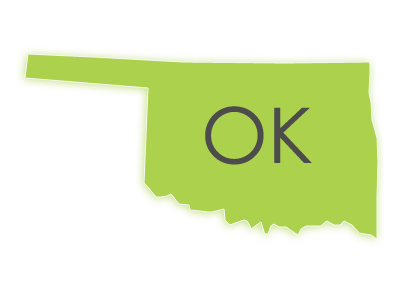 We will deliver you a qualified Oklahoma court reporter anywhere necessary. Discovery Litigation Services can easily book a court reporter in Oklahoma regardless of the location of your deposition. We will provide exactly what you need on time. Discovery Litigation Services uses only the most skilled Oklahoma court reporters.
You Need A Court Reporter Where? We will Handle It
Tracking down a qualified court reporter in Oklahoma, booking a conference room, finding the right legal videographer, assembling all of the pieces required for your deposition is its own job. Let Discovery Litigation Services handle managing these details for you. This is our expertise.
Let Discovery Litigation Services handle everything for you.
No deposition is too distant for Discovery Litigation Services' streaming court reporters. You won't have to limit your selection just to whoever is "available". Choose from the best stenographers and legal professionals no matter your address. Discovery Litigation Services offers coverage across the country for court reporting, videography, and trial presentation solutions. It doesn't have to end there. There's more to our services than court reporting.
You Need More Than A Court Reporter.
You need someone to manage the entire process. Having the right court reporter is only one aspect of your deposition. After the deposition is over, you need a firm who will provide timely delivery of your transcript. Whether it is a deposition that requires just a court reporter or one that requires a videographer and interpreter, we manage the entire process to ensure you receive everything when you need it. When any need arises, we will always be here for you.
Click "schedule a deposition". Stop getting one-off services. Choose a comprehensive solution.
Deposition Videographers
In addition to a court reporter, we provide experienced legal videographers. Our deposition videographers are experienced in recording high quality video and audio, ensuring you have a great quality video for use in trial.
Every deposition is synchronized to the transcript testimony. This allows for simple navigation through the video. We provide our videotaped depositions in a format that allows for you to click anywhere in the testimony to see the video playback right from that point.
The video deliverable provided by Discovery Litigation Services allows for very easy clip creation and import into PowerPoint as well as all of the popular trial presentation programs. By using Discovery Litigation Services for your videotaped deposition, you will save both time and additional cost as you are preparing for trial.
Discovery Litigation Services will provide you with the quality and expertise your case requires and transcript and video tools that will make you more productive. Reach out to us to see how we can customize a package to fit your needs. Or just click "Schedule a deposition" now to get started today.
Discovery Litigation Services knows you have options with your litigation services. We are here to provide superior service, all the time, every time.
From finding a conference room to host your deposition to staffing it with a skilled court reporter, videographer and interpreter, Discovery Litigation Services will go above and beyond to fulfill your needs. We understand the importance of getting it done right. In our business, there is no margin for error.
Call Discovery at (855) 847-0999. See for yourself why so many call us their reporting company.
Schedule Your Deposition Now!
Oklahoma Court Reporting Available In:
City Name
Achille, OK Court Reporters (74720)
Ada, OK Court Reporters (74820)
Adair, OK Court Reporters (74330)
Adams, OK Court Reporters (73901)
Addington, OK Court Reporters (73520)
Afton, OK Court Reporters (74331)
Agra, OK Court Reporters (74824)
Albany, OK Court Reporters (74721)
Albert, OK Court Reporters (73001)
Albion, OK Court Reporters (74521)
Alderson, OK Court Reporters (74522)
Alex, OK Court Reporters (73002)
Aline, OK Court Reporters (73716)
Allen, OK Court Reporters (74825)
Altus, OK Court Reporters (73521)
Altus Air Force Base, OK Court Reporters (73523)
Alva, OK Court Reporters (73717)
Amber, OK Court Reporters (73004)
Ames, OK Court Reporters (73718)
Amorita, OK Court Reporters (73719)
Anadarko, OK Court Reporters (73005)
Antlers, OK Court Reporters (74523)
Apache, OK Court Reporters (73006)
Arapaho, OK Court Reporters (73620)
Arcadia, OK Court Reporters (73007)
Ardmore, OK Court Reporters (73401)
Arkoma, OK Court Reporters (74901)
Arnett, OK Court Reporters (73832)
Asher, OK Court Reporters (74826)
Atoka, OK Court Reporters (74525)
Atwood, OK Court Reporters (74827)
Avant, OK Court Reporters (74001)
Balko, OK Court Reporters (73931)
Barnsdall, OK Court Reporters (74002)
Bartlesville, OK Court Reporters (74003)
Battiest, OK Court Reporters (74722)
Beaver, OK Court Reporters (73932)
Beggs, OK Court Reporters (74421)
Bennington, OK Court Reporters (74723)
Bessie, OK Court Reporters (73622)
Bethany, OK Court Reporters (73008)
Bethel, OK Court Reporters (74724)
Big Cabin, OK Court Reporters (74332)
Billings, OK Court Reporters (74630)
Binger, OK Court Reporters (73009)
Bison, OK Court Reporters (73720)
Bixby, OK Court Reporters (74008)
Blackwell, OK Court Reporters (74631)
Blair, OK Court Reporters (73526)
Blanchard, OK Court Reporters (73010)
Blanco, OK Court Reporters (74528)
Blocker, OK Court Reporters (74529)
Bluejacket, OK Court Reporters (74333)
Boise City, OK Court Reporters (73933)
Bokchito, OK Court Reporters (74726)
Bokoshe, OK Court Reporters (74930)
Boley, OK Court Reporters (74829)
Boswell, OK Court Reporters (74727)
Bowlegs, OK Court Reporters (74830)
Bowring, OK Court Reporters (74009)
Boynton, OK Court Reporters (74422)
Bradley, OK Court Reporters (73011)
Braggs, OK Court Reporters (74423)
Braman, OK Court Reporters (74632)
Bristow, OK Court Reporters (74010)
Broken Arrow, OK Court Reporters (74011)
Broken Bow, OK Court Reporters (74728)
Bromide, OK Court Reporters (74530)
Buffalo, OK Court Reporters (73834)
Bunch, OK Court Reporters (74931)
Burbank, OK Court Reporters (74633)
Burlington, OK Court Reporters (73722)
Burneyville, OK Court Reporters (73430)
Burns Flat, OK Court Reporters (73624)
Butler, OK Court Reporters (73625)
Byars, OK Court Reporters (74831)
Cache, OK Court Reporters (73527)
Caddo, OK Court Reporters (74729)
Calera, OK Court Reporters (74730)
Calumet, OK Court Reporters (73014)
Calvin, OK Court Reporters (74531)
Camargo, OK Court Reporters (73835)
Cameron, OK Court Reporters (74932)
Canadian, OK Court Reporters (74425)
Caney, OK Court Reporters (74533)
Canton, OK Court Reporters (73724)
Canute, OK Court Reporters (73626)
Cardin, OK Court Reporters (74335)
Carmen, OK Court Reporters (73726)
Carnegie, OK Court Reporters (73015)
Carney, OK Court Reporters (74832)
Carrier, OK Court Reporters (73727)
Carter, OK Court Reporters (73627)
Cartwright, OK Court Reporters (74731)
Cashion, OK Court Reporters (73016)
Castle, OK Court Reporters (74833)
Catoosa, OK Court Reporters (74015)
Cement, OK Court Reporters (73017)
Centrahoma, OK Court Reporters (74534)
Chandler, OK Court Reporters (74834)
Chattanooga, OK Court Reporters (73528)
Checotah, OK Court Reporters (74426)
Chelsea, OK Court Reporters (74016)
Cherokee, OK Court Reporters (73728)
Chester, OK Court Reporters (73838)
Cheyenne, OK Court Reporters (73628)
Chickasha, OK Court Reporters (73018)
Choctaw, OK Court Reporters (73020)
Chouteau, OK Court Reporters (74337)
Claremore, OK Court Reporters (74017)
Clarita, OK Court Reporters (74535)
Clayton, OK Court Reporters (74536)
Cleo Springs, OK Court Reporters (73729)
Cleveland, OK Court Reporters (74020)
Clinton, OK Court Reporters (73601)
Coalgate, OK Court Reporters (74538)
Colbert, OK Court Reporters (74733)
Colcord, OK Court Reporters (74338)
Coleman, OK Court Reporters (73432)
Collinsville, OK Court Reporters (74021)
Colony, OK Court Reporters (73021)
Comanche, OK Court Reporters (73529)
Commerce, OK Court Reporters (74339)
Concho, OK Court Reporters (73022)
Connerville, OK Court Reporters (74836)
Cookson, OK Court Reporters (74427)
Copan, OK Court Reporters (74022)
Cordell, OK Court Reporters (73632)
Corn, OK Court Reporters (73024)
Council Hill, OK Court Reporters (74428)
Countyline, OK Court Reporters (73425)
Covington, OK Court Reporters (73730)
Coweta, OK Court Reporters (74429)
Coyle, OK Court Reporters (73027)
Crawford, OK Court Reporters (73638)
Crescent, OK Court Reporters (73028)
Cromwell, OK Court Reporters (74837)
Crowder, OK Court Reporters (74430)
Cushing, OK Court Reporters (74023)
Custer City, OK Court Reporters (73639)
Cyril, OK Court Reporters (73029)
Dacoma, OK Court Reporters (73731)
Daisy, OK Court Reporters (74540)
Davenport, OK Court Reporters (74026)
Davidson, OK Court Reporters (73530)
Davis, OK Court Reporters (73030)
Deer Creek, OK Court Reporters (74636)
Delaware, OK Court Reporters (74027)
Depew, OK Court Reporters (74028)
Devol, OK Court Reporters (73531)
Dewar, OK Court Reporters (74431)
Dewey, OK Court Reporters (74029)
Dibble, OK Court Reporters (73031)
Dill City, OK Court Reporters (73641)
Disney, OK Court Reporters (74340)
Dougherty, OK Court Reporters (73032)
Douglas, OK Court Reporters (73733)
Dover, OK Court Reporters (73734)
Drummond, OK Court Reporters (73735)
Drumright, OK Court Reporters (74030)
Duke, OK Court Reporters (73532)
Duncan, OK Court Reporters (73533)
Durant, OK Court Reporters (74701)
Durham, OK Court Reporters (73642)
Dustin, OK Court Reporters (74839)
Eagletown, OK Court Reporters (74734)
Eakly, OK Court Reporters (73033)
Earlsboro, OK Court Reporters (74840)
Edmond, OK Court Reporters (73003)
El Reno, OK Court Reporters (73036)
Eldorado, OK Court Reporters (73537)
Elgin, OK Court Reporters (73538)
Elk City, OK Court Reporters (73644)
Elmer, OK Court Reporters (73539)
Elmore City, OK Court Reporters (73433)
Enid, OK Court Reporters (73701)
Erick, OK Court Reporters (73645)
Eucha, OK Court Reporters (74342)
Eufaula, OK Court Reporters (74432)
Fairfax, OK Court Reporters (74637)
Fairland, OK Court Reporters (74343)
Fairmont, OK Court Reporters (73736)
Fairview, OK Court Reporters (73737)
Fanshawe, OK Court Reporters (74935)
Fargo, OK Court Reporters (73840)
Faxon, OK Court Reporters (73540)
Fay, OK Court Reporters (73646)
Felt, OK Court Reporters (73937)
Finley, OK Court Reporters (74543)
Fittstown, OK Court Reporters (74842)
Fitzhugh, OK Court Reporters (74843)
Fletcher, OK Court Reporters (73541)
Forgan, OK Court Reporters (73938)
Fort Cobb, OK Court Reporters (73038)
Fort Gibson, OK Court Reporters (74434)
Fort Sill, OK Court Reporters (73503)
Fort Supply, OK Court Reporters (73841)
Fort Towson, OK Court Reporters (74735)
Foss, OK Court Reporters (73647)
Foster, OK Court Reporters (73434)
Fox, OK Court Reporters (73435)
Foyil, OK Court Reporters (74031)
Francis, OK Court Reporters (74844)
Frederick, OK Court Reporters (73542)
Freedom, OK Court Reporters (73842)
Gage, OK Court Reporters (73843)
Gans, OK Court Reporters (74936)
Garber, OK Court Reporters (73738)
Garvin, OK Court Reporters (74736)
Gate, OK Court Reporters (73844)
Geary, OK Court Reporters (73040)
Gene Autry, OK Court Reporters (73436)
Geronimo, OK Court Reporters (73543)
Glencoe, OK Court Reporters (74032)
Glenpool, OK Court Reporters (74033)
Golden, OK Court Reporters (74737)
Goltry, OK Court Reporters (73739)
Goodwell, OK Court Reporters (73939)
Gore, OK Court Reporters (74435)
Gotebo, OK Court Reporters (73041)
Gould, OK Court Reporters (73544)
Gowen, OK Court Reporters (74545)
Gracemont, OK Court Reporters (73042)
Graham, OK Court Reporters (73437)
Grandfield, OK Court Reporters (73546)
Granite, OK Court Reporters (73547)
Grant, OK Court Reporters (74738)
Greenfield, OK Court Reporters (73043)
Grove, OK Court Reporters (74344)
Guthrie, OK Court Reporters (73044)
Guymon, OK Court Reporters (73942)
Haileyville, OK Court Reporters (74546)
Hallett, OK Court Reporters (74034)
Hammon, OK Court Reporters (73650)
Hanna, OK Court Reporters (74845)
Hardesty, OK Court Reporters (73944)
Harrah, OK Court Reporters (73045)
Hartshorne, OK Court Reporters (74547)
Haskell, OK Court Reporters (74436)
Hastings, OK Court Reporters (73548)
Haworth, OK Court Reporters (74740)
Headrick, OK Court Reporters (73549)
Healdton, OK Court Reporters (73438)
Heavener, OK Court Reporters (74937)
Helena, OK Court Reporters (73741)
Hendrix, OK Court Reporters (74741)
Hennepin, OK Court Reporters (73444)
Hennessey, OK Court Reporters (73742)
Henryetta, OK Court Reporters (74437)
Hillsdale, OK Court Reporters (73743)
Hinton, OK Court Reporters (73047)
Hitchcock, OK Court Reporters (73744)
Hitchita, OK Court Reporters (74438)
Hobart, OK Court Reporters (73651)
Hodgen, OK Court Reporters (74939)
Holdenville, OK Court Reporters (74848)
Hollis, OK Court Reporters (73550)
Hollister, OK Court Reporters (73551)
Hominy, OK Court Reporters (74035)
Honobia, OK Court Reporters (74549)
Hooker, OK Court Reporters (73945)
Hopeton, OK Court Reporters (73746)
Howe, OK Court Reporters (74940)
Hoyt, OK Court Reporters (74440)
Hugo, OK Court Reporters (74743)
Hulbert, OK Court Reporters (74441)
Hunter, OK Court Reporters (74640)
Hydro, OK Court Reporters (73048)
Idabel, OK Court Reporters (74745)
Indiahoma, OK Court Reporters (73552)
Indianola, OK Court Reporters (74442)
Inola, OK Court Reporters (74036)
Isabella, OK Court Reporters (73747)
Jay, OK Court Reporters (74346)
Jenks, OK Court Reporters (74037)
Jennings, OK Court Reporters (74038)
Jet, OK Court Reporters (73749)
Jones, OK Court Reporters (73049)
Kansas, OK Court Reporters (74347)
Kaw City, OK Court Reporters (74641)
Kellyville, OK Court Reporters (74039)
Kemp, OK Court Reporters (74747)
Kenefic, OK Court Reporters (74748)
Kenton, OK Court Reporters (73946)
Keota, OK Court Reporters (74941)
Ketchum, OK Court Reporters (74349)
Keyes, OK Court Reporters (73947)
Kiefer, OK Court Reporters (74041)
Kingfisher, OK Court Reporters (73750)
Kingston, OK Court Reporters (73439)
Kinta, OK Court Reporters (74552)
Kiowa, OK Court Reporters (74553)
Knowles, OK Court Reporters (73847)
Konawa, OK Court Reporters (74849)
Krebs, OK Court Reporters (74554)
Kremlin, OK Court Reporters (73753)
Lahoma, OK Court Reporters (73754)
Lamar, OK Court Reporters (74850)
Lamont, OK Court Reporters (74643)
Lane, OK Court Reporters (74555)
Langley, OK Court Reporters (74350)
Langston, OK Court Reporters (73050)
Laverne, OK Court Reporters (73848)
Lawton, OK Court Reporters (73501)
Lebanon, OK Court Reporters (73440)
Leedey, OK Court Reporters (73654)
Leflore, OK Court Reporters (74942)
Lehigh, OK Court Reporters (74556)
Lenapah, OK Court Reporters (74042)
Leon, OK Court Reporters (73441)
Leonard, OK Court Reporters (74043)
Lequire, OK Court Reporters (74943)
Lexington, OK Court Reporters (73051)
Lindsay, OK Court Reporters (73052)
Loco, OK Court Reporters (73442)
Locust Grove, OK Court Reporters (74352)
Lone Grove, OK Court Reporters (73443)
Lone Wolf, OK Court Reporters (73655)
Longdale, OK Court Reporters (73755)
Lookeba, OK Court Reporters (73053)
Loveland, OK Court Reporters (73553)
Loyal, OK Court Reporters (73756)
Lucien, OK Court Reporters (73757)
Luther, OK Court Reporters (73054)
Macomb, OK Court Reporters (74852)
Madill, OK Court Reporters (73446)
Manchester, OK Court Reporters (73758)
Mangum, OK Court Reporters (73554)
Manitou, OK Court Reporters (73555)
Mannford, OK Court Reporters (74044)
Mannsville, OK Court Reporters (73447)
Maramec, OK Court Reporters (74045)
Marble City, OK Court Reporters (74945)
Marietta, OK Court Reporters (73448)
Marland, OK Court Reporters (74644)
Marlow, OK Court Reporters (73055)
Marshall, OK Court Reporters (73056)
Martha, OK Court Reporters (73556)
Maud, OK Court Reporters (74854)
May, OK Court Reporters (73851)
Maysville, OK Court Reporters (73057)
McAlester, OK Court Reporters (74501)
McCurtain, OK Court Reporters (74944)
McLoud, OK Court Reporters (74851)
Mead, OK Court Reporters (73449)
Medford, OK Court Reporters (73759)
Medicine Park, OK Court Reporters (73557)
Meeker, OK Court Reporters (74855)
Meers, OK Court Reporters (73558)
Meno, OK Court Reporters (73760)
Meridian, OK Court Reporters (73058)
Miami, OK Court Reporters (74354)
Milburn, OK Court Reporters (73450)
Milfay, OK Court Reporters (74046)
Mill Creek, OK Court Reporters (74856)
Millerton, OK Court Reporters (74750)
Minco, OK Court Reporters (73059)
Moffett, OK Court Reporters (74946)
Monroe, OK Court Reporters (74947)
Moodys, OK Court Reporters (74444)
Mooreland, OK Court Reporters (73852)
Morris, OK Court Reporters (74445)
Morrison, OK Court Reporters (73061)
Mounds, OK Court Reporters (74047)
Mountain Park, OK Court Reporters (73559)
Mountain View, OK Court Reporters (73062)
Moyers, OK Court Reporters (74557)
Muldrow, OK Court Reporters (74948)
Mulhall, OK Court Reporters (73063)
Muse, OK Court Reporters (74949)
Muskogee, OK Court Reporters (74401)
Mustang, OK Court Reporters (73064)
Mutual, OK Court Reporters (73853)
Nardin, OK Court Reporters (74646)
Nash, OK Court Reporters (73761)
Nashoba, OK Court Reporters (74558)
Newalla, OK Court Reporters (74857)
Newcastle, OK Court Reporters (73065)
Newkirk, OK Court Reporters (74647)
Nicoma Park, OK Court Reporters (73066)
Ninnekah, OK Court Reporters (73067)
Noble, OK Court Reporters (73068)
Norman, OK Court Reporters (73019)
North Miami, OK Court Reporters (74358)
Nowata, OK Court Reporters (74048)
O'Keene, OK Court Reporters (73763)
Oakhurst, OK Court Reporters (74050)
Oaks, OK Court Reporters (74359)
Oakwood, OK Court Reporters (73658)
Ochelata, OK Court Reporters (74051)
Oilton, OK Court Reporters (74052)
Okarche, OK Court Reporters (73762)
Okay, OK Court Reporters (74446)
Okemah, OK Court Reporters (74859)
Oklahoma City, OK Court Reporters (73101)
Okmulgee, OK Court Reporters (74447)
Oktaha, OK Court Reporters (74450)
Olustee, OK Court Reporters (73560)
Omega, OK Court Reporters (73764)
Oologah, OK Court Reporters (74053)
Orlando, OK Court Reporters (73073)
Osage, OK Court Reporters (74054)
Oscar, OK Court Reporters (73561)
Overbrook, OK Court Reporters (73453)
Owasso, OK Court Reporters (74055)
Paden, OK Court Reporters (74860)
Panama, OK Court Reporters (74951)
Panola, OK Court Reporters (74559)
Paoli, OK Court Reporters (73074)
Park Hill, OK Court Reporters (74451)
Pauls Valley, OK Court Reporters (73075)
Pawhuska, OK Court Reporters (74056)
Pawnee, OK Court Reporters (74058)
Peggs, OK Court Reporters (74452)
Perkins, OK Court Reporters (74059)
Pernell, OK Court Reporters (73476)
Perry, OK Court Reporters (73077)
Picher, OK Court Reporters (74360)
Pickens, OK Court Reporters (74752)
Piedmont, OK Court Reporters (73078)
Pittsburg, OK Court Reporters (74560)
Platter, OK Court Reporters (74753)
Pocasset, OK Court Reporters (73079)
Pocola, OK Court Reporters (74902)
Ponca City, OK Court Reporters (74601)
Pond Creek, OK Court Reporters (73766)
Porter, OK Court Reporters (74454)
Porum, OK Court Reporters (74455)
Poteau, OK Court Reporters (74953)
Prague, OK Court Reporters (74864)
Preston, OK Court Reporters (74456)
Proctor, OK Court Reporters (74457)
Prue, OK Court Reporters (74060)
Pryor, OK Court Reporters (74361)
Purcell, OK Court Reporters (73080)
Putnam, OK Court Reporters (73659)
Quapaw, OK Court Reporters (74363)
Quinton, OK Court Reporters (74561)
Ralston, OK Court Reporters (74650)
Ramona, OK Court Reporters (74061)
Randlett, OK Court Reporters (73562)
Ratliff City, OK Court Reporters (73481)
Rattan, OK Court Reporters (74562)
Ravia, OK Court Reporters (73455)
Red Oak, OK Court Reporters (74563)
Red Rock, OK Court Reporters (74651)
Redbird, OK Court Reporters (74458)
Rentiesville, OK Court Reporters (74459)
Reydon, OK Court Reporters (73660)
Ringling, OK Court Reporters (73456)
Ringold, OK Court Reporters (74754)
Ringwood, OK Court Reporters (73768)
Ripley, OK Court Reporters (74062)
Rocky, OK Court Reporters (73661)
Roff, OK Court Reporters (74865)
Roland, OK Court Reporters (74954)
Roosevelt, OK Court Reporters (73564)
Rose, OK Court Reporters (74364)
Rosston, OK Court Reporters (73855)
Rufe, OK Court Reporters (74755)
Rush Springs, OK Court Reporters (73082)
Ryan, OK Court Reporters (73565)
Saint Louis, OK Court Reporters (74866)
Salina, OK Court Reporters (74365)
Sallisaw, OK Court Reporters (74955)
Sand Springs, OK Court Reporters (74063)
Sapulpa, OK Court Reporters (74066)
Sasakwa, OK Court Reporters (74867)
Savanna, OK Court Reporters (74565)
Sawyer, OK Court Reporters (74756)
Sayre, OK Court Reporters (73662)
Schulter, OK Court Reporters (74460)
Seiling, OK Court Reporters (73663)
Seminole, OK Court Reporters (74818)
Sentinel, OK Court Reporters (73664)
Shady Point, OK Court Reporters (74956)
Shamrock, OK Court Reporters (74068)
Sharon, OK Court Reporters (73857)
Shattuck, OK Court Reporters (73858)
Shawnee, OK Court Reporters (74801)
Shidler, OK Court Reporters (74652)
Skiatook, OK Court Reporters (74070)
Slick, OK Court Reporters (74071)
Smithville, OK Court Reporters (74957)
Snow, OK Court Reporters (74567)
Snyder, OK Court Reporters (73566)
Soper, OK Court Reporters (74759)
South Coffeyville, OK Court Reporters (74072)
Southard, OK Court Reporters (73770)
Sparks, OK Court Reporters (74869)
Spavinaw, OK Court Reporters (74366)
Spencer, OK Court Reporters (73084)
Spencerville, OK Court Reporters (74760)
Sperry, OK Court Reporters (74073)
Spiro, OK Court Reporters (74959)
Springer, OK Court Reporters (73458)
Sterling, OK Court Reporters (73567)
Stidham, OK Court Reporters (74461)
Stigler, OK Court Reporters (74462)
Stillwater, OK Court Reporters (74074)
Stilwell, OK Court Reporters (74960)
Stonewall, OK Court Reporters (74871)
Strang, OK Court Reporters (74367)
Stratford, OK Court Reporters (74872)
Stringtown, OK Court Reporters (74569)
Stroud, OK Court Reporters (74079)
Stuart, OK Court Reporters (74570)
Sulphur, OK Court Reporters (73086)
Sweetwater, OK Court Reporters (73666)
Swink, OK Court Reporters (74761)
Taft, OK Court Reporters (74463)
Tahlequah, OK Court Reporters (74464)
Talala, OK Court Reporters (74080)
Talihina, OK Court Reporters (74571)
Taloga, OK Court Reporters (73667)
Tatums, OK Court Reporters (73487)
Tecumseh, OK Court Reporters (74873)
Temple, OK Court Reporters (73568)
Terlton, OK Court Reporters (74081)
Terral, OK Court Reporters (73569)
Texhoma, OK Court Reporters (73949)
Texola, OK Court Reporters (73668)
Thackerville, OK Court Reporters (73459)
Thomas, OK Court Reporters (73669)
Tipton, OK Court Reporters (73570)
Tishomingo, OK Court Reporters (73460)
Tonkawa, OK Court Reporters (74653)
Tryon, OK Court Reporters (74875)
Tulsa, OK Court Reporters (74101)
Tupelo, OK Court Reporters (74572)
Turpin, OK Court Reporters (73950)
Tuskahoma, OK Court Reporters (74574)
Tussy, OK Court Reporters (73488)
Tuttle, OK Court Reporters (73089)
Twin Oaks, OK Court Reporters (74368)
Tyrone, OK Court Reporters (73951)
Union City, OK Court Reporters (73090)
Valliant, OK Court Reporters (74764)
Velma, OK Court Reporters (73491)
Vera, OK Court Reporters (74082)
Verden, OK Court Reporters (73092)
Vian, OK Court Reporters (74962)
Vici, OK Court Reporters (73859)
Vinita, OK Court Reporters (74301)
Vinson, OK Court Reporters (73571)
Wagoner, OK Court Reporters (74467)
Wainwright, OK Court Reporters (74468)
Wakita, OK Court Reporters (73771)
Walters, OK Court Reporters (73572)
Wanette, OK Court Reporters (74878)
Wann, OK Court Reporters (74083)
Wapanucka, OK Court Reporters (73461)
Wardville, OK Court Reporters (74576)
Warner, OK Court Reporters (74469)
Washington, OK Court Reporters (73093)
Washita, OK Court Reporters (73094)
Watonga, OK Court Reporters (73772)
Watson, OK Court Reporters (74963)
Watts, OK Court Reporters (74964)
Waukomis, OK Court Reporters (73773)
Waurika, OK Court Reporters (73573)
Wayne, OK Court Reporters (73095)
Waynoka, OK Court Reporters (73860)
Weatherford, OK Court Reporters (73096)
Webbers Falls, OK Court Reporters (74470)
Welch, OK Court Reporters (74369)
Weleetka, OK Court Reporters (74880)
Welling, OK Court Reporters (74471)
Wellston, OK Court Reporters (74881)
Westville, OK Court Reporters (74965)
Wetumka, OK Court Reporters (74883)
Wewoka, OK Court Reporters (74884)
Wheatland, OK Court Reporters (73097)
Whitefield, OK Court Reporters (74472)
Whitesboro, OK Court Reporters (74577)
Wilburton, OK Court Reporters (74578)
Willow, OK Court Reporters (73673)
Wilson, OK Court Reporters (73463)
Wister, OK Court Reporters (74966)
Woodward, OK Court Reporters (73801)
Wright City, OK Court Reporters (74766)
Wyandotte, OK Court Reporters (74370)
Wynnewood, OK Court Reporters (73098)
Wynona, OK Court Reporters (74084)
Yale, OK Court Reporters (74085)
Yukon, OK Court Reporters (73085)