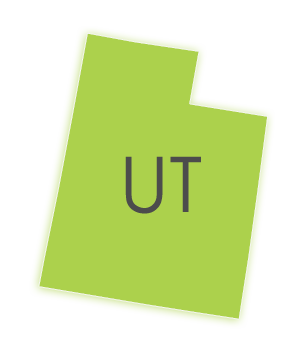 From Ogden to Orderville, covering over two hundred and fifty cities and counties across Utah, court reporters have never been easier to schedule for your deposition. Discovery Litigation Services is standing by to provide you with the best-qualified Utah court reporter for your deposition. Utilizing streaming enabled court reporting solutions, we can provide you with a court reporter anywhere in Utah.
Book Your Utah Court Reporter Online
Discovery Litigation Services makes it easy to get the best Utah court reporter for your deposition anywhere in the state.. Our streaming enabled court reporter services gives you the ability to find a qualified court reporter regardless of where your deposition is location. Let Discovery Litigation Services supply you with the right court reporter and all inclusive litigation solutions to meet your demands..
We supply the most experienced court reporters with an eye toward excellence and your satisfaction.
Discovery Litigation Services is founded on the principle of client services by an established court reporter with professional experience spanning 20+ years. We work tirelessly to supply you with accurate and reliable solutions to all of your deposition requirements..
It is our mission to place the most comprehensive litigation tools in your hands. We have simplified the process for all of our clients. With Discovery Litigation Services you can have a Utah court reporter at any deposition in any county throughout the state with only a few clicks.
All of your bases will be covered
Discovery´s court reporting solutions and full-service deposition services ensure all of your bases will be covered. With a our tools and online resources, we can fully cover any deposition anywhere. There is no deposition too remote for Discovery Litigation Services to cover. We pride ourselves on giving you the highest quality and expertise of skilled court reporters in every city across the country..
Do You Have The Staff You Really Need For Your Case?
Because our aim is to put the most comprehensive litigation services at your fingertips, we are driven to simplify the process. Discovery Litigation Services will handle the task of building your team. We will provide you with the legal support staff needed to bring your case to a resolution. We'll supply you with high quality document review attorneys trained and skilled in a multitude of eDiscovery Software platforms, and fully understand the discovery process.
Let our Document Review Attorneys sift through the terabytes of digital documents.
Our service goes further. We'll provide you with highly qualified paralegals, project managers, translators, and coders. We can even provide complimentary conference rooms in a variety of cities across the nation. Discovery Litigation Services goes above the rest to provide you with the tools, services, solutions, and expertise your case requires.
We will provide the right experts for your case anywhere.
There is no location unreachable for Discovery Litigation Services. We pride ourselves on providing you with the highest quality services, and the expertise of skilled professionals anywhere in the United States. Put our team of attorneys, court reporters, interpreters, and multimedia experts to work for you with a click of the mouse.
Discovery Litigation Services knows you have options with your litigation services. We are here to provide superior service, all the time, every time.
From finding a conference room to host your deposition to staffing it with a skilled court reporter, videographer and interpreter, Discovery Litigation Services will go above and beyond to fulfill your needs. We understand the importance of getting it done right. In our business, there is no margin for error.
Call Discovery at (855) 847-0999. See for yourself why so many call us their reporting company.
Schedule Your Deposition Now!
Utah Court Reporting Available In:
City Name
Alpine, UT Court Reporters (84004)
Altamont, UT Court Reporters (84001)
Alton, UT Court Reporters (84710)
Altonah, UT Court Reporters (84002)
American Fork, UT Court Reporters (84003)
Aneth, UT Court Reporters (84510)
Annabella, UT Court Reporters (84711)
Antimony, UT Court Reporters (84712)
Aurora, UT Court Reporters (84620)
Axtell, UT Court Reporters (84621)
Bear River City, UT Court Reporters (84301)
Beaver, UT Court Reporters (84713)
Beryl, UT Court Reporters (84714)
Bicknell, UT Court Reporters (84715)
Bingham Canyon, UT Court Reporters (84006)
Blanding, UT Court Reporters (84511)
Bluebell, UT Court Reporters (84007)
Bluff, UT Court Reporters (84512)
Bonanza, UT Court Reporters (84008)
Boulder, UT Court Reporters (84716)
Bountiful, UT Court Reporters (84010)
Brian Head, UT Court Reporters (84719)
Brigham City, UT Court Reporters (84302)
Bryce, UT Court Reporters (84764)
Bryce Canyon, UT Court Reporters (84717)
Cache Junction, UT Court Reporters (84304)
Cannonville, UT Court Reporters (84718)
Castle Dale, UT Court Reporters (84513)
Cedar City, UT Court Reporters (84720)
Cedar Valley, UT Court Reporters (84013)
Centerfield, UT Court Reporters (84622)
Centerville, UT Court Reporters (84014)
Central, UT Court Reporters (84722)
Chester, UT Court Reporters (84623)
Circleville, UT Court Reporters (84723)
Cisco, UT Court Reporters (84515)
Clarkston, UT Court Reporters (84305)
Clawson, UT Court Reporters (84516)
Clearfield, UT Court Reporters (84015)
Cleveland, UT Court Reporters (84518)
Coalville, UT Court Reporters (84017)
Collinston, UT Court Reporters (84306)
Corinne, UT Court Reporters (84307)
Cornish, UT Court Reporters (84308)
Croydon, UT Court Reporters (84018)
Dammeron Valley, UT Court Reporters (84783)
Delta, UT Court Reporters (84624)
Deweyville, UT Court Reporters (84309)
Draper, UT Court Reporters (84020)
Duchesne, UT Court Reporters (84021)
Duck Creek Village, UT Court Reporters (84762)
Dugway, UT Court Reporters (84022)
Dutch John, UT Court Reporters (84023)
East Carbon, UT Court Reporters (84520)
Echo, UT Court Reporters (84024)
Eden, UT Court Reporters (84310)
Elberta, UT Court Reporters (84626)
Elmo, UT Court Reporters (84521)
Elsinore, UT Court Reporters (84724)
Emery, UT Court Reporters (84522)
Enterprise, UT Court Reporters (84725)
Ephraim, UT Court Reporters (84627)
Escalante, UT Court Reporters (84726)
Eureka, UT Court Reporters (84628)
Fairview, UT Court Reporters (84629)
Farmington, UT Court Reporters (84025)
Fayette, UT Court Reporters (84630)
Ferron, UT Court Reporters (84523)
Fielding, UT Court Reporters (84311)
Fillmore, UT Court Reporters (84631)
Fort Duchesne, UT Court Reporters (84026)
Fountain Green, UT Court Reporters (84632)
Fruitland, UT Court Reporters (84027)
Garden City, UT Court Reporters (84028)
Garland, UT Court Reporters (84312)
Garrison, UT Court Reporters (84728)
Glendale, UT Court Reporters (84729)
Glenwood, UT Court Reporters (84730)
Goshen, UT Court Reporters (84633)
Grantsville, UT Court Reporters (84029)
Green River, UT Court Reporters (84525)
Greenville, UT Court Reporters (84731)
Greenwich, UT Court Reporters (84732)
Grouse Creek, UT Court Reporters (84313)
Gunlock, UT Court Reporters (84733)
Gunnison, UT Court Reporters (84634)
Gusher, UT Court Reporters (84030)
Hanksville, UT Court Reporters (84734)
Hanna, UT Court Reporters (84031)
Hatch, UT Court Reporters (84735)
Heber City, UT Court Reporters (84032)
Helper, UT Court Reporters (84526)
Henefer, UT Court Reporters (84033)
Henrieville, UT Court Reporters (84736)
Hiawatha, UT Court Reporters (84527)
Hildale, UT Court Reporters (84784)
Hill Air Force Base, UT Court Reporters (84056)
Hinckley, UT Court Reporters (84635)
Holden, UT Court Reporters (84636)
Honeyville, UT Court Reporters (84314)
Hooper, UT Court Reporters (84315)
Howell, UT Court Reporters (84316)
Huntington, UT Court Reporters (84528)
Huntsville, UT Court Reporters (84317)
Hurricane, UT Court Reporters (84737)
Hyde Park, UT Court Reporters (84318)
Hyrum, UT Court Reporters (84319)
Ibapah, UT Court Reporters (84034)
Ivins, UT Court Reporters (84738)
Jensen, UT Court Reporters (84035)
Joseph, UT Court Reporters (84739)
Junction, UT Court Reporters (84740)
Kamas, UT Court Reporters (84036)
Kanab, UT Court Reporters (84741)
Kanarraville, UT Court Reporters (84742)
Kanosh, UT Court Reporters (84637)
Kaysville, UT Court Reporters (84037)
Kenilworth, UT Court Reporters (84529)
Kingston, UT Court Reporters (84743)
Koosharem, UT Court Reporters (84744)
La Sal, UT Court Reporters (84530)
La Verkin, UT Court Reporters (84745)
Lake Powell, UT Court Reporters (84533)
Laketown, UT Court Reporters (84038)
Lapoint, UT Court Reporters (84039)
Layton, UT Court Reporters (84040)
Leamington, UT Court Reporters (84638)
Leeds, UT Court Reporters (84746)
Lehi, UT Court Reporters (84043)
Levan, UT Court Reporters (84639)
Lewiston, UT Court Reporters (84320)
Lindon, UT Court Reporters (84042)
Loa, UT Court Reporters (84747)
Logan, UT Court Reporters (84321)
Lyman, UT Court Reporters (84749)
Lynndyl, UT Court Reporters (84640)
Magna, UT Court Reporters (84044)
Manila, UT Court Reporters (84046)
Manti, UT Court Reporters (84642)
Mantua, UT Court Reporters (84324)
Mapleton, UT Court Reporters (84664)
Marysvale, UT Court Reporters (84750)
Mayfield, UT Court Reporters (84643)
Meadow, UT Court Reporters (84644)
Mendon, UT Court Reporters (84325)
Mexican Hat, UT Court Reporters (84531)
Midvale, UT Court Reporters (84047)
Midway, UT Court Reporters (84049)
Milford, UT Court Reporters (84751)
Millville, UT Court Reporters (84326)
Minersville, UT Court Reporters (84752)
Moab, UT Court Reporters (84532)
Modena, UT Court Reporters (84753)
Mona, UT Court Reporters (84645)
Monroe, UT Court Reporters (84754)
Montezuma Creek, UT Court Reporters (84534)
Monticello, UT Court Reporters (84535)
Monument Valley, UT Court Reporters (84536)
Morgan, UT Court Reporters (84050)
Moroni, UT Court Reporters (84646)
Mount Carmel, UT Court Reporters (84755)
Mount Pleasant, UT Court Reporters (84647)
Mountain Home, UT Court Reporters (84051)
Myton, UT Court Reporters (84052)
Neola, UT Court Reporters (84053)
Nephi, UT Court Reporters (84648)
New Harmony, UT Court Reporters (84757)
Newcastle, UT Court Reporters (84756)
Newton, UT Court Reporters (84327)
North Salt Lake, UT Court Reporters (84054)
Oak City, UT Court Reporters (84649)
Oakley, UT Court Reporters (84055)
Oasis, UT Court Reporters (84650)
Ogden, UT Court Reporters (84201)
Orangeville, UT Court Reporters (84537)
Orderville, UT Court Reporters (84758)
Orem, UT Court Reporters (84057)
Panguitch, UT Court Reporters (84759)
Paradise, UT Court Reporters (84328)
Paragonah, UT Court Reporters (84760)
Park City, UT Court Reporters (84060)
Park Valley, UT Court Reporters (84329)
Parowan, UT Court Reporters (84761)
Payson, UT Court Reporters (84651)
Peoa, UT Court Reporters (84061)
Pine Valley, UT Court Reporters (84781)
Pleasant Grove, UT Court Reporters (84062)
Plymouth, UT Court Reporters (84330)
Portage, UT Court Reporters (84331)
Price, UT Court Reporters (84501)
Providence, UT Court Reporters (84332)
Provo, UT Court Reporters (84601)
Randlett, UT Court Reporters (84063)
Randolph, UT Court Reporters (84064)
Redmond, UT Court Reporters (84652)
Richfield, UT Court Reporters (84701)
Richmond, UT Court Reporters (84333)
Riverside, UT Court Reporters (84334)
Riverton, UT Court Reporters (84065)
Rockville, UT Court Reporters (84763)
Roosevelt, UT Court Reporters (84066)
Roy, UT Court Reporters (84067)
Rush Valley, UT Court Reporters (84069)
Saint George, UT Court Reporters (84770)
Salem, UT Court Reporters (84653)
Salina, UT Court Reporters (84654)
Salt Lake City, UT Court Reporters (84101)
Sandy, UT Court Reporters (84070)
Santa Clara, UT Court Reporters (84765)
Santaquin, UT Court Reporters (84655)
Scipio, UT Court Reporters (84656)
Sevier, UT Court Reporters (84766)
Sigurd, UT Court Reporters (84657)
Smithfield, UT Court Reporters (84335)
Snowville, UT Court Reporters (84336)
South Jordan, UT Court Reporters (84095)
Spanish Fork, UT Court Reporters (84660)
Spring City, UT Court Reporters (84662)
Springdale, UT Court Reporters (84767)
Springville, UT Court Reporters (84663)
Sterling, UT Court Reporters (84665)
Stockton, UT Court Reporters (84071)
Summit, UT Court Reporters (84772)
Sunnyside, UT Court Reporters (84539)
Syracuse, UT Court Reporters (84075)
Tabiona, UT Court Reporters (84072)
Talmage, UT Court Reporters (84073)
Teasdale, UT Court Reporters (84773)
Thompson, UT Court Reporters (84540)
Tooele, UT Court Reporters (84074)
Toquerville, UT Court Reporters (84774)
Torrey, UT Court Reporters (84775)
Tremonton, UT Court Reporters (84337)
Trenton, UT Court Reporters (84338)
Tridell, UT Court Reporters (84076)
Tropic, UT Court Reporters (84776)
Vernal, UT Court Reporters (84078)
Vernon, UT Court Reporters (84080)
Veyo, UT Court Reporters (84782)
Virgin, UT Court Reporters (84779)
Wales, UT Court Reporters (84667)
Wallsburg, UT Court Reporters (84082)
Washington, UT Court Reporters (84780)
Wellington, UT Court Reporters (84542)
Wellsville, UT Court Reporters (84339)
Wendover, UT Court Reporters (84083)
West Jordan, UT Court Reporters (84084)
Whiterocks, UT Court Reporters (84085)
Willard, UT Court Reporters (84340)
Woodruff, UT Court Reporters (84086)
Woods Cross, UT Court Reporters (84087)